15' Extra Heavy-Duty Expedition Inflatable KaBoat™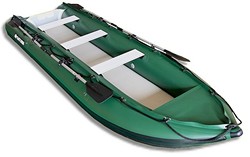 Extra oversized 16" diameter tubes and spacious interior make the SK470XL KaBoat perfect for remote expeditions, fishing or hunting in a rugged wilderness, away from civilization. SK470XL can also be used as heavy-duty work boat. Air floor can be protected with marine carpeting or vinyl flooring from local hardware store against accidental punctures by heavy and/or sharp objects.
SK470XL KaBoat model has 4 separate air chambers for extra safety, compared to 2 standard chambers of regular sized KaBoats. Extra heavy-duty rub strake protectors are installed along both sides of the tubes for maximum durability. Because of these extra features, SK470XL slightly heavier than longer SK487 model.
SK470XL KaBoat equipped with 2 sets of oarlocks and 2 sets of rowing oars for tandem rowing by 2 persons.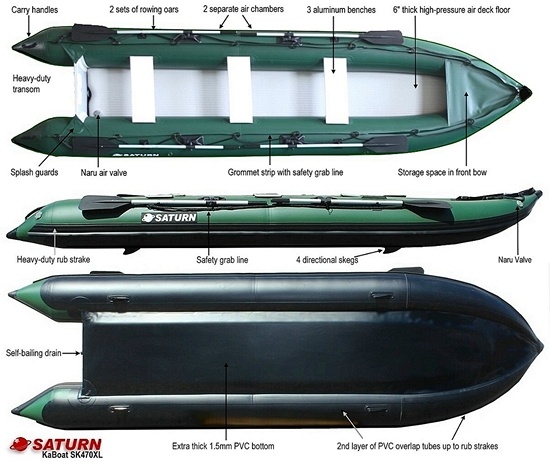 Premium features make SK470XL KaBoat model very unique:
Extra thick 1.5mm PVC bottom, compare to standard 0.9mm PVC.
Bottom of tubes overlapped with additional layer of PVC up to the rub strake protectors.
New model SK470XL have shorter and lighter aluminum seats, triangular splash guards over transom corner, and grommet splash strip with rope all along boat tubes.
Following specs are standard for this model:
Same heavy-duty 1100 Denier PVC as in SATURN boats & rafts.
Front spray skirt with water deflector guard and rope lacing.
Marine grade plywood transom with a one way drain plug.
Extra thick, high-pressure 6" (140mm) inflatable air deck floor.
Durable rub strake protectors along boat tubes.
4 fins on bottom of tubes for improved tracking.
4 (four!) separate air chambers for extra safety.
2 sets of rowing oars with 2 sets of oar locks for tandem rowing.
3 lightweight aluminum removable benches.
Included: hand pump, repair kit, 4 oars and carry bag.
15 ft GREEN Expedition KaBoat SK470XLG

SALE:

$949.00

(MSRP: $1,898.00)
SHIPPING: $119.00 (by FedEx Ground)
15 ft Dark Gray Expedition KaBoat SK470XLD

SALE:

$949.00

(MSRP: $1,898.00)
SHIPPING: $119.00 (by FedEx Ground)
SK470XL Technical Specifications:

Exterior Length
15'
Exterior Width
50"
Interior Width
18"
Tube Diameter
16"
Shipping Size
51 x 28 x 12"
Shipping Weight
125 lbs
KaBoat Weight
100 lbs
Person Capacity
3+1
Weight Capacity
1000 lbs
Chambers
4+1
Material
1100 Denier PVC
Air Valves
Halkey-Roberts type valve by Naru
Max. Engine Capacity
10HP 4-stroke or 15HP 2-stroke
Inflation time
up to 10 min.
15' Dark Gray KaBoat SK470XL V2.0

"As promised I send you some pictures from Croatia with Kaboat. We are really pleased from our new boat. We made some nice trips from island to island on open sea. Warmest Regards from Poland" Marcin S

Limited Edition 15' Black KaBoat SK470XL

Videos of Dark Gray SK470XL KaBoat. Click on Play button.

Click here for more KaBoat videos.

Recent Customer's Reviews:

"Just wanted to tell you about how much I am enjoying my SK470XL KaBoat! As soon as I signed for the box, I brought it down the basement and unpacked and inflated it! I immediately began planning places to take it! I deflated it and packed it away till the next weekend. First trip was down to the canal with the kids The boat was sturdy and felt good in the water. I was impressed yet again. The 55lb thrust electric motor pushed it nicely! We had a good time with no issues… Second trip was a solo on a big slow moving river, fishing for pike. I had no problems with the setup or break down of the boat. I received a lot of compliments on the new ride! My third trip was a camping trip on a deep reservoir. Packed with 500lbs of weight, my KaBoat handled perfect with the 6HP outboard.. I reached 12 mph in semi calm conditions.. Once again, the KaBoat proved itself to me as a reliable, fun, and safe new toy! Next trip will be some saltwater back-bay action! Thanks for a great product..."

"19 MPH with 2 people 9.8 HP Nissan 4 stroke. 6 mph at 1/3 throttle of my 2.5 hp Suzuki 4 stroke. Been pretty impressed with mine thus far. Used it out in snowy PWS last week for 6 days. Was able to get 6 mph at 1/3 throttle of my 2.5 hp Suzuki 4 stroke and 7.2 at WOT. Burn under 1/2 gallon and went approx 23 miles according to the GPS on it...pretty affordable little rig to run for sure! Got the new 6 hp Merc 4 stroke on the Kaboat yesterday and today....WOT is 14 mph with me and Mrs. 1/2 throttle is about 11-12, 1/3 throttle is around 9-10....got to be going 8.5+ to stay on plane it appears. Much happier with this little motor than the 2.5...getting on plane will make up any loss in extra fuel burned by the 2.5 by being on top the water and going faster than doing the 6 mph push through the water at 3/4 throttle in the 2.5. Also like that its still only 55 pounds and I can easy get on step with it. Fun little boats indeed!" forums.outdoorsdirectory.com

Quick Tip: If you are worried about the air floor being accidentally punctured by sharp gear or fishing hooks, you can get a piece of vinyl flooring from a local hardware store that can be cut out to fit inside the KaBoat over the floor.