Quality Inflatable Boats at Prices You Can Afford Since 1999!
Saturn inflatable boats, inflatable rafts, inflatable kayaks and inflatable SUP are of exceptional quality and are produced by the leading manufacturer of inflatables in South Korea. By selling directly from our manufacturer, and bypassing chain of middle men, BoatsToGo.com is able to offer quality outdoor products at discounted sale prices.
UPDATE:
Due to the high demand, many Saturn models are currently sold out. We do have several containers on their way with more Saturn boats, KaBoats, kayaks and paddle boards coming soon. Please sign up on waiting list or bookmark web site and re-visit by early May for more updates.
How does BoatsToGo.com sells high quality boats at such low prices?
We buy direct from the factory that also supply the major brands and sell direct to you. Itís just that simple! Over 10,000 Satisfied Customers! No Hassle Return Policy! 100% Satisfaction Guaranteed! Nobody Beats Our Quality, Service and Prices!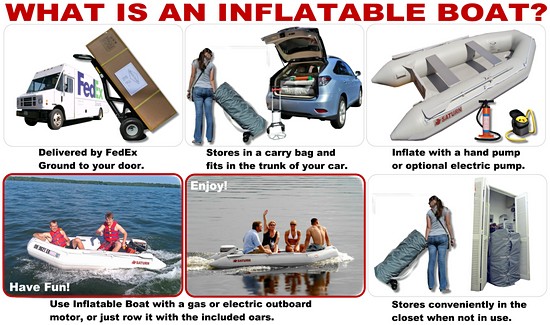 Why do you need inflatable boat?
Would you love to experience the joy of boating, while avoiding the hassle and expense of trailers, storage, and maintenance associated with traditional boat ownership? If so then an inflatable craft is right for you.
Inflatables are convenient, affordable, and serve all the same functions of hard-hulled craft. Attach a gas motor to fly across the water, or opt for a quiet, inexpensive, electric motor to enhance your fishing or leisure fishing. Our inflatable craft pose the most economically viable solution to get you on the water.
Why pay thousands or tens-of-thousands for a hard-hulled boat that gets used a handful of times per month when you could pay a fraction of the price for the same experience?
Combine the cost benefits with the added ease of use, and an inflatable boat will you have you on the water more often, providing you more enjoyment for your money.
BoatsToGo inflatable craft will do the trick for the bay, river, lake and ocean. No matter where you do your boating, getting your boat there will be a cinch. Once deflated, these boats can be stored in your trunk, as they take up about as much space a medium luggage bag. Store it anywhere, take it anywhere. Keep it in the RV, take it to the lake, or put it in the ocean. Your inflatable boat will get you closer to the surf, the fish, and the great outdoors, faster, cheaper, and easier than ever before.
Customer's Testimonials:
"I purchased my SD365 inflatable boat 3 years ago and have been extremely pleased. We have fished in this inflatable boat from the far northern lakes of Northern Saskatchewan to the Sea of Cortez off Baja. I have a 9.9 Yamaha 2 stroke and it moves it along at about 15 - 18 miles per hour. I have a short shaft outboard but I added about a 1 inch strip to the top of the transom as I found the leg of the engine with the hydrofoil on was running too deep in the water at a plane. It helped to get inflatable boat to plane easier. Our little boat has been portaged over Beaver Dams, run rapids in rivers, dragged across beaches in Mexico and only a few scrathes. The only leak was in the air floor from a dropped fishing knife, no big deal to fix. I would strongly recommend your product to anyone who is looking for a good all round inflatable boat for all conditions. We are extremely please with ours and I know your customers will be also..." Bob and Pat M. Alberta Canada
Frequently Asked Questions:
- What makes Saturn inflatables better then competitors?
- How to protect your air floor from accidental punctures?
- How to select an inflatable boats, if you are new to boating?
- What is better, an air floor or plywood floor? How to repair PVC fabric?
Satisfactions IS Guaranteed!
- We are 100% confident you will love our products! The customer feedback has been overwhelmingly positive, and we know you will feel the same. To prove it, we are offering a 14 DAY MONEY BACK GURANTEE! If you are not completely satisfied with your boat or inflatable kayak, just send it back for a refund.
What Differentiates Saturn as the Best?
- BoatsToGo inflatable craft are made with the highest quality workmanship.
- Our assembly process is super-clean, no glue or residues.
- Cold-welded seams are strong and virtually indestructible.
- The rub strake protector along the keels gives our boats extra durability.
- Pressure-release safety valves prevent over-inflation due to tempreature fluctuations.
- 1100 Denier heavy-duty PVC fabric is stronger, more durable than competitors use.
- Double layered materials provide double protection, and extra rigidity.

Hull
All Saturn inflatable boats are made of 1100 Deniers heavy-duty PVC fabric. Hull features: inflatable keel with a rub strake, marine-grade plywood transom, a double layer of fabric at the bottom of the tubes and a one-way drain valve with plug.
Stable
Being inflatable, SATURN boats have a low center of gravity, making it practically impossible to capsize them! Whether stationary or cruising, a SATURN inflatable boat is always stable. You can stand when fishing, they are safer for children, and mooring is exceptionally simple. They work great as fishing boats too!
Unsinkable
The buoyancy tubes of SATURN inflatable boats, river rafts and inflatable kayaks are made up of several independent airtight compartments. If one compartment unexpectedly deflates, the others remain inflated. This feature makes Saturn inflatable boats, rafts and kayaks almost impossible to sink, thereby allowing you to return slowly to safety.
Easy to Store
Once deflated and folded, SATURN inflatable boats, rafts, and inflatable kayaks take up about as much space as a medium sized bag. You can store inflatable boats and kayaks in the trunk of your car, locker, under the stairs, or in a corner of the garage and have it ready for your next weekend or holiday.
Easy to Launch
...and easy to pull up onto the beach. Like all inflatable boats, the weight of a SATURN can be up to three times lighter than a comparable rigid boat. You would not hesitate to beach this boat and spend the day on a beautiful, remote creek or island.
Sturdy
Welded rubbing strakes and transoms, cold welded seams, reinforced cone ends; quality materials and advanced assembly process combine to maximize sturdiness and rigidity in BoatsToGo inflatable crafts. Our PVC coating uses industry leading process for durability and strength, and found only on Saturn boats second-generation PVC materials.
Economical
Saturn inflatable boats are intended as the best introduction possible to boating on a moderate budget, or a great option to savvy, experienced water enthusiasts. Maintenance is simple and inexpensive, and when cared for properly, your Saturn will last many years.