SALE: $1,299.00
This item is on backorder
Coming in stock 12/12/16
Only 5 coming
MSRP: $2,598.00
Shipping: $109.00
12' Premium Inflatable Boat AM365.
The 12-feet inflatable boat Azzurro Mare AM365 is the largest premium dinghy that is available with a high-pressure inflatable air floor. Overall, AM365 boat looks very similar to AM330, but it is longer and wider than 11ft AM330 models. It also has larger diameter tubes with higher buoyancy, weight and passengers capacity, and therefore it can take more powerful outboard motor, up to 30 HP!
New version of Azzurro Mare AM365 comes with FREE boat tubes cover to protect boat from damaging UV rays and to extend boat overall lifespan. That is over $600 in value added package.
AM365 inflatable premium boats can be used as a luxury tender for a mainship, or as a fishing boat or as deluxe leisure boat on a weekends. Azzurro Mare AM365 boat is a large boat, but is still relatively lightweight, and can be easily carried by one person with a hand cart or boat dolly.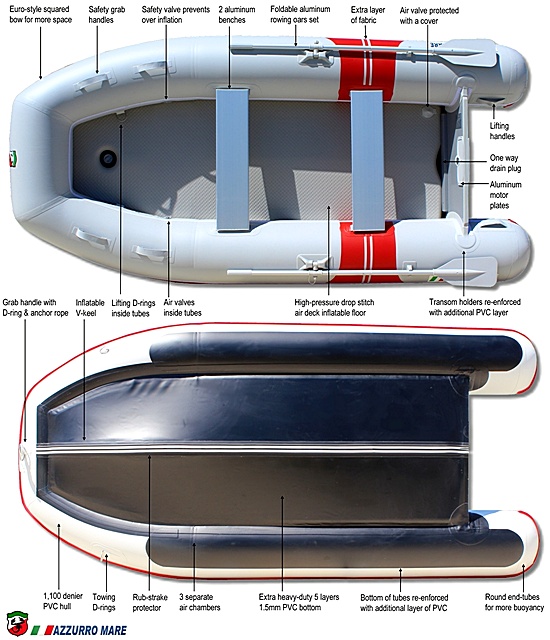 Once deflated and folded, inflatable boat can be easily stored in the trunk of your car. These boats are European CE-certified, also certified by German LLoyd. Come with all paperwork for registration in the US.
Recent Customer's Review:
"I love your products. Last summer I purchased the Azzurro AM365 inflatable Boat, (2) floating docks and (2) stand-up paddle boards. The quality of the AM365 is top notch. It has the fit and finish worthy of finest yacht tenders. The paddle boards are the hit of our cottage community. My children and I are having a blast with all the products." Sean P.
"Hey guys, I wanted to write a follow up to a review I had written about 5 or 6 years ago when I bought my inflatable from you. When I first got my AM365 6 years ago, I remember being impressed with the way it looked.... BOMBPROOF!!! Just all around good, solid, well thought out construction. But the real test has been the 6 years since then. I have put this boat through every possible crazy, nasty situation you can put one through, and it looks almost new. Other than a few scuff marks from slamming into a rock, a coral head or a tree, it would be hard to tell it from a new one. I use it all the time, but if it is not used for 2 or 3 weeks, I cover it with a tarp. Not even a high dollar cover, just a plastic tarp. I also let a little air out of all the tubes to reduce the constant pressure. I'm sure these little measures have helped it last also, but the quality construction is the main reason. I had a Zodiac before this and within the first 3 years the glue at the seams started changing color...very ugly. 6 years in and the AM365 is still in MINT condition. I'm about to upgrade to a larger model, and I'm not even going to bother looking at any other companies. You've always been there to answer my questions, and any need I have is handled immediately. I am definitely a customer for life....thank you so much for all of your help..." Damon.
The following premium features make Azzurro Mare boats different from Saturn:
5 Year Manufacturer Warranty for transom and hull seams on all AM boats.

Attractive Euro-style squared shape bow adds more useful space in front.

The V-shaped bottom of AM inflatable boats is made of Extra heavy-duty 1.5mm PVC, which is almost twice of thickness of heavy-duty 0.9mm (1,100 denier) PVC.

The bottoms of tubes are also covered with an additional layer of the same 1.5mm PVC.

Round end tubes provide more buoyancy and support for heavier engines.

Transom holders are re-enforced with additional layer of PVC to protect against UV-rays.

Two lifting D-rings added inside front bow for the securing of additional equipment.

Air valve of air floor is protected with a cover to keep dirt and water away.
Azzurro Mare Inflatable Boat Tech Specs:
Separate internal air chambers.
One-way drain valve with plug.
All around, durable rubber strike.
Safety valve to prevent over inflation.
Stainless steel D-rings for easy towing.
Reliable flat air valves with pushpin design.
Front bow D-ring with integral lifting handle.
Spare rope for attaching anchor is included.
High-pressure drop stitch air floor is included.
Deep inflatable V-keel with a rub strake protector.
Extremely rigid, lightweight hull for excellent performance.
Lightweight and strong removable aluminum seat benches.
Free second bench is included when order is placed on-line!
Heavy-duty marine grade plywood transom for outboard motor.
Equipment: aluminum oars, repair kit, seat bench and carry bag.
Free, complimentary generic high-volume hand pump is included.
Free, complimentary tube covers, value over $600 is included.
For the list of optional available Accessories please click here.
While Azzurro Mare boats offer various premium features that other competitive brands are lacking, we are still able to offer sale prices well below other comparable inflatable boat brands. And we back it all with a 5 Years Manufacturers Warranty!
12 ft Azzurro Mare inflatable boat AM365
This item is on backorder. Coming in stock around 12/12/16. Only 5 left!
SALE:

$1,299.00

(MSRP: $2,598.00)
SHIPPING: $109.00 (by FedEx Ground)
| | |
| --- | --- |
| Tech Specs* | AM365 |
| Overall Length | 12' |
| Inside Length | 7.8' |
| Overall Width | 5.7' |
| Inside Width | 2.8' |
| Tube Diameter | 18" |
| Chambers | 3+1+1 |
| Person Capacity | 5 |
| Loading Capacity | 1433 lbs |
| Max Motor Power | 30 HP (15" shaft / 150 lbs) |
| Tube Weight | 120 lbs |
| Shipping Size | 52 x 28 x 13" |
| Shipping Weight | 130 lbs |
| Floor Type | Drop Stitch Air Floor |
| Material | 1100 Denier Reinforced PVC |
| Seams | Quadruple Overlap |
| Air Valves | Recessed One-Way |
| Speed (approx.) | 25 mph (25HP w/2 adults) |
| Inflation & Assembly | 25 min. |
New Azzurro Mare AM365 pictures. Click on image to enlarge it.

FREE UV resistant tube cover easily attaches to boat hull with Velcro.
Cover hull up to rub strake.
Wrap around transom holders.
Inflatable keel and removable air floor.
Transom holders covered with extra PVC.

2012 Azzurro Mare AM365 pictures. Click on image to enlarge it.

Video of New AM365 Inflatable Boat. Click Play to start.
YouTube Video submitted by customer. Click on Play Button.