SALE! SALE!

$100 OFF ALL PADDLE BOARDS! ENTER CODE "100OFFSUP

" IN A COMMENT SECTION DURING CHECKOUT.

*
We will manually apply discount while processing payment.
MotorSUP - Motorized Inflatable Paddle Board SUP.
While paddle boarding can be a great exercise, sometimes wind might be too strong for stand up paddling or kayaking, or you might be simply feeling too lazy to paddle. That's where MotoSUP inflatable paddle board comes in. Simply attach electric motor to the back of the SUP board built-in transom, and it's ready to go in just a few minutes.
Beginning with traditional inflatable paddle boards, available in both 11- and 12-foot sizes to suit individuals of varying heights and weights, and starting at only $479, these MotoSUP boards incorporate a wooden transom on the back. Easy and convenient, this transom can fold down for streamlined storage when it is not in use. The transom can support electric trolling motors of up to 55 pound of thrust, delivering power and speed to your board. For a more relaxed pace, motors as small as 20 pounds of thrust can propel the SUP board nice and quite across the water.
In addition to the transom, the MotoSUP includes D-rings on the top of the board to attach the motor's battery pack. Tie-down straps keep the battery securely in place as users cruise around on the water.
Rounding out the MotoSUP's amenities are four additional D-rings on the central sides of the board. These rings enable users to attach a kayak seat for more adventurous days or a small beach chair for days when they just want to kick back, relax, and let electric motor do all the work for them. This versatility makes the MotoSUP the only paddle board users will ever need to accommodate their energy level and social plans for a particular day.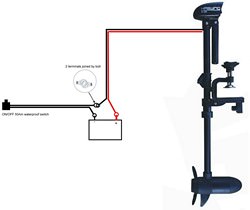 How it works - Suggested setup: Electric motor installed on a transom such way that it shafts touches edge of SUP rear, pushing into it. Deep cycle battery 12V20Ah and above secured to surface D-ring with adjustable straps or bungee cords. One of electric motor wires connects to wire from optional remote foot switch for trolling motors (sold on Ebay & Amazon for $20). Then remaining wire from motor and wire from remote switch connect to positive and negative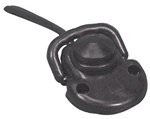 battery terminals while matching colors of motor wires. Red to red (+), black to black (-). Electric motor shaft is tightened in a strait forward position in order to prevent motor rotating left or right during operation, and motor speed throttle set to desired speed. Remote foot switch then either placed on a surface of the board for stand up operation, or attached with cable tie to beach chair or kayak seat strap. To start motor and move SUP board forward, simply engage foot switch. Release switch to stop board. To make wide turn left or right, use SUP or kayak paddle, acting as a rudder. To make sharp turn, stop motor, use paddle to make turn, and then restart motor.
What parts will you need: Electric Trolling Motor, Kayak Seat and SUP or Kayak Paddles sold in our Accessories section. Or, you can use $12 Wal-Mart low profile beach chair to attach to paddle board D-rings with tie-down straps. Deep cycle 12V35Ah battery sold on Ebay or Amazon for $30 to $65. Smaller 20lbs motors can work with cheaper 12V20Ah batteries. You will also need charger for battery starting at $20. That is it!
SATURN Inflatable SUP330M Paddle Board Specs:
Great for enjoying adventure on a water in a windy day.
Can used as stand up paddle boards or inflatable sit-on-top kayak.
Set of D-rings along board side for kayak seat attachment.
Raised rocker tip prevents curling and helps improve performance.
All Saturn SUPs constructed of 140mm (6") heavy-duty PVC drop-stitch fabric.
Patent Pending easily removable large fin with no need for extra hardware.
Patent Pending folding wood transom for electric motors up to 55lbs.
New lightweight drop-stitch fabric allows inflation up to 15 psi of air pressure.
High-pressure hand pump w/ gauge, carry bag and repair kit are included!
0.9mm PVC fabric on sides to prevent punctures, double-thick PVC on top/bottom.
Included: SUP paddle board with transom, carry bag and repair kit.
Not included: Electric motor, battery, paddles, seats and foot switch.
Download Inflatable Paddle Board Manual for more information.
11 ft MotoSUP Paddle Board Red SUP330MR

SALE:

$499.00

(MSRP: $998.00)
SHIPPING: $29.00 (by FedEx Ground)
11 ft MotoSUP Paddle Board Black SUP330MB
In stock and ready to ship
SALE:

$499.00

(MSRP: $998.00)
SHIPPING: $29.00 (by FedEx Ground)
12 ft MotoSUP Paddle Board Black SUP365MB
In stock and ready to ship
SALE:

$529.00

(MSRP: $1,058.00)
SHIPPING: $29.00 (by FedEx Ground)
12 ft MotoSUP Paddle Board Red SUP365MR
In stock and ready to ship
SALE:

$529.00

(MSRP: $1,058.00)
SHIPPING: $29.00 (by FedEx Ground)
11 ft XL MotoSUP Paddle Board SUP330MXL
Only 4 left in stock!
SALE:

$599.00

(MSRP: $1,198.00)
SHIPPING: $29.00 (by FedEx Ground)
| | | |
| --- | --- | --- |
| Tech Specs | SUP330M | SUP365M |
| Overall Length | 11' | 12' |
| Overall Width | 30" | 30" |
| Overall Thickness | 6" | 6" |
| Weight | 23 lb | 27 lb |
| Max Capacity | 220 lbs | 250 lbs |
| Suggested Capacity | 190 lbs | 220 lbs |
| Folded Size | 33"x13"x13" | 33"x15"x13" |
| Persons Capacity | 1 | 1 |
| Shipping Box Size | 37"x22"x10 | 37"x22"x10 |
| Shipping Weight | 30 lbs | 34 lbs |
Saturn MotoSUP Inflatable Paddle Board / Kayak / Motor Boat

Saturn MotoSUP great for stand up paddle boarding.

Install kayak seat or beach chair and you have sit-on-top kayak!

Install electric motor on a built-in transom and you have motor boat!

Older version of SUP330M with black tracking pad.

Motor can be raised out of water for easy paddling in case if battery discharged.

Video clips of Saturn Inflatable Paddle Boards SUP330M.