Commercial Grade PRO Inflatable Ocean Kayaks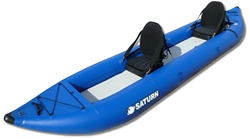 BoatsToGo introduces new type of commercial grade inflatable kayak that can be used almost anywhere, suitable for rentals and recreation. What makes this kayak unique is 4 self bailing openings along floor sizes that allows water to escape, without flooding kayak hull. That makes new OK420 kayak ideal for use not only on river, lake or bay, but also in an ocean, where waves can get inside kayak and then freely escape through the openings along the floor.
New Ocean Kayak OK420 also features 2 removable directional fins, one in front and one in rear. Two fins provides greater directional stability, eliminating seesaw action. You can use 1 fin, 2 or remove both. Also catamaran-hull feature of OK420 inflatable kayak helps with stability and reduce friction with a water.

Easy to carry and portable to store, this kayak is a must for any situation where a vessel's portability is important. If you live in a condo next to the water, but have no place to dock full size plastic kayak, then this inflatable kayak will keep you ready for adventure in a moment's notice.
This kayak is made of the same heavy-duty 1100 Dtex PVC as BoatsToGo inflatable boats and rafts. The floor is made of a 100mm high-pressure air deck that is extremely rigid when inflated, but can be rolled up when deflated.
The OK420 series kayak also comes with pre-installed heavy-duty D-rings to accept up 1 or 2 optional kayak seats and cargo.
Recent Customer's Review of Saturn OK420 kayak:
"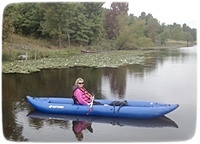 I am sending u pic of my experience. I was on pond by our home in Lafe, Arkansas. I had so much fun.. I'm 70 years old and it was so exciting. i paddled all over the place in my blue Saturn. I was a little apprehensive at first having never been in a kayak before. What a wonderful experience... I got in some good exercising too. Can't wait for us to take it with us next week on our vacation. Thanks for all your help and patience."
Virginia S.
Question: How Ocean Kayak OK420 different from Expedition RK and Fishing FK kayaks?
Answer: Main difference is position of the floor, in between tubes, not at the bottom. And drain slots along floor sides to let water to escape. Also OK420 longer and have 2 removable fin, one in front and one in rear.
Heavy duty 1,100 Dtex High Strength PVC fabric coated on both side with 1100 g/m2, 0.9mm. Fabric is thick, puncture proof and abrasion resistant.
100mm thick high-pressure air deck drop stitch floor.
Bungee cord to secure gear in front and back.
Heavy-duty D-rings for optional kayak seats.
2 removable fins in front and rear for directional stability.
2 soft handles in front and rear, and front D-rings for anchor attachment.
Industry standard Halkey-Roberts flat valves with push pin design.
Accessories: 2 basic aluminum kayak paddles, repair kit & carry bag.
FREE, complimentary generic high-volume hand pump also included.
Kayaks seats are optional, and available in our accessories section.
Optional dolly cart and high-performance kayak paddles are available.
14ft BLUE Ocean Kayak OK420B

SALE:

$599.00

(MSRP: $1,198.00)
SHIPPING: $49 (by FedEx Ground)
| | |
| --- | --- |
| Model | OK420 |
| Overall Length | 13.8' |
| Interior Width | 14" |
| Tube Diameter | 12" |
| Air Chambers | 2+1 |
| Kayak Weight | 34 lbs |
| Shipping Size | 45 x 24 x 13" |
| Persons Capacity | 2+1 |
| Weight Capacity | 900 lbs |
SATURN Ocean Kayaks OK420. Click on image to zoom in.

2 paddles, pump, carry bag, repair kit
Portable & Easy to carry!
2 directional fins.
Openings in bottom to let water escape.

Video of OK420 Kayak.

Click on Play button.

How to install removable fin?
Insert fin before inflating kayak. Fold deflated kayak floor at slot entrance of fin base, slide fin as shown on below pictures of paddle board, unfold and inflate. Keep sand away from rails before inserting fin.