SATURN 12' Light River Raft, Kayak, Ducky Fishing Boat.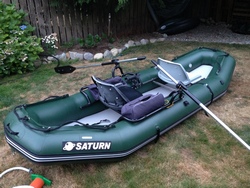 The 12' RD365 light rafts are great for whitewater river rafting, or kayaking, or as a ducky boat for fishing on a lakes and rivers. High rocker curves provide an exhilarating ride on whitewater like no other river raft or kayak! SATURN RD365 light river rafts are excellent whitewater paddleboats for 1-2 people.
The RD365 raft comes with 2 detachable inflatable thwarts, and 2 kayak paddles that can be used to get your quickly and easily to that sweet fishing spot on a lake, or to help you navigate fast river runs.
SATURN RD365 rafts are great for weekend explorations and excursions. They provide stable platform for standing and fly fishing for 1 or 2 people. RD365 raft have plenty of space inside for your gear, cooler and bait bucket.
RD365 river rafts are not self-bailers, but can be converted into self-bailers simply by cutting round holes size of a dime in bottom, along the floor perimeter.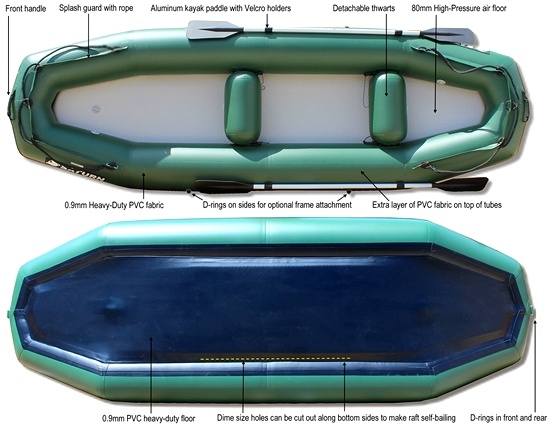 Heavy duty 1,100 Dtex High Strength PVC fabric coated on both side with 1100 g/m2, 0.9mm. Fabric is thick, puncture proof and abrasion resistant.
Standard accessories: 2 aluminum kayak paddles, repair kit, hand pump and carry bag.
Detachable high-pressure dropt-stitch air deck floor.
Industry standard Halkey-Roberts flat valves design.
Rubbing strake all around the raft.
Detachable inflatable thwarts.
Double layer on top of tubes.
D-rings on sides for optional frame installation.
Splash guards in front and rear.
12 ft Green River Raft / Ducky Boat RD365G
Only 2 left in stock!
SALE:

$649.00

(MSRP: $1,298.00)
SHIPPING: $49.00 (by FedEx Ground)
12 ft Blue River Raft / Ducky Boat RD365B
Only 4 left in stock!
SALE:

$649.00

(MSRP: $1,298.00)
SHIPPING: $49.00 (by FedEx Ground)
| | |
| --- | --- |
| Model | RD365 |
| Overall Length | 12' |
| Overall Width | 3.10' |
| Inside Length | 10' |
| Inside Width | 1.11' |
| Tube Diameter | 15" |
| Air Chambers | 5 |
| Floor Type | High-Pressure Air floor |
| Weight | 49 lbs |
| Shipping Size | 41 x 24 x 12" |
| Folded Size | 36 x 21 x 10" |
| Persons Capacity | 2 |
| Thwarts | 2 |
| Color | blue or green |
SATURN RD365 River Raft. Click to zoom in.

Customer's Reviews of RD365 raft:

"...I have recently purchased, and finally got to take out my new River
Raft/Kayak. We had a great time using it down a river with some quick moving
water. It handled very nicely and the main thing it was fun!"
"...Love the boat. Took it down the Snake River in Jackson Hole, WY the first weekend I had it. Class IV whitewater! Yes, I swam." T. UT
"I had e-mailed you a short time ago asking about where I should put drain holes in my River raft RD365. Well my job is complete and we tested it out this past week while on vacation in the Berkshire's in Ma. state. We (my children age 10 & 12 and I) shot the Zoar Gap on the Deerfield River. We had a blast and stayed an extra day to go back for more! Here's a couple of photos I hope you can use. Thanks for a great product at an average price for the working people! We even shot a Class II with my Labrador Retriever Astro!" Stay well, Mark
"I RECIVED MY RD365 YESTERDAY THE QUALITY OF THE RAFT IS BETTER THAN EXPECTED, WOW AM I HAPPY I FOUND YOU GUYS FRIENDS ARE ASKING ABOUT IT!" THANKS, CHUCK.

Older version SATURN RD365 Raft. Click to zoom in.