16' Heavy-Duty, Extra Large Inflatable KaBoat™
Customer's video of Black KaBoat Double click on video to watch in full screen.
SK487XL Extra Large KaBoats are designed to support more gear and provide more space than other smaller KaBoat models.
Extra large, 16" diameter oversized tubes and an extra wide interior make the SK487XL KaBoat perfect for law enforcement, special military operations under cover of darkness, or expedition along an unexplored coast.
This model is also great for remote island explorations, fun day on a water with a family, or just simple fishing on a weekend with friends.
This new SK487XL model has 4 separate air chambers for extra safety, compared to 2 standard chambers of regular KaBoats. Extra heavy-duty rub strake protectors are installed along both sides of the tubes for enhanced durability and rigidity.
SK487 KaBoats come with 2 sets of oarlocks and 2 sets of rowing oars for fast tandem rowing. With a 15HP 2-stroke outboard motor, this KaBoat was riding scary fast! The SK487XL handles sharp turns great and holds large waves without a problem.
16' KaBoat SK487XL is a rugged boat ready for any type of water action!



New KaBoat model V2.0 is now in stock.
Transoms now have triangular splash guards to minimize back splash and protect the transom holders from heat and exposure to UV rays.
Bulky plastic handles on end tubes were replaced with sun resistant and durable soft handles for longer life span.
The valves were moved to the inside of the tubes and under the seat to protect them from sun and the elements, and to make inflation from inside the boat easier when on the water.
New models have different bench attachments to make them shorter, lighter and move slightly lower for easier rowing.
Grommet PVC splash guards with safety grab lines run all along the KaBoat's tubes from the front to the rear. Having grommets on PVC lines allows the attachment of additional accessories, kayak seats and custom made frames and

arches for rod holders, night lights, etc.


Recent Customer Review
"I have to say I love our new 16' Kaboat, we have had it out a few times and it's perfect, folds up and fits in the back of my Mini Cooper, Easy setup takes 10 minutes with a low volume electric air pump, finishing off with the supplied hand pump. For a family boat to take camping for river or lake excursions here in Oregon it's perfect, mind you I have already poked a hole in the air floor (fishing with kids) but it was a quick and easy repair. I was using a 15hp engine but it was overpowered and went to a 50 LB thrust electric, more than enough power to zip you about a river and lasts all day as the boat is so light to push.. Great job Boats to go..."
L.B. Oregon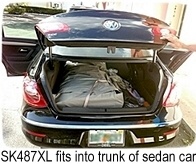 "Purchased the 16Ft SK487 in July 2012. Have used it for several multi day camping trips in large mountain lakes and the Columbia River in Washington state. With my 8HP four stroke and two people top speed is 22 MPH per my GPS. I have owned several inflatables, for the money this inflatable represents tremendous value. With the floor removed and deflated I can easily by myself transport between storage in the garage and into the back of my Explorer. With this boat I can carry four people without gear, or two people and camping gear for week long trips. I built my own sun top for about $35.00 using PVC pipe and a 5x7' tarp. Would buy this again, positively great value for the money, I can afford most any boat I desire, but hate paying monthly storage fees and waiting in long launch lines. I purchased this boat to escape the crowds, for this purpose it is perfect, love it!"
Lee, Washington
Same heavy-duty 1100 Denier PVC as in SATURN boats & rafts.
Front spray skirt with water deflector guard and rope lacing.
Marine grade plywood transom with a one way drain plug.
Extra thick, high-pressure 140mm inflatable air deck floor.
Durable rub strake protectors along boat tubes.
4 fins on bottom of tubes for improved tracking.
4 (four!) separate air chambers for extra safety.
2 sets of rowing oars with 2 sets of oar locks for tandem rowing.
4 lightweight aluminum removable benches.
Included: hand pump, repair kit, 4 oars and carry bag.
KaBoat SK487XL GRAY Inflatable Boat SK487G
In stock and ready to ship
SALE:

$999.00

(MSRP: $1,998.00)
SHIPPING: $119.00 (by FedEx Ground)
KaBoat SK487XL BLACK Inflatable Boat SK487B

SALE:

$999.00

(MSRP: $1,998.00)
SHIPPING: $119.00 (by FedEx Ground)
SK487XL Technical Specifications:

Exterior Length
16'
Exterior Width
50"
Interior Width
18"
Tube Diameter
16"
Shipping Size
48 x 25 x 13"
Shipping Weight
99 lbs
KaBoat Weight
89 lbs
Person Capacity
3+1
Weight Capacity
1100 lbs
Chambers
4+1
Material
1100 Denier PVC
Air Valves
Halkey-Roberts type valve by Naru
Max. Engine Capacity
10HP 4-stroke or 15HP 2-stroke
Inflation time
up to 10 min.
Color
Light Gray or Black
NEW 16' Gray KaBoat SK487XL V2.0 (Click to zoom in.)

Older version of 16' Black KaBoat SK487XL V1.0 (Click to zoom in.)

16' Gray KaBoat SK487XL V1.0 (Click to zoom in.)

Image by

U.S. Army Corps of Engineers Los Angeles District
High-Def Video Clip of KaBoat SK487XL V1.0 in whitewater action in Finland.
Video of KaBoat SK487XL V1.0 with 15HP Mercury outboard motor. Click on Play.
Video of KaBoat SK487XL V1.0 with Torqeedo 2.0kw electric motor. Click on Play.
Video of KaBoat SK487XL V1.0 with 5HP Suzuki outboard motor. Click on Play.

Click here for more KaBoat videos.

Quick Tip: If you are worried about the air floor being accidentally punctured by sharp gear or fishing hooks, you can get a piece of vinyl flooring from a local hardware store that can be cut out to fit inside the KaBoat over the floor.