8.6' SS260 Slated Floor Inflatable Boat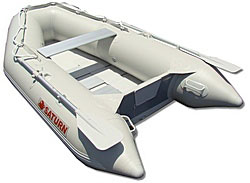 The 8'6" SS260 Saturn Slated floor inflatable boat is one of the lightest and least expansive dinghies available on a market today. It was designed with one purpose only - Make Boating Affordable! Great as a dinghy tender for yacht or sailboat, or just as all around small pleasure water craft for fishing, rowing and motoring on a budget.
This inflatable boat is lightweight and does not take up much space once deflated. SS260 boats can take up to a 5 HP short shaft outboard motor and can carry up to 3 people maximum. Because of its bright red color, this boat can also be used as a lifesaving raft in case of an emergency.
Saturn inflatable boats are made of 1100 denier Korean PVC fabric with polyester support that has excellent resistance to tearing, tension and breaking. It is a much more heavy-duty PVC fabric than most of our competitors with 1000 denier PVC boats.
The Saturn SS260 inflatable boat comes a slatted floor made of aluminum boards. These are same heavy-duty aluminum boards that are used for seats in all our Saturn boats. Aluminum slatted floor is much more reliable and rigid than regular plywood slatted floors available elsewhere. It will not break, it will not rot, it will not crack over time, and its corrosion-free! Slatted floor make it much easier to assemble and disassemble inflatable boat. You simply unroll it and pump in air with the included hand pump or optional electric air inflator. Since there are no need to inflate high-pressure air deck floor, inflation is a breeze an you will be on a water very quickly!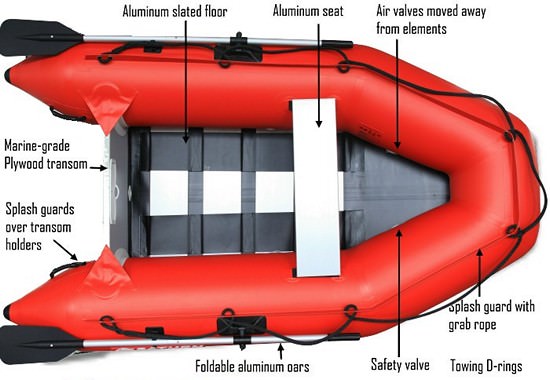 New red SS260 V2.0 with all around red splash guard with safety grab line.
To deflate the boat, simply open all air valves and start rolling the boat from the transom, or quickly suck all air out with an electric pump. Click to see how to deflate and fold your inflatable boat.
Deflated, the SS260 Saturn boat will fold to the size of a medium bag. Once deflated and folded, this boat can be easily stored in the trunk of your car or in a closet of your apartment. Bag with deflated and packed boat can be easily carried around with inexpensive foldable hand cart.

SS260 SATURN inflatable boat with aluminum slatted floor is excellent as a small rowing dinghy. You can easily reach your sailboat or go for the day of fishing on a lake. SS260 moves nice and easy when rowing, and due to the high stability of inflatable boat, it is possible to stand up for fly fishing or while boarding your yacht. This boat is a must for RV owners or anyone who wants to be on the water quick and on a budget.
Please note that SS260 Saturn slated floor boat does NOT have inflatable keel and does NOT come with high-pressure drop stitch air floor. It only comes with slatted floor using aluminum boards. However, what makes this boat different from other boats is heavy-duty 1.5mm 5-layers PVC bottom, which is almost twice of thickness regular 0.9mm PVC.
Recent customer testimonial:
"Hi, I live in Raymond, Maine. I received my boat today via FedEx, and I wanted to let you know how pleased I am with the quality of the boat and all the items it came with, I cant believe that I only paid $625.00 for it! I was looking at used ones on Craigslist for more money that were no very good, its a great deal just wanted to let you guys know thanks" J K.
SATURN SS260 FEATURES:
Separate internal air chambers.
One-way drain valve with plug.
All around, durable rubber strike.
NEW: Splash guard all around with grab line.
Safety valve to prevent over inflation.
Stainless steel D-rings for easy towing.
Reliable flat air valves with pushpin design.
Front bow D-ring with integral lifting handle.
Spare rope for attaching anchor is included.
Double layer of fabric at the bottom of tubes.
Bottom fabric is extra heavy-duty 1.5mm PVC.
2 directional skegs for improved tracking on bottom.
4-pc aluminum slatted floor is included with a boat.
Extremely rigid, lightweight hull for excellent performance.
Lightweight and strong removable aluminum seat bench.
Heavy-duty marine grade plywood transom for outboard motor.
Equipment: aluminum oars, repair kit, seat bench and carry bag.
Free, complimentary generic high-volume hand pump is included.
For the list of optional available Accessories please click here.
8 ft 6 in RED Slate Floor inflatable boat SS260R
This item is on backorder. Coming in stock around 12/12/16.
SALE:

$699.00

(MSRP: $1,398.00)
SHIPPING: $59.00 (by FedEx Ground)
8 ft 6 in GRAY Slate Floor inflatable boat SS260G

SALE:

$699.00

(MSRP: $1,398.00)
SHIPPING: $59.00 (by FedEx Ground)
| | |
| --- | --- |
| Tech Specs* | SS260 |
| Overall Length | 8.6' |
| Inside Length | 5.0' |
| Overall Width | 5.4' |
| Inside Width | 2.4' |
| Tube Diameter | 16.5" |
| Chambers | 3+1+1 |
| Person Capacity | 2+1 |
| Loading Capacity | 600 lbs |
| Max Motor Power | 5 HP (15" shaft / 80 lbs) |
| Tube Weight | 75 lbs |
| Shipping Size | 41 x 24 x 12" |
| Shipping Weight | 85 lbs |
| Floor Type | Slatted aluminum |
| Material | 1100 Denier Reinforced PVC |
| Seams | Quadruple Overlap |
| Air Valves | Recessed One-Way |
| Speed (approx.) | 10 mph (5HP w/2 adults) |
| Inflation & Assembly | 15 min. |
| Color | Light Gray or Red |
* Specifications and accessories are subject to change without notice. Max O/B Motor means: maximum power of outboard motor that can be safely used to plane the boat loaded to the maximum capacity at normal water surface conditions. Please exercise common sense and caution when using maximum motor capacity. Do not jump from wave to wave as new 4-stroke motors are much heavier then 2-stroke and provide extra strain on the transom. Under normal circumstances, with half the maximum persons/load capacity, 50% of maximum O/B power rating may be necessary to put the boat on plane.

New SATURN SS260 V2.0 pictures. Click for larger pictures

SATURN SS260 V1.0 pictures. Click for larger pictures

SATURN SS260 V1.0 with electric motor & 2 people.

Video of SS260 with 55lbs Electric Motor & 2 People.