High-Pressure 12 psi Electric Pumps for Inflatable Boats, Rafts, Kayaks, SUPs, etc.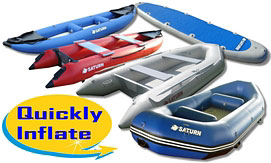 Our high-pressure Inflator Pumps are a incredible dual action, automatic, 12 volt pump developed in Australia. Designed to blowup inflatable boats with no effort at all. Just set the pressure gauge and press the ON Button. The pump will then inflate your boat to its correct pressure and stop automatically.
Our Electic Air Pumps are perfect product for:
Inflatable boats.
Inflatable rafts.
Inflatable kayaks.
Drop-stitch high-pressure air floors.
Inflatable stand up paddleboards.
Inflatable fenders, and many more inflatable products...
EPUMP Basic model of High Pressure Air Pump without battery.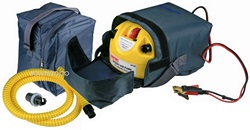 High-Speed fan and High-Pressure piston pump.
Automatic Stop when chosen pressure is reached.
Reliable design to reduce wear.
Gator clips for quick connection to the car battery.
All necessary adaptors are included.
FREE soft carry bag with included.
EPUMP_DB model of Electric Digital High Pressure Pump with Battery include:
High-Speed fan pump and High-Pressure piston pump.
Digital Gauge to display current air pressure readings in KPA or PSI.
Automatic Stop when chosen pressure is reached.
Reliable combination of Turbine & Piston to reduce wear.
All necessary adaptors are included to fit most air valves.
FREE soft carry bag with storage compartments and carry strap.
Internal rechargeable battery, allowing to take deluxe pump almost anywhere.
Packing dimensions is 14"x8"x8". Shipping weight is 13lbs.
Our high-pressure Digital Gauge inflator pumps are adjustable from 2.2 PSI up to a maximum of 12 PSI. By delivering around 200 liters/minute, electric pump will inflate a typical 14' boat in about 8-10 minutes.
High-pressure inflator pump automatically stops at the pressure level that you select and is also ideal for deflating. Once you've used one of these pumps, you'll never manually pump your boat again, because you no longer need a hand pump.
These pumps are not only excellent for quickly inflating boats and rafts, but also great for quickly filling inflatable high-pressure air deck floors and stand up paddleboards to up to 10-12psi air pressure. Without a high-pressure electric inflator, you'd have to use a hand pump for around 15-20 minutes, under the hot sun, which might not be your idea of fun. With this magic pump, you will be ready to roll in under 10 minutes with no effort at all.
All high-pressure air pumps now come equipped with a set of generic plastic adaptors designed to fit most of air valves on a market and specialized valve adaptor designed to fit Saturn's Naru valves. Choose correct adaptor that will fit nicely into air valve, and will press pushpin down when inserted for proper inflation. After inflation, when adaptor is removed, valve will lock automatically preventing air from escaping. You don't need any other valve adaptors besides those that already provided with our electric air pump. Using any other adaptors beside provided can burn pump pistons and will void its warranty.
"This pump is great, I bought one and it inflates my KaBoat in no time without the hassles of hand pumping the final pressure." J.K.
Please READ ALL WARNINGS & FAQs before operating your EPUMP!
Digital High-Pressure Electric Pump w/Battery EPUMP_DB
In stock and ready to ship
SALE:

$189.00

(MSRP: $378.00)
SHIPPING: $19.00 (by FedEx Ground)
Analog High-Pressure Electric Pump EPUMP
In stock and ready to ship
SALE:

$99.00

(MSRP: $198.00)
SHIPPING: $19.00 (by FedEx Ground)
NEW

Digital High-Pressure Electric Pump with built-in battery.

How the pump works:
When the pump starts it will be on a HIGH VOLUME (Turbine) pump until the pressure reaches 2-3 PSI. Then the pump will automatically switch over to the HIGH PRESSURE (Piston) pump and inflate the boat to its set pressure. You will hear sound of pump changing significantly when piston pump kicks in. Once reaching the set pressure the pump will automatically turn itself off.
| | | |
| --- | --- | --- |
| Tech Specs: | GP80 pump | GP80_DB pump |
| | 500L / min | 500L / min |
| | | |
| | | |
| | N/A | Digital Up/Down |
| Pressure setting increments | variable | |
| Rated Voltage | DC 12 Volt | DC 12 Volt |
| Battery Lead Length | 3 meter | 3 meter |
| | 15 minutes | 15 minutes |
| | 20.5 mm | 20.5 mm |
| Noise levels | 67 dB / 7M | 67 dB / 7M |
| | 3 Months | 3 Months |
Video of Paddle Board inflated hands-free in 3 minutes!
Video shows Digital pump with optional 12V7Ah battery
Video of Standard and Deluxe Electric Pump Models.
Important warnings:
DO NOT USE HAND PUMP ADAPTORS WITH HIGH-PRESSURE ELECTRIC PUMP!

CONNECT EPUMP ONLY TO FULLY CHARGED 12V CAR OR DEEP CYCLE BATTERY!

MAKE SURE VALVE PUSHPIN IS PRESSED DOWN WITH EPUMP ADAPTOR.

DO NOT USE EPUMP WITH ANY OTHER ADAPTORS EXCEPT PROVIDED.

DO NOT RUN EPUMP ON HIGH PRESSURE FOR LONGER THEN 15 MINUTES.

DO NOT DROP EPUMP ON HARD SURFACE OR SUBMERGE INTO THE WATER.

DO NOT LET SAND, DUST OR DEBRIS ENTER INSIDE AIR INTAKE.

DO NOT ATTACH ADDITIONAL ADAPTORS BETWEEN HOSE AND EPUMP.

MAKE SURE AIR IS NOT ESCAPING AROUND VALVE ADAPTOR OR HOSE.

DO NOT OPERATE EPUMP IF IT IS HOT. LET IT COOL BEFORE USE.


DISCONNECT EPUMP_DB FROM WALL CHARGER WHEN GREEN LED IS ON.

Instructions for operation:
AVERAGE AIR PRESSURE FOR INFLATABLES:
BOAT TUBES: 20KPA (25KPA MAX)

BOAT KEEL: 30KPA (40KPA MAX)

BOAT FLOOR: 60KPA (70KPA MAX)

iSUP BOARD: 70KPA (80KPA)

Out of the several included valve adaptors, you will need to find one that fits tightly inside your air valve. The correct adaptor should have a small perpendicular plastic piece that goes inside across the tube or will have 2 small tabs. This perpendicular piece or tabs are designed to press on the pushpin inside the valve to open valve and allow air to be pumped inside boat chamber. Try different adaptors to see which one fit better and can firmly press on pushpin of your air valve.
Before attaching the hose with the correct plastic valve adaptor to your Saturn boat Naru valve, please make sure that the pushpin inside the valve is in the upper, locked position. Air will not escape from a chamber when the pushpin is in the upper position.
Insert the valve adaptor connected to the electric pump hose into the Naru valve, so that the perpendicular piece or tabs presses the valve pushpin down, and unlocks the valve by letting air in. Once the chamber is full to capacity, you will quickly pull one end of the electric pump hose, and the Naru valve will automatically lock itself.
Never inflate air valve that is locked. This will burn pump very quickly and will void warranty.
Set the proper air pressure in KPAs on your electric pump dial prior to operating the pump. Make sure that you do not over inflate the boat chambers. Please note, that high-pressure air floors withstand much more air pressure then boat tubes.
When the boat is deflated, the high-volume air pump will start quickly filling the chamber up to 80%, and then the high-pressure pump will kick in to fill the boat to the setting of the air pressure dial. You will hear more louder noise once high pressure piston pump will start working. That is normal. The pump should stop automatically once the correct air pressure is reached.
Troubleshooting & Frequently Asked Questions (FAQ):

My electric pump does not start when I connected cables to car battery. Why?
If pump does not starts when connected to car battery with gator clips make sure that car battery are not too old and have enough power left in it. Try to connect to different car or another deep-cycle battery. Try to start car and let it run for couple minutes.

I hear rumbling noises and small parts rocking inside the pump?
Do not drop pump, there are plastic parts inside that can break. Do not overheat piston pump by trying to fill closed valves, running longer then 15 minutes or using small air output adaptors. Piston pump parts can break if overheated. If pump still within warranty period, send it back for replacement.

How do I know if pump with built-in internal battery has been fully charged?
Once EPUMP_DB model of pump is fully charged, LED light on wall charger should turn from red to green. Make sure you re-charge pump after each 3-4 inflation cycles of medium/large size boat. Do NOT overcharge pump. Promptly disconnect EPUMP_DB from wall charger when it fully charged. Overcharging may damage electronic unit of this pump.

Yellow hose connected to air output of pump become hot and let air escape.
If pump running too long, piston mechanism get overheated and heat up hose too. Apply Teflon tape between hose and output or use metal clamp to secure it to the black output tube.

Electric pump was stored in my car and now does not turn on. Why?
Electric pump has temperature sensor built in and will not turn on if was stored in a hot car. Please allow deluxe pump to cool off in a shade or by holding it against car air conditioning vent for couple minutes.

Pump switching to HP mode immediately after powering on. Why?
Make sure that valve is locked, with pushpin in an upper position. Also, make sure you are using correct valve adaptor. Provided specialized valve adaptor should press on pushpin inside the valve and open it to let air in. As soon as you remove that adaptor, valve will automatically lock itself, preventing air from escaping.

Do I have to remove pump from a pouch to turn it ON every time?
Power button for new and latest design electric pumps are now moved to the bottom of housing, closer to the battery. That was done in order to increase pump reliability. However, it is not really necessary to remove pump all way from a pouch in order to turn button on or off. All you need to do, is to locate power button through the fabric of soft pouch, and press on it without taking pump out. For easier identification of power button, you can simply mark location of power button under the fabric with a permanent felt pen marker.

HHow to use specialized valve adaptor with Naru valves?
Specialized Deluxe Electric valve adaptor comes with 2 silicone rubber seals. For better fit into Naru valve, place thick seal with grove inside and thin seal with grove outside as shown on below pictures: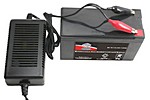 Battery Tip for Basic EPUMP without battery:
Battery is NOT included with EPUMP model of electric pump. This pump can be used with a car battery, or with portable 12V 7Ah batteries that are sold on EBay along with wall charger. Optional 12V 7Ah battery fits perfectly into pump's carry bag zippered pouch.