14' SD430 Saturn Inflatable Boat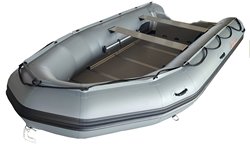 The 14 feet SD430 is a heavy-duty inflatable workboat, great for water rescue, diving or day trips almost anywhere. SATURN SD430 boats have been used by many Fire Rescue and Emergency Departments across the country.
14' SATURN SD430 inflatable boats are made with premium quality materials, and can handle up to a maximum of 7 persons. Heavy-duty SD430 takes up to a maximum 40 HP outboard motor, but will run nicely with a 25 HP motor. As reported by our customers, even with a 15 HP outboard motor and 2 people this boat can plane nice and easy. Read customers reviews of inflatable boat here.
Our inflatable boats are made of 1100 denier Korean PVC fabric with polyester support that has excellent resistance to tearing, tension and breaking. It is a much more heavy-duty PVC fabric than most of our competitors with 1000 denier PVC boats.
New Saturn SD430 inflatable boat in dirt-proof dark gray.

Deflated, the SD430 boat will fold to the size of one large bag with tubes and another large flat bag with a floor. Once deflated and folded, the SD430 can be stored in the back of your SUV or minivan or in a large closet of your apartment. Bag with deflated and packed boat can be easily carried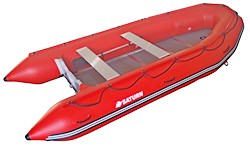 around with a foldable hand cart. Inflated boat can be easily transported with help of our removable dinghy wheels that are attached to the transom.
Double layers of fabric at the bottom of the tubes and rub-strake protector along the keel provide extra protection from sharp rocks and abrasive sand. The safety valve will prevent excessive air pressure in the boats chambers.
14' Saturn inflatable boats come standard with a 5 section heavy-duty marine grade plywood floor covered with gray resin. Plywood floor installation steps are here.
SATURN SD430 FEATURES:
All around rope grab line.
Separate internal air chambers.
One-way drain valve with plug.
All around, durable rubber strike.
Safety valve to prevent over inflation.
Stainless steel D-rings for easy towing.
Reliable flat air valves with pushpin design.
Front bow D-ring with integral lifting handle.
Spare rope for attaching anchor is included.
Double layer of fabric at the bottom of tubes.
Holds up to 6 persons maximum or 4 comfortably.
Deep inflatable V-keel with a rub strake protector.
Heavy-duty marine grade plywood floor is included.
Extra thick heavy-duty marine grade plywood transom.
Lightweight and strong removable aluminum seat benches.
Free second bench is included when order is placed on-line!
Equipment: T-paddles, repair kit, seat bench and carry bag.
Free, complimentary generic high-volume hand pump is included.
For the list of optional available Accessories please click here.
Download Saturn SD430 inflatable boat data sheet in PDF format
New features further improve inflatable boats durability and practicality:
Air valves have been moved toward the inside of boat's tubes and away
from direct exposure to the elements. This will allow easier inflation from
inside the boat and will minimize damage caused by sun and rain while the
boat is stored uncovered for prolonged periods of time. Rain water will not
accumulate inside the valves.
Triangular symmetrical splash guards were installed on the transom
corners to provide the sensitive transom of an uncovered boat with
additional protection and shade from the elements throughout extended
periods in Tropical environments.
14 ft Red inflatable boat SD430
Only 1 left in stock!
SALE:

$1,299.00

(MSRP: $2,598.00)
SHIPPING: $199.00 (by FedEx Ground)
14 ft Dark Gray inflatable boat SD430DG
Only 3 left in stock!
SALE:

$1,299.00

(MSRP: $2,598.00)
SHIPPING: $199.00 (by FedEx Ground)
| | |
| --- | --- |
| Tech Specs* | SD430 |
| Overall Length | 14' |
| Inside Length | 9.2' |
| Overall Width | 6.6' |
| Inside Width | 3.3' |
| Tube Diameter | 20" |
| Chambers | 3+1 |
| Person Capacity | 7 |
| Loading Capacity | 1830 lbs |
| Max Motor Power | 40 HP (15" shaft / 175 lbs) |
| Tube Weight | 139 lbs |
| Tube Shipping Size | 59 x 29 x 14" |
| Tube Shipping Weight | 145 lbs |
| Floor Type | Marine Grade Plywood |
| Floor Shipping Size | 48 x 28 x 6" |
| Floor Shipping Weight | 90 lbs |
| Material | 1100 Denier Reinforced PVC |
| Seams | Quadruple Overlap |
| Air Valves | Recessed One-Way |
| Speed (approx.) | 30 mph (40HP w/2 adults) |
| Inflation & Assembly | 40 min. |
* Specifications and accessories are subject to change without notice. Max O/B Motor means: maximum power of outboard motor that can be safely used to plane the boat loaded to the maximum capacity at normal water surface conditions. Please exercise common sense and caution when using maximum motor capacity. Do not jump from wave to wave as new 4-stroke motors are much heavier then 2-stroke and provide extra strain on the transom. Under normal circumstances, with half the maximum persons/load capacity, 50% of maximum O/B power rating may be necessary to put boat on plane.
SATURN SD430 pictures. Click for larger pictures

Used by Fire & Emergency Dept across US.

Quick Tip! Worried about the heavy weight of a hard floored boat? Don't break your back! Get a foldable hand cart from any retail store to carry the folded boat around. Even inexpensive dolly movers will work great for transporting a folded or fully inflated boat. Get dinghy dolly wheels to easily move the inflated boat across the shore and into the water.

SATURN SD430 videos. Click on Play.

SATURN SD430 Customers Reviews

"Okay, it's been two years since I purchased my SD430, the 14 foot inflatable. The first year I had it, I worried because I didn't have a trailer and couldn't afford one. I was worried that once I got to put it in the water I'd have problems and the warranty would be expired or something. At this price, I expected lesser quality than a actually got..."

"Dear BoatsToGo, I am writing to let you know that I am very pleased with my recent purchase of the SD430. I have to admit that given the low price, I was
expecting to find something wrong with the boat; however, try as I may, I
could not find anything wrong with this boat! This is an excellent boat
at a fantastic price. The Saturn SD-430 is nearly $1,000 cheaper than any other comparable boat I could find..."

Marco Forcone, NY

"... My impression of the boat is very positive, I currently have a Mark II Zodiac brands (14 feet) and this boat is at least as solid and robust as the Zodiac brands..."

Francisco, Monterey Bay

"Hi...I recently received my 14 foot inflatable from you, modified it, and put it in the water for testing. I am a Coast Guard licensed Charter Boat Captain with over 40 years boating experience and more than 25 years experience with inflatable boats. I would like you to know that your 14 footer is one of the best boats I have ever owned, and would put it up against a expensive brands or Avon any time. My wife and I are very pleased with the handling of this boat. Thanks for a great product and great service."

Captain Bill Hewitt, Canada

"Hi BoatsToGo! I received my boat yesterday and here are my impressions. I'm pleased with the apparent quality of the SD430. The tubes are larger diameter than even most of the Zodiacs and Avons that I've seen... I like that! It's really larger than I'd envisioned and appears very well made. All seams are neatly glued and the boat appears very rugged."

Brian, Florida

"I am one happy Saturn-owner these days. She's running like a greased barracuda! Planes beautifully, esp. with the hydrofoil I installed. You asked about SPEED with my 15hp Mercury 4-stroke motor. An experienced boat person estimated it runs full throttle at between 18 and 22mph. Or an average of 20mph."

Mark, Puerto Rico

"Hi BoatsToGo. I am Canadian resident from Quebec and I test for the first time my SD430 with Mercury 25hp 4 stroke. The result is WOW! The boat is quiet the performance is outstanding and it let me drive very easy. My summer will be very... thanks BoatsToGo . Sorry for the English, I am French."

Daniel , Quebec

"This is our first boat. We've had it out five times on four different lakes. The first time was on a pond with a 40lb thrust (used) trolling motor- Such a relaxing afternoon... The next three times was with a malfunctioning 1974 20 hp Mercury. What turned out to be a transmission problem kept us to about the same speeds the trolling motor gave us. After three trips to the boat shop the motor was finally fixed. GPS in hand, we did "speed trials". Fully loaded with the wife and 2 kids we did 17.7 mph. After dropping the passengers off at the dock I got it up to 19.5. We have a lot of fun with this boat. Thanks."

Garry N, Illinois

"I'm still very happy with my Saturn. I've had it 4 years, used it for 3 and it still looks like new. I keep it fully inflated on the trailer inside my garage so I'm sure that helps."

Brian S.