SALE: $950.00
In Stock
MSRP: $1,900.00
Shipping: $69.00
11' SD330 Saturn Inflatable Boat
The 11-feet SATURN SD330 inflatable boat is our BEST selling model. The SD330 will take up to a 15 HP short shaft motor and will carry up to 5 people maximum or 3-4 people comfortably.
The SD330 is great as a tender for yachts or sailboats. This boat can also be used as a lifesaving raft in case of an emergency.
Our boats are made of 1100 denier Korean PVC fabric with polyester support that has excellent resistance to tearing, tension and breaking. It is a much more heavy-duty PVC fabric than most of our competitors with 1000 denier PVC boats.
The Saturn SD330 inflatable boat comes standard with a high-pressure drop stitch air deck floor. Our drop stitch floors can take up to 9 psi of air pressure, and become extremely rigid once properly inflated. Not only do air floors make inflatable boats much lighter and more compact when deflated, but they also make it much easier to assemble and disassemble the boat. You simply unroll it and pump in air with the included hand pump. To deflate the boat, simply open all air valves and start rolling the boat from the transom, or quickly suck all air out with an electric pump. Click to see how to deflate and fold your inflatable boat.
The SD330 is great as a fishing boat. You can stand on the air floor just the same way you would stand on a plywood floor. The SD330 was tested to run nicely with an electric trolling motor. This boat is a must for RV owners or anyone who wants to be on the water quick and on a budget. Click here to read inflatable boats reviews of our customers.
Double layers of fabric at the bottom of the tubes and rub-strake protector along the keel provide extra protection from sharp rocks and abrasive sand. The safety valve will prevent excessive air pressure in the boats chambers.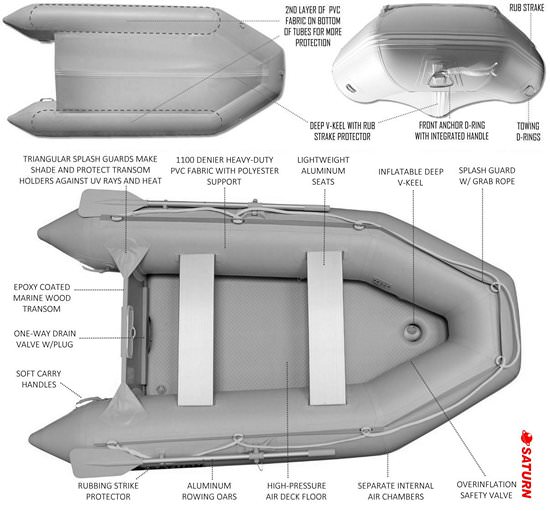 New Saturn V2.0 Inflatable Boat with all-around splash guards.
Customer's Review:
"I bought my Saturn SD330 inflatable boat in the spring or late winter 2011, through careful research I compared it to all other inflatable boats i.e. Zodiac, Avon, Achilles and such, but they were way out of my price range and by accident I stumbled upon the BoatsToGo.com website. I read the reviews of other Saturn owners, who also owned these big name brands like Zodiac and such and as they compared their Saturn inflatable boats to those brands it seems they prefer the Saturn much more..."
Click To Read Full Customer Review >>
SATURN SD330 FEATURES:
NEW Version 2.0 - All around Splash Guard with safety grab rope.
Separate internal air chambers.
One-way drain valve with plug.
All around, durable rubber strike.
Safety valve to prevent over inflation.
Stainless steel D-rings for easy towing.
Reliable flat air valves with pushpin design.
Front bow D-ring with integral lifting handle.
Spare rope for attaching anchor is included.
Double layer of fabric at the bottom of tubes.
High-pressure drop stitch air floor is included.
Deep inflatable V-keel with a rub strake protector.
Extremely rigid, lightweight hull for excellent performance.
Lightweight and strong removable aluminum seat benches.
Free second bench is included when order is placed on-line!
Heavy-duty marine grade plywood transom for outboard motor.
Equipment: aluminum oars, repair kit, seat bench and carry bag.
Free, complimentary generic high-volume hand pump is included.
For the list of optional available Accessories please click here.
Download Saturn SD330 inflatable boat data sheet in PDF format
11 ft Light Gray inflatable boat SD330G
In stock and ready to ship
SALE:

$950.00

(MSRP: $1,900.00)
SHIPPING: $69.00 (by FedEx Ground)
| | |
| --- | --- |
| Tech Specs* | SD330 |
| Overall Length | 11' |
| Inside Length | 7.1' |
| Overall Width | 5.4' |
| Inside Width | 2.4' |
| Tube Diameter | 16.5" |
| Chambers | 3+1+1 |
| Person Capacity | 4 + 1 |
| Loading Capacity | 1213 lbs |
| Max Motor Power | 15 HP (15" shaft / 125 lbs) |
| Tube Weight | 99 lbs |
| Shipping Size | 45 x 24 x 13" |
| Shipping Weight | 110 lbs |
| Floor Type | Drop Stitch Air Floor |
| Material | 1100 Denier Reinforced PVC |
| Seams | Quadruple Overlap |
| Air Valves | Recessed One-Way |
| Speed (approx.) | 17 mph (10HP w/2 adults) |
| Inflation & Assembly | 20 min. |
* Specifications and accessories are subject to change without notice. Max O/B Motor means: maximum power of outboard motor that can be safely used to plane the boat loaded to the maximum capacity at normal water surface conditions. Please exercise common sense and caution when using maximum motor capacity. Do not jump from wave to wave as new 4-stroke motors are much heavier then 2-stroke and provide extra strain on the transom. Under normal circumstances, with half the maximum persons/load capacity, 50% of maximum O/B power rating may be necessary to put the boat on plane.

SATURN SD330 V2.0 - click to zoom in.

SATURN SD330 V1.0 - click to zoom in.

"Here is picture of the SD330 inflatable boat with my son and nephew in it on the lake. Everything works as advertised. Thanks, Carl."

Quick Tip! Worried about puncturing the air floor with a fishing hook, dog claws or sharp object? Get a piece of vinyl flooring or rubber mat from your local hardware store. Cut the vinyl to fit inside the boat, over the floor and your air floor will be almost indestructible! When deflating, just roll it up along with the boat for future use.

Saturn inflatable boat SD330 V2.0 with 15HP Outboard Motor
Saturn inflatable boat SD330 V2.0 with 3HP Outboard Motor
Saturn inflatable boat SD330 V2.0 with 12V 55lbs Electric Motor
Saturn inflatable boat SD330 V1.0 unboxing and features

Deflated, the SD330 boat will fold to the size of a medium bag. Once deflated and folded, the SD330 can be easily stored in the trunk of your car or in a closet of your apartment. Bag with deflated and packed boat can be easily carried around with inexpensive foldable hand cart. Inflated boat can be easily transported with help of our removable dinghy wheels that are attached to the transom.