Inflatable Boat Launching Wheels.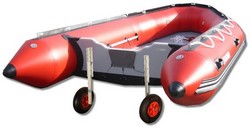 Designed to enable one man launching of inflatable boat, dinghy, tender. Constructed of heavy-duty marine grade anodized aluminium. Comes with a heavy-duty, all-terrain wheels 12" in diameter by 3" width.
Recommended max. weight: 300 lb.(136 kg)
Max tire pressure 14 PSI
Shipping weight: 14 lb. 8 oz
Replacement tubes model 410-350-6 TR87 about $7 and sold in K-Mart, Sears and Ebay.
CAUTION : The launching wheels is not designed to be towed behind a vehicle. Damage may occur and will void the warranty. If you need to tow boat behind your car, get used Jet Ski trailer on Craigslist.com or local classifieds.
Aluminum bracket attached to transom with provided stainless steel bolts.

Each wheel rectangular tube with axle attaches to transom bracket with 2 lock pins.

Launching wheels swivel up and lock in position when not in use. Wheels can be easily detached simply be removing lock pins.
Dinghy wheels
Upper position for boat operation
Lower position for boat towing

"

I registered the boat on Friday and took her out on the Chesapeake Bay for the first time on Saturday. Feel free to share the attached pictures. The boat was a pleasure to operate and the wheels are a great addition that allow me to take take the boat out by myself. Thanks for a great product and all the helpful communications over the last few weeks, and years since I am a return customer having just recently upgraded from the SD260 that I bought from you in 2006.

" Paul W.




Inflatable boat Launching Wheels DWHEELS
In stock and ready to ship
SALE:

$79.00

(MSRP: $158.00)
SHIPPING: $14.00 (by FedEx Ground)
Click Images to zoom in.
Question: Can I use this wheels to tow boat behind my car?
Answer: No, this wheels are only designed to go short distance from parking lot to beach or boat ramp, etc. It is illegal to tow boat behind car using this type of wheels.
Question: How this wheels work?
Answer: Wheel assembly can be locked in lower position for towing, upper position during boat operation, or can be completely disconnected from transom bracket for boat deflation and storage.
Below video posted on YouTube by customer. It shows custom DIY modification of dinghy wheel system that we sell. We do not sell modified parts.
Customer's video of dinghy wheels installation on a narrow KaBoat