13' Extra Heavy-Duty Expedition Inflatable KaBoat™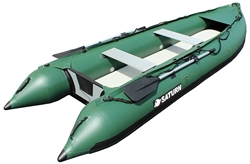 New, Extra Heavy-Duty 13' long SK385XL Wilderness series Inflatable KaBoats comes with large 16" diameter tubes and spacious interior. That make the SK385XL KaBoat excellent for remote explorations, hunting and fishing in the remote wilderness. This KaBoat model was specifically designed for use in Alaska's shallow rocky rivers. SK385XL lighter and smaller than similar type SK470XL KaBoat, and therefore is easier to handle by one person. Air floor is removable and can be protected with marine carpeting or vinyl flooring from local hardware store against accidental punctures by heavy and/or sharp objects.
SK385XL KaBoat comes with 4 separate air chambers for extra safety, compared to 2 standard chambers of regular sized KaBoats. KaBoat will still be operational even if one of chambers deflates. Extra heavy-duty rub strake protectors are installed along both sides of the tubes for maximum durability.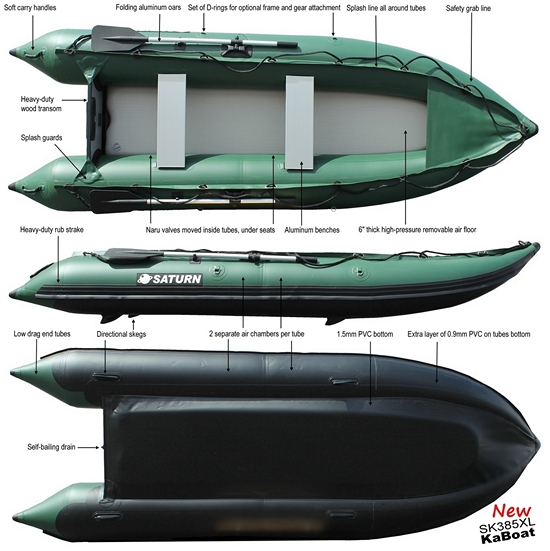 Premium features of SK385XL KaBoat:
Extra thick 1.5mm PVC bottom, compare to standard 0.9mm PVC on other KaBoats.
Bottom of tubes overlapped with additional layer of PVC up to the rub strake protectors.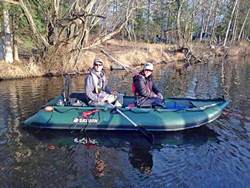 Standard Features of SK385XL KaBoat:
Same heavy-duty 1100 Denier PVC as SATURN boats & rafts.
All around spray skirt with guard and grab safety rope.
Marine grade plywood transom with a one way drain plug.
Extra thick, high-pressure 6" (140mm) inflatable air deck floor.
Durable rub strake protectors along boat tubes.
4 fins on bottom of tubes for improved tracking.
4 (four!) separate air chambers for extra safety.
1 set of rowing oars, 2 lightweight aluminum benches, hand pump and carry bag.
KaBoat SK385XL GREEN Inflatable Boat SK385XL

SALE:

$829.00

(MSRP: $1,658.00)
SHIPPING: $49.00 (by FedEx Ground)
KaBoat SK385XL RED Inflatable Boat SK385XLR
This item is on backorder. Coming in stock around 12/12/16. Only 3 left!
SALE:

$829.00

(MSRP: $1,658.00)
SHIPPING: $49.00 (by FedEx Ground)
SK385XL Technical Specifications:

Exterior Length
13'
Exterior Width
4.5'
Interior Width
18"
Interior Length
7.11'
Tube Diameter
16"
Shipping Size
48 x 25 x 13"
Shipping Weight
100 lbs
KaBoat Weight
80 lbs
Person Capacity
2+1
Weight Capacity
900 lbs
Chambers
4+1
Material
1100 Denier PVC
Air Valves
Halkey-Roberts type valve by Naru
Max. Engine Capacity
10HP
Inflation time
up to 10 min.
Color
Green
13' Green KaBoat SK385XL pictures

13' Red KaBoat SK385XL pictures

Saturn SK385XL Kaboat with custom rowing frame.

Quick Tip: If you are worried about the air floor being accidentally punctured by sharp gear or fishing hooks, you can get a piece of vinyl flooring from a local hardware store that can be cut out to fit inside the KaBoat over the floor.

3D images of SK385XL KaBoat

Images and video is a courtesy of Ričardas Marozas

3D Video of SK385XL KaBoat