Quality Inflatable Kayaks You Can Afford!
If you live close to the waterways, or ever wanted to enjoy kayaking, but are not sure how you would store or transport a bulky and heavy hard body kayak, then an inflatable kayak from Saturn is perfect for you.
Saturn
Inflatable Kayaks
deflate to the size of a piece of airline luggage, and can be stored virtually anywhere. Inflated in only minutes, you will find inflatable kayak
to be a full sized source of fun and adventure. Explore every nook and cranny of lakes, oceans, and rivers, these kayaks are extremely rigid and can withstand all conditions. An optional electric pump or the provided hand pump gets your kyaka rock hard and ready for exploration. Best of all, when you are done, just let the air out and roll everything up in the bag and you are ready for next time.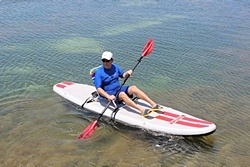 Saturn SOT330 & SUP365 models are unique, versatile multisport boards. They are not only great for stand up paddling, but also work great as Sit-On-Top Inflatable Kayaks, which are great for long range exploration or riding the surf. All Saturn boards comes with D-rings that can accommodate 1 or 2 optional kayak seats and cargo secured with bungee cords. Saturn inflatable kayak 12' SOT365 is suitable for 2 adults comfortably, while Saturn SOT330 is more suitable for 1 adult or 2 children. Saturn Sit-On-Top 11' Kayaks are Only $499
Saturn introduces new 14' long self-bailing Ocean Inflatable Kayaks. This kayak was designed for situation when ocean waves can get over board, and it is important for kayak hull not be flooded. Ocean inflatable kayaks OK420 comes with 2 removable fins for best possible tracking. Kayak is long and can take up to 3 persons if needed or a lot of gear. Easy to transport and store, these ocean kayaks are a must for any outdoor enthusiast!
Saturn Ocean Kayaks are On Sale for $599
Saturn's line of commercial grade, heavy-duty Expedition Inflatable Kayaks are ready for wilderness exploration anywhere your adventures take you. Portable and lightweight, they are made of extra heavy-duty 1100 denier PVC fabric. These kayaks will easily beat any competition, not only in the price arena, but also in durability and quality. Easy to carry and portable to store, these kayaks are a great addition for RV, campground, and fishing trips where a vessel's portability is important.
Saturn Expedition Kayaks are Starting at Only $629
Pro-Angler Fishing Inflatable Kayaks are made of heavy-duty 1100 denier PVC. The floor is made of a 10psi high-pressure drop-stitch air deck fabric that is extremely rigid when inflated, but can be rolled up when deflated. Additionally, a double layer of PVC fabric is glued to the air floor and on top of kayak tubes for extra durability. Super-rigid, high buoyancy tubes make Saturn FK396 kayaks so stable, that you can easily stand and fish from them. If you live in a condo or home near the water and want to go fishing, but have no place to dock a full size angler kayak, then this inflatable kayak will keep you ready for fishing at a moment's notice.
Saturn Pro-Angler Fishing Kayaks are On Sale for Only $629
Pro-Angler Ocean Fishing Inflatable Kayaks is based on our popular regular Pro-Angler fishing kayak, but designed to be in an ocean waves. It has slits on sides of floor, to let water to escape in case if kayak hull is flooded with waves. Ocean fishing kayak version also has 2 removable large fins for superior directional stability in a wind. High pressure air floor of ocean kayak version is glued between tubes, instead of resting on a bottom fabric layerd glued to the bottom of regular kayak tubes.
Saturn Pro-Angler Fishing Kayaks are On Sale for Only $619
Our portable KaBoat will fit into medium size bag. Now you can go on a road trip, vacation or camping, and take the KaBoat with you. A small gas or electric trolling engine is an option as well, as KaBoat will ride fast even with a small outboard engine! KaBoats are very stable, you will feel comfortable standing and casting, yet be agile enough to get to the trickiest spots where other boats have no chance.
Saturn Crossover Kayaks are Starting at Only $599

Why Saturn Inflatable Kayaks?

2-person rotomolded plastic inflatable kayaks are large, bulky and heavy. The hassle of strapping it to your car roof alone may prevent you from an enjoyable outing. Most Saturn inflatable kayaks can easily take up to 2 people and weigh almost half that of regular rotomolded kayaks. Only BoatsToGo offers quality inflatable kayaks at the most affordable prices! Just take a look at this Inflatable Kayaks Comparison Chart, and it will become apparent that boats from other brands are often nearly double that of the quality products from BoatsToGo. Why? Simply put: we do not spend as much for marketing and advertising as these other brands do, and are factory direct supply system keeps our overhead to a minimum, so we can pass the savings on to you!

Choosing a new Fishing Kayak: Standard Hard Hull or Modern Inflatable Kayaks?

Whether you're looking to do some angling in a large lake, the canal behind your house, or anywhere else, kayaks are great boats for a day out fishing. But before going out and making an investment in one, it is advisable that you do your research in order to make sure you are happy with your purchase. When most people think about kayaks, they picture hard hull boats being paddled through whitewater rapids. Now, these traditional hard hull kayaks have a competitor that deserves careful consideration when you go to select your boat. This is the inflatable fishing kayak, and you might be surprised at some of the features it offers when compared to the standard hard hull kayak.

Portability and Storage

As far as boats are concerned, kayaks are on the small and portable side. But the truth is, kayak owners still need a large car or truck to move them from place to place. And no matter how much storage or dock space you have at your home, you could always use more. This ease of transport and storage is one of the biggest advantages of inflatable kayaks, which can be quickly inflated and deflated at your convenience. This also allows you to purchase a longer and wider kayak than you may have been able to otherwise.

Getting Comfortable by being Versatile

When out for a long day of fishing, most anglers want the ability to sit comfortably. And for different people, that means different things. With a standard hard hull kayak, your seating options are sometimes limited after purchase. But with an inflatable kayak, you can easily change the type of seating in your boat depending upon your wants and needs. For example, with new Saturn FK396 inflatable kayak available at www.BoatsToGo.com you can sit directly on the provided aluminum benches, which are perfect for paddling with kayak or canoe paddles. You can also attach foldable boat chairs to your inflatable kayak for extra comfort. And if you want a more traditional kayak feel, you can easily remove the aluminum benches and replace them with two standard kayak seats.

The Pricing Question

When purchasing a fishing kayak, cost is one area that no one can ignore. In general, kayaks are some of the more affordable boats around, with well-performing hard hull fishing kayaks often running in the $1,000 plus range. I think we'd all agree that this cost is well worth the performance that these boats provide. But what if you could save a lot of money and still get equal or better performance? That is where the Saturn inflatable fishing kayaks come in, with a cost that sits below the $600 mark. But don't let that trick you into thinking that these inflatable fishing kayaks are not durable enough for your needs.

Extreme Durability

Nobody wants to purchase a boat just to have it break on them as soon as the warranty expires. At first glance, it would seem that a hard hull fishing kayak would be much more durable than its inflatable brethren. And yes, if you purchase a good quality hard hull kayak, it should last you for a long time. But there are also many inferior hard hull kayaks on the market that will crack or leak way sooner than they should. With an inflatable fishing kayak, however, you know you are getting a boat that is built up to high standards. These kayaks are made of heavy-duty 1100 Dtex PVC Fabric that is coated on both sides, leaving it abrasion resistant and puncture proof, just in case you have a fishing hook accident. And on the higher risk areas of the boat, such as the air floor and the top of the tubes, the PVC fabric has been double-layered to add extra protection.
Video of Saturn Sit-On-Top Inflatable Kayak SOT330
Video of Expedition Saturn Inflatable Kayak RK396
Video of Fishing Saturn Inflatable Kayak FK396
Video of Saturn KaBoat Crossover SK430