13' PRO-Angler Series Inflatable Fishing Kayak.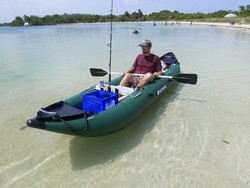 Easy to carry and portable to store, this fishing kayak is a must for any RV, campground or any other situation where a fishing portability is important. If you live in a condo or home near the water and want to go fishing, but have no place to dock a full size angler kayak, then this inflatable kayak will keep you ready for fishing in a moment notice.
This kayak is made of the same heavy-duty 1100 Dtex PVC as Saturn inflatable boats and rafts. The floor is made of a high-pressure air deck that is extremely rigid when inflated, but can be rolled up when deflated. In addition, a double layer of PVC fabric is applied to the air floor and on top of the tubes, in between the benches to prevent accidental fishing hook accidents. Rigid high buoyancy tubes make Saturn FK396 kayak so stable, that you can stand up and fish if needed.
FK396 Fishing Series kayaks come with 2 removable aluminum benches that can be used for mounting various hardware, such as rod holders, fish finder, GPS units, video cameras, dive flags, anchor mounts, or pretty much anything else you can imagine.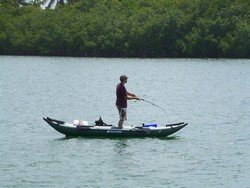 Our unique sun shade bimini top for kayaks can also be attached directly to aluminum bench to provide protection against the hot sun and light rain. It can be bolted down or attached with industrial Velcro for quick removal.
What makes this kayak so unique, is the multitude of ways it can be used. You can sit directly on the aluminum bench and paddle with kayak or canoe paddles. No kayak seats are needed for that! Or, you can attach comfortable foldable boat chairs with swivel platform directly to aluminum benches. You can also remove the aluminum benches, and install 2 regular kayak seats instead. It is also possible to replace the rear aluminum bench with a longer version and add a vertical plate for an optional electric motor. Or maybe even attach a custom made sail kit directly to the front bench. Configuration possibilities for this fishing kayak are literally endless!
The Saturn FK396 fishing inflatable kayak is a breeze to paddle due to its narrow profile and oversized high buoyancy tubes. However, if you need to move the kayak seat slightly higher, or your rear does not fit in between the kayak tubes, a type IV flotation cushion, that is sold f

or around $10 in many retail and outdoor stores, will fit nicely on the bottom of this kayak and right under the kayak seat. It also will act as a PFD in case of an emergency, or beach seat cushion once you get ashore.
Please note that this kayak is not a self-bailer. It was designed for lakes, slow rivers, oceans or bays. If you absolutely must take it to a whitewater river, you can cut out 4-6 self bailing holes in the kayak bottom to let excess water escape. Otherwise, a super absorbent ShamWow sold in many retail stores is great for getting excess water out of your non-bailing kayak. Simply put the ShamWow in the water and squeeze it outside - works as a pump!
Customer's reviews of FK396 fishing inflatable kayak: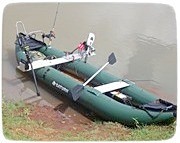 "I am all the way in East Africa, and I am crazy about fishing. I did bought the boat via a mutual friend from the US after I did saw his boat. Throughout my life I did have lots of deferent boats, but man this is a nice boat. I am using the boat in Kenya great lakes like Lake Victoria. I intend to use it also at the coast for fishing on the reefs." Marius, Kenya
"16 months ago I purchased three kayaks - 2 FK396 and 1 SK470. Soon thereafter they were put to use. My wife and I, several of our friends, and grandchildren have paddled the boats on the Great Lakes, inland lakes and rivers in Michigan, and the Intercostals as well as rivers on the Gulf Coast of Florida. I know we have 150+ miles and many hours of paddling the boats with no problems and lots of fun times... Keep reading customer's review >>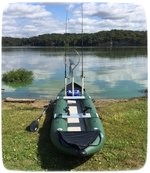 "Just wanted to say Thanks! This thing is awesome! So much easier than when I had my boat. In the water in five minutes. I have fished every weekend since getting it back in August. Ordering and shipping were a breeze and customer service was a big help. Thanks again!" Brian M. Kansas City, MO
"I wanted to write a quick letter describing my experience with the FK396 fishing inflatable kayak that I purchased last June. We have been using an inflatable kayak for the last four years.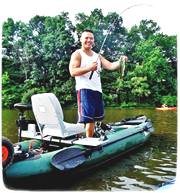 We purchased a Sea Eagle 330 to take with us in our fifth wheel trailer as we traveled full time around the country for approximately three years. Although the Sea Eagle did a satisfactory job most of the time, we found it wanting in several areas. I like to fish in everything from small rivers and ponds to large lakes and even inshore ocean bays. I was looking for a heavy duty inflatable that I could easily mount fishing accessories to and even possibly a trolling motor. My search took me to the boatstogo.com website where I found just what I was looking for. I must admit I was extremely skeptical when I saw the low price on what seemed to be a very high quality boat. I had seen similar boats advertised for at least twice the price but the specifications and the reviews I read convinced me to give the FK396 a try..." Keep reading customer's review >>
Real Fishing Machine! FK396 kayak set up by one of our customers. Click to zoom in.

Added motor mount for 30lbs trolling motor, deluxe folding chairs, kayak trolley cart, etc...
Heavy duty 1,100 Dtex High Strength PVC fabric coated on both side with 1100 g/m2, 0.9mm. Fabric is thick, puncture proof and abrasion resistant.
Two Velcro straps on both tubes to secure oars when not in use.
High-pressure air deck floor with double layer of PVC fabric in a middle.
Two removable aluminum platforms for gear and oar holders.
Double layer of PVC fabric on top of tubes in a cockpit area.
One large removable fin at the bottom for directional stability.
Storage space in front and bow under splash guards.
8 heavy-duty D-rings for optional kayak seats.
Hugging rope with handles in front and back.
Industry standard Halkey-Roberts flat valves design.
Accessories: kayak paddle, repair kit and carry bag.
Complimentary Hand Pump and Spare Air Valve included.
Kayaks seats are optional, and available in our accessories section.
13 ft Pro Angler inflatable fishing kayak FK396

SALE:

$599.00

(MSRP: $1,198.00)
SHIPPING: $49.00 (by FedEx Ground)
| | |
| --- | --- |
| Model | FK396 |
| Overall Length | 13' |
| Overall Width | 3' |
| Interior Width | 14" |
| Tube Diameter | 12" |
| Air Chambers | 3 |
| Floor Type | High-Pressure Air Deck |
| Weight | 43 lbs |
| Shipping Size | 45 x 24 x 13" |
| Persons Capacity | 1+1 |
| Weight Capacity | 700 lbs |
| Color | green |
Sail kits for kayaks available at www.sailboatstogo.com
Optional folding boat chairs can be mounted on top of aluminum benches.
Double layer of PVC fabric on a floor and top of boat tubes in between benches area.

Video reviews of Saturn Expedition Kayak FK396.

Unboxing and assembly of inflatable kayak FK396.

Inflatable Fishing Kayak on a water.

Saturn Fishing Kayak customer's review.

Saturn Fishing Kayak with optional Sail Kit.

Inflatable Fishing Kayak customer's review:


"The kayak is easy to blow up and once blown up lasted the entire week of vacation use. I used a pump for air mattresses to get most of the air in it and finished with the provided pump. It is very comfortable to fish from.
I found the seat with the cushion that I purchased with the boat to be very comfortable. The boat was so stable that I even felt comfortable with an addition boat cushion under the seat to set me up a little higher. I was wondering if it would be difficult to paddle without some sort of foot bracing. I think sitting up a little higher because of the cushions under the seat made paddling comfortable even without foot bracing. In calm water my wife joined me to explore around an island. Sitting on the bench while paddling in calm water was very acceptable. Paddling in wind, the higher freeboard in an inflatable does make the wind more noticable than in an traditional kayak and an inflatable does not glide through the water quite as easily. With the skeg in though, 10 to 15 mile an hour winds were doable for me.
When it comes to stability, the inflatable is much more stable than any fixed kayak I have ever used. Moving around in the Kayak is not a problem even in choppy water. For fishing comfort, an inflatable is better than a sit in or sit on top hard kayak. There was so much room in the kayak while I was fishing by myself that I found the velcro fasteners on the side for holding a paddle to not be necessary. I just stored the paddle in the kayak.
I would have welcomed an handle somewhere on the middle of the kayak for picking it up. I would have also welcomed a bit more in the way of information on blowing up the kayak. Either materials with the boat or the pump should have that information. Overall, I am very satisfied with my purchase so far. After a week, I can't say about durability, but it looks and feels sturdy. I am looking forward to many more hours of fishing and would recommend the inflatable kayak for people who like to fish." Ed F.