13' SD385 Saturn Inflatable Boat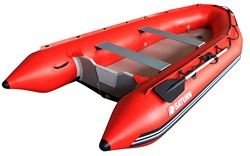 The 13-feet SATURN inflatable boat SD385 is great as a fishing boat for 4-5 people, or as large dinghy to carry up to 6 persons maximum from main ship to the shore. It also great as a weekend pleasure cruiser for entire family!
With a 15 HP motor and one person, this inflatable boat will fly like a Jet Ski! The SD385 sport runabout was also tested to easily get on plane with a 15 HP outboard engine and 3-4 people, with a cruising speed around of 20-30 mph.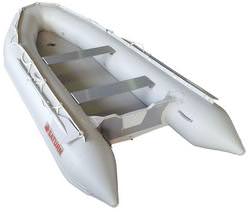 Deflated, the SD385 boat will fold to the size of one large bag with tubes and another flat bag with a floor. Once deflated and folded, the SD385 can be easily stored in the back of your SUV or minivan or in a large closet of your apartment. Bag with deflated and packed boat can be easily carried around with inexpensive foldable hand cart. Inflated boat can be easily transported with help of our removable dinghy wheels that are attached to the transom.
Double layers of fabric at the bottom of the tubes and rub-strake protector along the keel provide extra protection from sharp rocks and abrasive sand. The safety valve will prevent excessive air pressure in the boats chambers.
We now offer Saturn SD385 with high-pressure air deck floor, for easier assembly, deployment and greater portability. If you are planning on inflating/deflating boat for each use, then air floor is a must.
NEW Saturn SD385 V2.0 with slash guards and high-pressure air floor.
SATURN SD385 inflatable boat reviews by our recent customers.
"I used this boat for fishing and taking boat rides around the local lakes and rivers. The 9.8hp motor is powerful enough to get the boat up on a plane with two guys and a day's worth of gear in the boat. With 5 people in the boat things get a little crowded for fishing, but there's still enough room to move around. The wide tubes and hard floor make the boat incredibly stable. You can stand up in it without making it rock, and the boat has handled some big waves (across the middle of Smith Mountain Lake in VA) with no problems. The best thing about this boat is how easy it is to transport and store. The boat and motor fit in a small pickup, and would fit in the back of a large SUV too."
A.N.J, West Virginia
"Well first off let me just say that I live in Oregon and I love your boats! When I received my new boat I went through the steps to put it all together, all was very easy and it looks and performs as stated. I was happy to see very clean glue lines and overall quality of my new SD385. I power it with a mercury 9.9 and it planes very well in light chop with four people in it, With two it just fly across the water! I will buy a Saturn again and also highly recommend these boats to anyone looking for a well made inflatable boat that can take a beating. Thanks to boatstogo I am a proud owner of a very fun boat and shipping was easy and fast."
Darren
"I love my boat. I have had it for two years and always get complements on it."
Drew, California
All around rope grab line.
Separate internal air chambers.
One-way drain valve with plug.
All around, durable rubber strike.
Safety valve to prevent over inflation.
Stainless steel D-rings for easy towing.
Reliable flat air valves with pushpin design.
Front bow D-ring with integral lifting handle.
Spare rope for attaching anchor is included.
Double layer of fabric at the bottom of tubes.
Holds up to 6 persons maximum or 4 comfortably.
Deep inflatable V-keel with a rub strake protector.
24mm thick heavy-duty marine grade plywood transom.
Lightweight and strong removable aluminum seat benches.
Free second bench is included when order is placed on-line!
Equipment: aluminum oars, repair kit, seat bench and carry bag.
Free, complimentary generic high-volume hand pump is included.
For the list of optional available Accessories please click here.
Download Saturn SD385 inflatable boat data sheet in PDF format
New features further improve inflatable boats durability and practicality:
Air valves have been moved toward the inside of boat's tubes and away
from direct exposure to the elements. This will allow easier inflation from
inside the boat and will minimize damage caused by sun and rain while the
boat is stored uncovered for prolonged periods of time. Rain water will not
accumulate inside the valves.
Triangular symmetrical splash guards were installed on the transom
corners to provide the sensitive transom of an uncovered boat with
additional protection and shade from the elements throughout extended
periods in Tropical environments.
13 ft Red inflatable boat SD385
Only 4 left in stock!
SALE:

$1,199.00

(MSRP: $2,398.00)
SHIPPING: $129.00 (by FedEx Ground)
13 ft Light Gray inflatable boat SD385G

SALE:

$1,199.00

(MSRP: $2,398.00)
SHIPPING: $129.00 (by FedEx Ground)
| | |
| --- | --- |
| Tech Specs* | SD385 |
| Overall Length | 13' |
| Inside Length | 8.4' |
| Overall Width | 5.7' |
| Inside Width | 2.8' |
| Tube Diameter | 18" |
| Chambers | 3 + 1 +1 |
| Person Capacity | 5 + 1 |
| Loading Capacity | 1500 lbs |
| Max Motor Power | 30 HP (15" shaft / 150 lbs) |
| Tube Weight | 130 lbs |
| Tube Shipping Size | 52 x 28 x 13" |
| Tube Shipping Weight | 148 lbs |
| Material | 1100 Denier Reinforced PVC |
| Seams | Quadruple Overlap |
| Air Valves | Recessed One-Way |
| Speed (approx.) | 25 mph (25HP w/2 adults) |
| Inflation & Assembly | 30 min. |
* Specifications and accessories are subject to change without notice. Max O/B Motor means: maximum power of outboard motor that can be safely used to plane the boat loaded to the maximum capacity at normal water surface conditions. Please exercise common sense and caution when using maximum motor capacity. Do not jump from wave to wave as new 4-stroke motors are much heavier then 2-stroke and provide extra strain on the transom. Under normal circumstances, with half the maximum persons/load capacity, 50% of maximum O/B power rating may be necessary to put boat on plane.
SATURN SD385 V1.0 pictures. Click to zoom in.

Quick Tip! Worried about the heavy weight of a hard floored boat? Don't break your back! Get a foldable hand cart from any retail store to carry the folded boat around. Even inexpensive dolly movers will work great for transporting a folded or fully inflated boat. Get dinghy dolly wheels to easily move the inflated boat across the shore and into the water.

SATURN SD385 Video. Click Play button.