14' Kayak & Inflatable Boat Crossover - KaBoat™.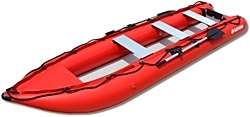 This new and revolutionary product, is a crossover between an inflatable kayak and an inflatable boat - KaBoat! It can be used as a regular kayak, just paddling anywhere you want, ocean, bay, river or lake. If you get tired, use an electric or gas engine installed on marine grade plywood transom. See customer's video of 14' SK430 KaBoat with Torqeedo Travel electric motor.
Use it as an inflatable boat with an outboard engine. Takes up to a 10 HP gas engine! If the battery charge or gas is low, then use it as a kayak to paddle to your destination.
Extremely portable, will fit in a medium size bag. Now you can go on vacation and take this portable KaBoat with you along with an optional small electric or gas engine. The main benefit is that if you will get tired paddling, then you can use the engine to get back ashore.
The KaBoat's exceptionally stable design allows you to stand, fly fish or even get into those narrow spots where other boats can't go to get the best fishing. The KaBoat is excellent as a dinghy for a yacht or sailboat. It can also be used in light whitewater action. See KaBoat expedition in Swedish Lapland whitewater rivers.
It's aluminum seats provide excellent support and can be customized by installing folding fishing chairs with a swivel base or canoe seats to provide additional back support for long trips.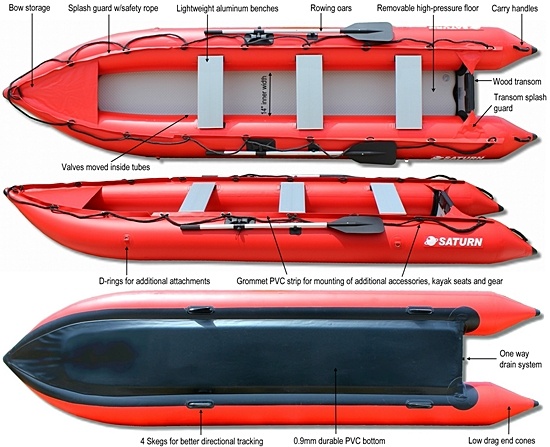 New KaBoat model V3.0 specs:
Transoms now have triangular splash guards to minimize back splash and protect the transom holders from heat and exposure to UV rays.
Bulky plastic handles on end tubes were replaced with sun resistant and durable soft handles for longer life span.
The valves were moved to the inside of the tubes and under the seat to protect them from sun and the elements, and to make inflation from inside the boat easier when on the water.
New models have different bench attachments to make them shorter, lighter and move slightly lower for easier rowing.
Grommet PVC splash guards with safety grab lines run all along the KaBoat's tubes from the front to the rear. Having grommets on PVC lines allows the attachment of additional accessories, kayak seats and custom made frames and arches for fishing rod holders, night lights, etc.
High Definition Video of 14' KaBoat in wilderness expedition in Northern Europe.

Click at Full Screen button in lower right corner, and then set resolution to 1080p
Benefits of KaBoat VS. conventional Kayak or Inflatable Boat:
Conventional plastic or fiberglass kayaks require significant storage space due to their large dimensions. KaBoats can be deflated and folded for easy storage and transportation.
Kayaks can be only paddled, but the KaBoat allows you to use a small gas or electric engine to cover larger distances. If you get tired of paddling, you can start using an optional outboard engine.
KaBoats are much more stable than conventional kayaks, allowing for standing and walking inside the KaBoat. In fact, you can fish standing or even ride while standing.
The KaBoat can be used for diving, snorkeling, and fishing, however not many conventional kayaks can offer similar functionality.
Due to the high buoyancy of its inflatable tubes, the KaBoat can transport a much larger cargo than regular kayaks.
KaBoat allows you to go to narrow or shallow places where regular inflatable boats will not fit. Just raise the engine and paddle anywhere that is at least 5" deep.
Due to its smaller chambers, it is much easier and faster to inflate a KaBoat than a regular inflatable boat.
Because of its narrow profile and a much lower drag than wide conventional inflatable boats, KaBoats can go faster with the same rated engine than comparable size inflatable boats.
KaBoats can also be used as a dinghy to a yacht or sailboat, but take up much less space when deflated and folded. KaBoats also can be placed on a swimming platforms.
KaBoats cost much less than any inflatable dinghies and most kayaks available today.
Recent Customer Review of Inflatable KaBoat SK430:
"We received our boat last week and were able to test drive it over the weekend and we were totally impressed. The delivery was prompt, the product was excellent... even the bag is big enough so that everything fits in it when it's folded up. We bought it specifically to go camping with since we pull a small camping trailer we needed something portable to go in our van. We found that it fit very well on top of our mini-van when it was blown up so once we get to our camping spot we can go to various lakes in the area and not have to deflate and inflate every time. This is the 3rd raft that I've owned... the first two had the wooden floors - a Sevylor and a Sea Eagle and the air floor is much easier to deal with and pack and it's quite solid... we did buy some outdoor carpeting to put over it (we have a dog). Thanks for putting out such a great product at a reasonable price."
Jan, MI
"I have a 14' kaboat and wanted to tell you how much I like it and some of the modifications I've made. It packs an unpacks very easily in the carry bag, it's a one-person operation from start to finish. While I'm putting on my dive gear, I have the boat hooked up to an electric pump and by the time I'm done dressing, I only have to top it up with the hand pump. Deflating is even faster, just open the valves and roll from the transom to the bow, it's all wrapped up in a couple minutes. I bought an old Evinrude Light Twin 4hp engine for $100, and with just me aboard it'll plane at about 15mph. With two people the performance drops to 6.5mph, but this is two big guys with wetsuits, weight belts, etc. I put the gas tank under the bow cover and run a long fuel line back. I don't often use the seats that came with the boat. The rear seat is too close to the engine and the middle seat is too far, so I just sit on the tubes. I have a 42 qt cooler I use in the middle of the boat, it's pinched gently in place by the tubes and stays in place. I use the cooler for storage and it makes a convenient middle seat for a passenger. I can move the cooler where I want to better balance the boat. One thing I've modified is to use a 2-piece marine plywood floor, I laminated the bow section so it follows the same curvature as the boat. The floor is very solid under foot, distributes the load better along the full length of the boat, makes the boat more stable, and improves handling. Thanks for a great product!"
Mario K. Redwood City, CA
"I bought the SK430. I also bought a small trolling motor. I've been out three times in the three weeks. I absolutely love this boat. It's small enough to handle for two people and large enough to move around in. We've fished, swam and just trolled around the lake. The boat is sturdy and durable. It inflates in minutes. We have a Dodge Caliber hatchback and it fits perfectly in the back. If you're looking for a way to get on the water for not a lot of money, this is the way to go. Thank you Boatstogo."
Penny S.
"I just wanted to share my great experiences and photos by purchasing one of your KaBoats (SK430). The SK430 was everything I could have imagined in a quality boat, and more. I've taken it to 5 different lakes so far, and the performance of the boat has surprised me every time. Going slightly beyond the limits of the SK430, we even sat 4 adults comfortably on the boat in a lake for an hour, without leaving a scratch on the kaboat. After receiving this boat and taking it out, it has turned into a fully fledged hobby! Here are some photos of my experiences thus far."
Mark, CA
KaBoat Tech Specs:
Same heavy-duty 1100 Denier PVC as in SATURN inflatable boats.
Wide beam hull design for stability. You can stand in a KaBoat.
Front Spray Skirt with water deflector guard and rope lacing.
Marine grade plywood transom with a one way drain plug.
High-pressure inflatable air deck floor.
4 (four!) fins for improved tracking.
1 set of rowing oars with oar locks.
Set of rowing oars with oarlocks.
3 aluminum removable benches.
Included: hand pump, repair kit, 2 oars and carry bag.
KaBoat SK430 GRAY Inflatable Kayak/Boat SK430G
Only 4 left in stock!
SALE:

$699.00

(MSRP: $1,398.00)
SHIPPING: $49.00 (by FedEx Ground)
KaBoat SK430 RED Inflatable Kayak/Boat SK430R
This item is on backorder. Coming in stock around 12/12/16. Only 3 left!
SALE:

$699.00

(MSRP: $1,398.00)
SHIPPING: $49.00 (by FedEx Ground)
SK430 Technical Specifications:

Exterior Length
14'
Interior Length
115"
Exterior Width
42"
Interior Width
14"
Transom High
13.5"
Tube Diameter
13"
Shipping Size
45 x 24 x 13"
Shipping Weight
79 lbs
KaBoat Weight
58 lbs
Person Capacity
3
Weight Capacity
750 lbs
Chambers
2+1
Material
1100 Denier PVC
Air Valves
Halkey-Roberts type valve by Naru
Max. Engine Capacity
8 HP (10 HP if 2 stroke)
Inflation time
5-10 min.
Tubes Color
Light Gray or Red
NEW V3.0 14' Red KaBoat SK430 with splash guard

NEW V3.0 14' Green KaBoat SK430 with splash guard

2012 V2.0 14' red KaBoat SK430 with oarlocks (Click to zoom in.)

2010 V1.0 14' gray KaBoat SK430 without oarlocks (Click to zoom in.)

Igloo cooler fit nicely between tubes.

New model has oarlocks & aluminum seats.

SK430 V2.0 shown with optional sun shade & electric motor (Click to zoom in.)

1080p HD videos of SK430 V2.0 KaBoat in wilderness river expeditions in Sweden.

Customer's video of 14' SK430 KaBoat V2.0

More Customer Review of Inflatable KaBoat SK430:
"I recently purchased a 14 foot Kaboat. I chose this model feeling it would best meet my needs.

I kitesurf, fish, windsurf, and kayak. I have a small trailer that holds all my gear - putting a hardshell kayak or small boat on the racks (on the trailer or on the car) can be done, but has drawbacks. The boat is exposed to theft and weather, gas mileage suffers, and you can't really store it loaded and ready to go at all times.

The Kaboat has worked great. It weighs about the same as my 14 foot hard shell plastic kayak (58 pounds) - so no difference in the weight. It fits inside the trailer (no need for racks on the car and the loss in mileage, danger of theft, etc.). When I do blow it up - if I want to leave it blown up (say, while I am camping) I can put it on top of the trailer and fasten it with straps.

I paddle the Kaboat - can go about 3 MPH where I can do 4.5 MPH with my hardshell kayak. But - it is so much more versatile. I have a sailing rig that fits on the Kaboat - with a moderate breeze I can travel at 5 to 6 MPH in comfort and no strain. I have a 1.5HP air cooled outboard (weighs 12 pounds) that can take it 5MPH at half throttle - and almost pop it on to a plane at full throttle. All the speeds are verified with a GPS. I recently got a used 3.5HP and that puts it on plane with little effort. Bottom line - the hardshell kayak I can just paddle. With the Kaboat I paddle, sail, motor - whatever the situation calls for. And it all stores easily in my trailer. I leave the trailer loaded and ready to go for the weekend.

I mentioned that my son and I kiteboard as well. The Kaboat is our RV to kiting spots. We can load 4 kiteboards, 4 kites, and our gear. Motor to any location, even setup in the water (the Kaboat is stable enough to pump up the kite while standing in the boat). Kite and return to our Kaboat to rest, get water - using it as base. This works out great in a place like the Florida Keys where you really need a boat to catch all the wind directions. The Kaboat has shown its veratility and is number one for utility."

Dave Z.