12' SD365 Saturn Inflatable Boat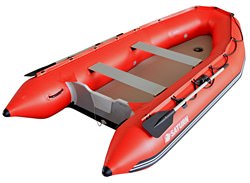 The 12-feet inflatable boat SATURN SD365 is our best selling inflatable boat. SD365 boats are longer and wider than 11ft SD330 models, and take up to a 30 HP outboard motor.
SD365 SATURN inflatable boats can be used for anything from a dinghy, to a fishing boat, to even a lifeboat or leisure boat. The SD365 boat is a large boat, but is still lightweight, and can be easily carried by one person with a wheel dolly. Great as a fishing boat too! Go boating without stretching your budget!
Saturn inflatable boats are made of 1100 denier Korean PVC fabric with polyester support that has excellent resistance to tearing, tension and breaking. It is a much more heavy-duty PVC fabric than most of our competitors with 1000 denier PVC boats.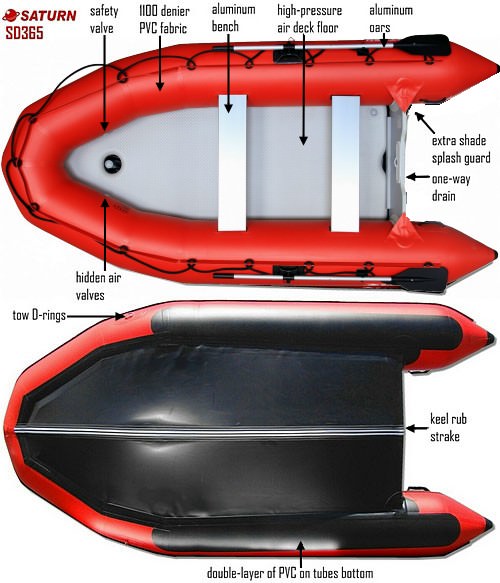 The Saturn SD365 inflatable boat comes standard with a high-pressure drop stitch air deck floor. Our drop stitch floors can take up to 9 psi of air pressure, and become extremely rigid once properly inflated. Not only do air floors make inflatable boats much lighter and more compact when deflated, but they also make it much easier to assemble and disassemble the boat. You simply unroll it and pump in air with the included hand pump. To deflate the boat, simply open all air valves and start rolling the boat from the transom, or quickly suck all air out with an electric pump. Click to see how to deflate and fold your inflatable boat.

Deflated, the SD365 boat will fold to the size of a large bag. Once deflated and folded, the SD365 can be easily stored in the trunk of your car or in a closet of your apartment. Bag with deflated and packed boat can be easily carried around with inexpensive foldable hand cart. Inflated boat can be easily transported with help of our removable dinghy wheels that are attached to the transom.
Double layers of fabric at the bottom of the tubes and rub-strake protector along the keel provide extra protection from sharp rocks and abrasive sand. The safety valve will prevent excessive air pressure in the boats chambers.
Read what our customers are saying about SD365 SATURN boat:
"The Saturn 12 footer I bought from you is the most fun boat we've ever had over the last 35 years. It turns heads every time we're out on the water with it and folks always stop for a closer look at the boat ramp and ask a lot of questions about it. Another great thing to mention is how easy it is to paddle the boat in either direction! It just glides across the water. I also bought a 9.8 Nissan four stroke for this boat and swear you couldn't burn 3 gallons of gas in it in an entire day. Had to take it out in the ocean, just to try it out and it was more fun then I could ever imagine. Completely safe and super stable. Big boat wakes, in the Intercostals Waterway, are a snap with this boat! Ran it once, with just my 210 lbs in it, and it was scary fast! LOL! With the wife and I in it it runs about 16 - 18 knots at full plane using half throttle! Really and exceptional boat..."
Kenneth B., Oak Island, NC
"Hello, I received 12' boat that I ordered from you, and got to use it for the first time the other day. From the first time I inflated it, I have been amazed at the quality and construction of this boat. I expected a moderately decent boat with no frills, but this thing is awesome. I couldn't believe the bomb-proof construction of the tubes...they're rock solid, and the air floor is unbelievably comfortable, yet amazingly rigid. I put a 25hp outboard on it, and it is wickedly fast. It also easily smashes through 3 to 4 foot waves. I will be using it in the Gulf of Mexico in open ocean in a week or so, and I will be able to send you some pictures or video then. Please feel free to use anything I have said on your website, as I wish more people to know of your outstanding quality and service ...I wish nothing in return, except that you keep doing what you are doing. Your help and patience with my constant questions was very much appreciated...By the way, if anyone wants to know, the 12' inflatable with the air floor runs 28 MPH with a 25 hp outboard. That's with 2 people on board."
Damon P. Tampa, FL
"I have a 12ft. boat w/a 25hp, that I purchased a few years ago (5/5/05) from your company. And I go crazy in it... I love it! I have jumped off boat wake in the bay behind my house: took it to Costa Rica and had it in the ocean with like 10 ft surf.....jumping them. Beach launched for spear fishing.....everything. But now the boat is still in Costa Rica and it is time for a new one. I have put that one thru hell. And one last thing, I don't think anyone has put your boats thru the things that I have. I have jumped it so high that I hit bottom and sear the motor mount (clamp) off. And I still haven't had a problem with it falling apart yet, besides a little delamination in the transom: and when I drive my boat I drive it to go as fast as I can..."
Jason, Costa Rica
"I purchased my SD 365 3 years ago from you and have been extremely pleased. We have fished in the little boat from the far northern lakes of Northern Saskatchewan to the Sea of Cortez off Baja. I have a 9.9 Yamaha 2 stroke and it moves it along at about 15 - 18 miles per hour. I have a short shaft outboard but I added about a 1 inch strip to the top of the transom as I found the leg of the engine with the hydrofoil on was running too deep in the water at a plane. It helped to get the boat to plane easier. Our little boat has been portaged over Beaver Dams, run rapids in rivers, dragged across beaches in Mexico and only a few scratches. The only leak was in the air floor from a dropped fishing knife, no big deal to fix. I would strongly recommend your product to anyone who is looking for a good all round boat for all conditions.
Bob and Pat M. Alberta Canada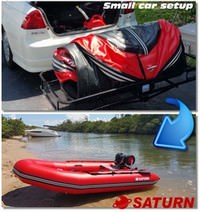 SATURN SD365 FEATURES:
NEW: All around splash guard with grab line.
Separate internal air chambers.
One-way drain valve with plug.
All around, durable rubber strike.
Safety valve to prevent over inflation.
Stainless steel D-rings for easy towing.
Reliable flat air valves with pushpin design.
Front bow D-ring with integral lifting handle.
Spare rope for attaching anchor is included.
Double layer of fabric at the bottom of tubes.
High-pressure drop stitch air floor is included.
Holds up to 5 persons maximum or 4 comfortably.
Deep inflatable V-keel with a rub strake protector.
24mm thick heavy-duty marine grade plywood transom.
Extremely rigid, lightweight hull for excellent performance.
Lightweight and strong removable aluminum seat benches.
Free second bench is included when order is placed on-line!
Equipment: aluminum oars, repair kit, seat bench and carry bag.
Free, complimentary generic high-volume hand pump is included.
For the list of optional available Accessories please click here.
New features further improve inflatable boats durability and practicality:
Air valves have been moved toward the inside of boat's tubes and away
from direct exposure to the elements. This will allow easier inflation from
inside the boat and will minimize damage caused by sun and rain while the
boat is stored uncovered for prolonged periods of time. Rain water will not
accumulate inside the valves.
Triangular symmetrical splash guards were installed on the transom
corners to provide the sensitive transom of an uncovered boat with
additional protection and shade from the elements throughout extended
periods in Tropical environments.
12 ft Red inflatable boat SD365
In stock and ready to ship
SALE:

$1,099.00

(MSRP: $2,198.00)
SHIPPING: $119.00 (by FedEx Ground)
12 ft Dark Gray inflatable boat SD365DG

SALE:

$1,099.00

(MSRP: $2,198.00)
SHIPPING: $119.00 (by FedEx Ground)
12 ft Light Gray inflatable boat SD365G

SALE:

$1,099.00

(MSRP: $2,198.00)
SHIPPING: $119.00 (by FedEx Ground)
| | |
| --- | --- |
| Tech Specs* | SD365 |
| Overall Length | 12' |
| Inside Length | 7.7' |
| Overall Width | 5.7' |
| Inside Width | 2.8' |
| Tube Diameter | 18" |
| Chambers | 3+1+1 |
| Person Capacity | 5 |
| Loading Capacity | 1433 lbs |
| Max Motor Power | 30 HP (15" shaft / 150 lbs) |
| Tube Weight | 110 lbs |
| Shipping Size | 52 x 28 x 13" |
| Shipping Weight | 120 lbs |
| Floor Type | Drop Stitch Air Floor |
| Material | 1100 Denier Reinforced PVC |
| Seams | Quadruple Overlap |
| Air Valves | Recessed One-Way |
| Speed (approx.) | 25 mph (25HP w/2 adults) |
| Inflation & Assembly | 25 min. |
* Specifications and accessories are subject to change without notice. Max O/B Motor means: maximum power of outboard motor that can be safely used to plane the boat loaded to the maximum capacity at normal water surface conditions. Please exercise common sense and caution when using maximum motor capacity. Do not jump from wave to wave as new 4-stroke motors are much heavier then 2-stroke and provide extra strain on the transom. Under normal circumstances, with half the maximum persons/load capacity, 50% of maximum O/B power rating may be necessary to put boat on plane.

New SATURN V2.0 SD365. Click for larger pictures

SATURN SD365 V1.0 Click for larger pictures

"Thought you guys might like a couple of shots of my SD365 with 20hp Suzuki 4 stroke. This is the lightest available 4-stroke 20hp on the market today and it is significantly lighter than closest competitor. It is just light enough for me to handle myself. Excellent combination and towards the end of last season I even ventured the 12 miles across Chesapeake Bay!" Paul.

Quick Tip! Worried about puncturing the air floor with a fishing hook, dog claws or sharp object? Get a piece of vinyl flooring or rubber mat from your local hardware store. Cut the vinyl to fit inside the boat, over the floor and your air floor will be almost indestructible! When deflating, just roll it up along with the boat for future use.

"Hi, this photos are my beauty SD365 Saturn. This day was wonderful! The photos were taken in the Dam of Guatape - Colombia - South America. Thank you, This day was a Big day. Is a very nice and comfortable boat, Thank you" Luis. P. Colombia (Boat is custom outfitted by Luis. Good job!)

"The photos show the boat with an old 4hp engine. With this small engine, we achieved adequate speed with a loaded boat (two adults and camping gear and supplies for three days) to use it as a transporter to move us around a few islands. Lots of fun!" L & V, Tampa, FL

"Here is a photo of my SD365 it is a fantastic boat! Much better quality than I was expecting. My dad liked it so much he has also bought one." Donald H. TN.

"I recently purchased a 12 ft. Saturn inflatable boat model SD365. This was an internet purchase, sight unseen. I pondered, shopped, and fretted for a month before taking the plunge. Specifically, I wanted an inflatable dinghy for my 36 ft. Mainship, which had no tender davit or even a really good place for one. The ability to bring the inflatable boat aboard, somehow, was very attractive from an operational standpoint..."

"Hey, I just wanted to finally thank you for the awesome boat. I got the 12ft inflatable dingy with the air floor in January of 2010. This was a great solution for me. I live in an apartment and store the boat deflated on a trailer in my parent's backyard with a waterproof tarp over it. The neighborhood won't allow boats but since it sits on a small trailer, they don't even know it's a boat! Storability is the greatest advantage about this inflatable boat. Plus I plan on carrying the boat and outboard to the basement during the winter. I have gone out about 8 times this year and hope to go out a lot more next year. I would really recommend anyone to get some kind of hydrofoil for the outboard. They really do work, I gained 2mph, and the boat just feels a lot more stable. Turns are flatter and getting to plane is a quick process. Also check out my YouTube video below!"

Blair N.

Saturn SD365 Unboxing Video.

Saturn SD365 Customer's Videos.