Folding Beach Hammock Stand.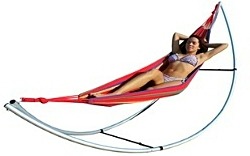 Folding Beach hammock stand is portable, lightweight and indispensable for any beach goers or outdoor enthusiasts. It fits easily into a small carry bag and can be taken anywhere for travel on a boat, airplane or car.
It is much more enjoyable to chill out while lazily lying in a hammock than sitting in a traditional beach chair. Single-size hammock fabric is included as a free bonus, but there are variety of other hammock fabrics available on the market that can be custom fitted onto our foldable hammock stand. If hammock fabric too short, you can use provided ropes. If optional hammock fabric too long, you can make knots to make it shorter.
Hammock stand made of heavy duty anodized aluminum that breaks into 4 pieces of equal size, about 44" long. Because of hammock stand rounded shape, it can also be used as a seat, by simply shifting weight closer to stand rear.
Recent Customer's review:

"Completely unique. I had never seen a portable hammock at the beach or anywhere, that could be pieced together and had that crescent moon shape. I looked online to find a supplier for the hammock and check out the prices..." Read More -->
Hammock Specs:
- Easy assembly and disassembly with pushpins.
- Heavy-duty, rust-resistant, anodized aluminum stand frame.
- Hammock stand weight is 10lbs for Standard and 14lbs for XL model.
- Distance between hooks is 112" for Standard model.
- For XL model, distance is 127", extendable to 132" with 1' extension tube.
- Shipping size is 6x6x43" and box weight is 14lbs for Standard model.
- Length of each section is only 44" long, with 1' extensions for XL model.
- Maximum rated weight is 200lbs for Standard, and 250lbs for XL model.
- FREE starter single-size hammock fabric with wood spreader included with stand as a BONUS.
- Feel free to upgrade to your own favorite hammock fabric sold in
Wal-Mart
,
Amazon
or
Ebay
.
- FREE polyester storage bag with carrying strap is included!
- Please download
Folding Beach Hammock Manual
.
Folding Travel Hammock XL DEMO HMK-XLD
Only 1 left in stock!
SALE:

$59.00

(MSRP: $118.00)
SHIPPING: $29.00 (by FedEx Ground)
Folding Travel Hammock HMK
In stock and ready to ship
SALE:

$69.00

(MSRP: $138.00)
SHIPPING: $19.00 (by FedEx Ground)
Folding Travel Hammock XL HMK-XL
In stock and ready to ship
SALE:

$79.00

(MSRP: $158.00)
SHIPPING: $29.00 (by FedEx Ground)
STANDARD hammock stand is lightweight and easy to assemble.

Hammock frame stand comes with Free Bonus wood spreader fabric shown below:
Hammock frame shown below with different types of optional hammock fabrics installed.
These fabrics are NOT included, but can be purchased elsewhere, on Amazon or Ebay.

XL hammock stand comes with FREE BONUS single-size fabric included

Please use ropes that come with provided fabric hammock to it secure between hooks.
Included bonus hammock installed
Optional hammock fabric installed
XL hammock frame shown with optional large size hammock fabric

Hammock is portable and easily fit on top of inflatable boat tubes

Standard hammock stand used by 230lbs person

Assembly and disassembly of the Standard hammock frame

Standard and XL hammock frames on a beach

Folding Beach Hammock Quick Tips and Warnings:

Do not overload hammock. Maximum safe weight for Standard hammock is 200 lbs. New XL hammock can take up to 250 lbs.
Do not allow use of hammock by more than 1 person.
Please exercise common sense and caution when using this hammock.
Please note that folding hammock is not a toy. Do not rock while in it too violently, otherwise hammock stand can overturn and injure its occupant.
To minimize risk of injury, please do not rock hammock when placed upon a hard surface, such as pavement, tiles, cement floor or sharp rocks.
When assembling and disassembling hammock, please make sure that there is no other people close to you that you may accidently injure with the hammock's frame longer parts.
Strong wind can overturn freely standing hammock. Please either rotate it along the wind or place some load inside hammock fabric to avoid it being taken by the wind.
Watch your fingers during assembly to avoid being pinched by moving parts.
Use WD40 on joint points to make assembly and disassembly easier.
Keep joint points clean from sand and debris when possible.
If pushpins seems to be stuck and difficult to push on for disassembly, please stand at one end of hammock and shake it up and down few times in order to loosen up the connection between tubes, then hold tube on both sides of joint and try to move up and down to loosen up even more. Then press on pushpin and pull tubes in opposing directions while turning tubes against each other.
If provided hammock fabric hanging too low, then simply make a knot on one or both sides of hammocks near the loops in order to shorten hammock fabric length.
You can wash sand from hammock parts with salt water at the beach, however we recommend you then flush later on with fresh water to remove salt and reduce the risk of corrosion.
To use the hammock for sitting upon as a chair, simply move forward.