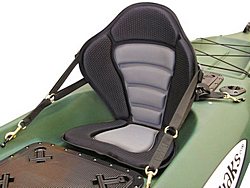 Deluxe Molded Foam Kayak Seats with Fishing Pack.
NEW V2.0 of Sport Fishing Kayak Seat now comes with detachable cushion to lift seat higher.
The Deluxe Molded Foam kayak seat looks like it belongs in a high-end sports car rather than a kayak with its deep molded center panels and the contrasting black molded foam perimeter padding. It has new widened rear attachment straps for even more solid positioning, which helps prevent seat slippage.
The ergonomically sculpted 18'' tall back portion of the deluxe kayak seat offers maximum high back support encouraging a long day of kayaking without having to worry about ample back support.
The Deluxe Molded Foam kayak Fishing Seat comes with a generous detachable zipper pack that has two solid plastic molded fishing rod holders incorporated into it. These molded rod holders have built-in fishing rod securing straps that easily wrap around your pole and Velcro down providing painless access while giving the paddler piece of mind in knowing the rod is safe.
Specifications:
Detachable zipper storage back pack with fishing rod holders.
High performance thermal formed kayak seat.
Detachable 2" cushion for dry ride and throwable PFD.
Marine grade connecting snaps.
2 straps in front, 2 straps in rear give a wide range of adjustability to accommodate most any kayak.
Please note, snaps and straps design may vary from pictures.
NEW, Lower price than before!
Deluxe Fishing Kayak Seat KSEAT_DP
Only 1 left in stock!
SALE:

$49.00

(MSRP: $98.00)
SHIPPING: $15.00 (by FedEx Ground)
Deluxe Kayak Seat with Fishing Pack V2.0 with cushion.
Fishing Kayak Seat V1.0