Saturn 9.6' Whitewater River Mini Rafts.
Saturn RD290 River Raft: Double click on video to watch in full screen.
The lightweight and portable 2-person Saturn RD290 river mini raft is great for both fishing and whitewater rafting. The higher rocker provides an exhilarating ride on whitewater like no other raft!
It is an excellent whitewater paddleboat for 2-3 people or a nifty rowing rig for 1 person and lightweight gear.
Both inflatable thwarts are completely detachable and removable. Safety valves prevent over inflation in tubes and a floor. New heavy duty all black rub strake protector is installed all around raft perimeter. New models also have detachable floors for easy repairs or replacement.
The 9.6' length and 5'3" width is enough to handle the big whitewater or sneak through a tight fit in our smaller river canyons. It provides one heck of a ride in Class III+ whitewater! Saturn RD290 river rafts are equally suitable for holding still above a fishing hole, or surfing on the whitewater river stream.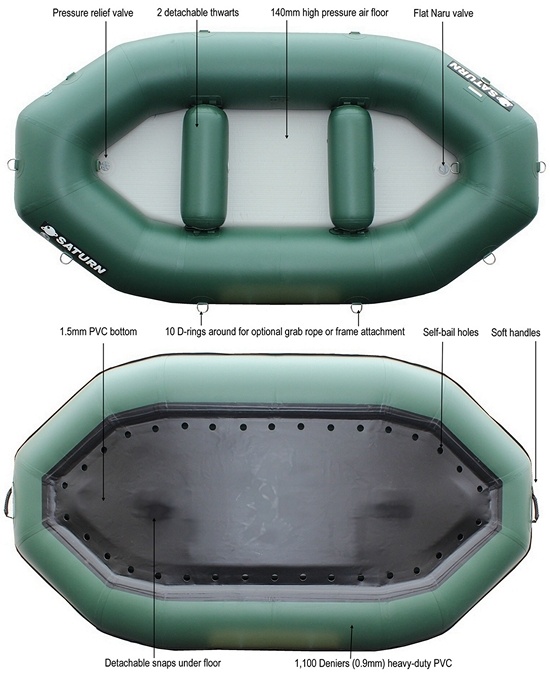 Whether you are fishing or paddling level III and up rapids, Saturn rafts will keep your adrenaline pumping high!
Lightweight, fast and easily maneuvered, Saturn rafts will outperform bulky and heavy Hypalon rafts. PVC fabric is very easy to maintain and repair. Portable enough to fit into trunk of midsize car, and ready to go in a matter of minutes.
Saturn river rafts unique self-bailing system gives you the chance to choose the best speed for optimum performance. Saturn whitewater rafts are used by many commercial rafting shops around the US and Canada.
Rafts tubes are made of heavy-duty 1,100 Dtex High Strength PVC fabric coated on both side with 1100 g/m2, 0.9mm. Fabric is thick, puncture proof and abrasion resistant.
Industry standard Halkey-Roberts flat valves design with pushpins.
140mm detachable/removable drop-stitch high-pressure air floor.
Soft lifting handles in front and rear.
Rubbing strake all around the raft.
1 safety release valve in a tube and 1 in air floor.
2 D-rings inside and 10 D-rings outside for optional frame attachment.
Self bailer holes all around raft bottom perimeter.
Two detachable 10" diameter inflatable thwarts.
Accessories: repair kit, spare valve and carry bag.
Complimentary generic hand pump included.
Saturn Green 9.6ft Inflatable Mini Raft RD290G
Only 1 left in stock!
SALE:

$949.00

(MSRP: $1,898.00)
SHIPPING: $59.00 (by FedEx Ground)
Saturn Blue 9.6ft Inflatable Mini Raft RD290B
Only 4 left in stock!
SALE:

$949.00

(MSRP: $1,898.00)
SHIPPING: $59.00 (by FedEx Ground)
| | |
| --- | --- |
| Model | RD290 |
| Overall Length | 9.6' |
| Inside Length | 6.9' |
| Overall Width | 5'3" |
| Inside Width | 2.3' |
| Tube Diameter | 17" |
| Thwart Diameter | 10" |
| Distance Between Thwarts | 1.9' |
| Air Chambers | 2 + 2 + 1 |
| Floor Board | Drop-stitch air deck floor |
| Weight | 80 lbs |
| Package Size | 45 x 24 x 13" |
| Passenger Capacity | 2 + 1 |
| Inflatable Thwarts | 2 |
* Specifications and accessories are subject to change without notice.
SATURN RD290 River Raft. Click to zoom in.

Picture taken with your awesome Saturn RD290 on the Nantahala river in Bryson City, NC.

Customer's video of Saturn RD290 raft.