Why choose Saturn Inflatable Boat?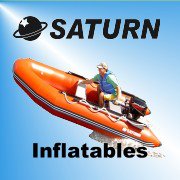 So why should you invest in a Saturn Inflatable Boat above all others???

Strong points of Saturn inflatable boats:

Saturn inflatable boats are crafted with exceptional quality workmanship.
Our clean assembly process leaves no glue sticking out anywhere.
Cold-welded, virtually indestructible seems will last for many years.
The rub strake protector along the boat keel gives the keel extra rigidity.
Pressure-release safety valves release excessive air pressure in chambers.
The 1,100 Denier PVC heavy-duty fabric is much stronger than other boats.
Double layer of fabric at the bottom of the tubes provides double protection!
Hull

All Saturn inflatable boats are made of 1100 Deniers heavy-duty PVC fabric. Hull features: inflatable keel with a rub strake, marine-grade plywood transom, double layer of fabric at the bottom of the tubes and a one-way drain valve with plug.
Stable

Being an inflatable, SATURN boats have a low center of gravity, making it practically impossible to capsize them! Whether stationary or cruising, a SATURN inflatable boat is always stable. You can stand when fishing, children are safe, and mooring is exceptionally simple. Great as a fishing boat too!
Unsinkable

The buoyancy tubes of SATURN inflatable boats, river rafts and inflatable kayaks are made up of several independent airtight compartments. If one compartment unexpectedly deflates, the others remain inflated. This feature makes Saturn inflatable boats, rafts and kayaks almost impossible to sink, thereby allowing you to return slowly to safety.
Easy to Store

Once deflated and folded, SATURN inflatable boats or raft or inflatable kayaks takes up about as much space as a medium sized bag. You can store inflatable boats or inflatable kayaks in the trunk of your car, locker, under the stairs or in a corner of the garage and have it ready for the next weekend or holiday.
Easy to Launch

...and easy to pull up onto the beach. Like all inflatable boats, the weight of a SATURN can be up to three times lighter than a comparable rigid boat. You wouldn't hesitate to beach this boat and spend the day on a beautiful, remote creek.
Sturdy

Welded rubbing strake and transom, cold welded seams, reinforced cone ends; the high standard of quality of its materials and the perfect finish of its assembly are the major guarantee of the sturdiness of your BoatsToGo. It is coated with PVC-top of the industry for durability and strength, and found only on Saturn boats second-generation PVC materials.
Economical
Saturn inflatable boats are intended as the best introductions possible to boating on a moderate budget. Its maintenance is simple and inexpensive. It requires a small outboard, that is economical to buy and to use, and if maintained properly, a Saturn will last many years.
Saturn is the perfect inflatable boat for discovering the joys of boating. Easy to set up, it is fitted with a roll up air floor making assembly quick and easy; simply unroll and inflate with the foot-pump or the electric pump! Safe and easy to navigate, a BoatsToGo has an inflatable keel whose form creates a high performance hull shape. Easy to transport and easy to store away, a BoatsToGo travels in the trunk of you car.