Take control of your boat. Complete steering system for inflatable boats, aluminum jon boats or fiberglass boats.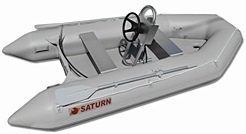 The Benefits of Using a Central Console For Inflatable Boat.
Ever since I was a kid, there's nothing I have loved more than spending a day out boating on the water. Back then, it was normally a morning out fishing with my dad. Nowadays, it's me taking my own son out to see what's biting. Or taking the whole family onto the lake for a day of leisure.

When I was growing up, my dad had a hard hull fiberglass boat. But a few years ago, I fell in love with inflatable boats. These amazing watercrafts offer most of the benefits of a fiberglass boat, but with some added incentives. First off, they are significantly cheaper. And secondly, they are way more convenient to both move and store. But there was one thing about these inflatable boats that would sometimes bother me. I occasionally missed the feeling of sitting behind the wheel of my machine. But now, I can satisfy that feeling whenever I want. That's because I just bought a brand new central control console for my inflatable boat.

For just $219, I got the total central console package, which included the rotary steering helm, steering wheel, 7' cable, and aluminum frame. Then all I needed to do was select the link control steering arm specific to my outboard engine, and purchase it for a nominal fee ($15 and up). My central console steering system was quickly shipped to me. And when I received it, I couldn't believe how easy it was to assemble and install myself.

Once I had my amazing new steering system installed, I couldn't wait to test it out. I took my inflatable boat out for a spin, and it was like I had just bought a brand new watercraft. My ability to control the boat, which was already great to begin with, was taken to a completely new level. It was like the difference between driving a normal car and a Corvette! I just couldn't believe how smooth and responsive the steering was.

The next thing I decided to get for my inflatable boat's new steering system was the throttle box. While this is not needed to use the steering system, I felt that the ease and convenience of use made this a smart purchase. It's especially helpful when leaving or coming back to the dock, making adjusting your speed incredibly easy. Plus, it reminded me of my days out on my dad's boat.

Another thing you can add to your boat if you want to give it that fisherman's feel is a fishing chair. You can very affordably buy a seat pedestal, a swivel base, and a fishing chair to put on top of it for not much more than a total of $40. These items can be found all over the internet, as well as in large retail stores like Wal-Mart. They are easy to install, and will last you a long time.

So for under $300, you can now make your already amazing inflatable boat into a high performance fishing boat! I did it to mine, and it's been worth every penny and more.

Inflatable Boat with Central Console video