Inflatable Paddle Boards – Ideal Choice for Surfers

If you are a surfer, then paddle boards are something you would tend to know a lot about. Even if you have never surfed before, buying an inflatable paddle board should still be a good choice for you. These SUPs (Stand Up Paddle Boards) are inflatable. You can carry them folded in your car or carry them with you as they take up very small storage space when deflated.
When you inflate these boards to maximum psi, you will get a robust, sturdy inflatable paddle board that has protective soft cover that will protect you from bruises and other injuries caused during surfing. They are also light in weight when inflated. You can carry them with a single hand, unlike the heavier fiber and glass paddle boards that are hard to carry and require larger storage space.
Though they are inflatable, these Saturn SUPs are not easily punctured and take rough and jerky sea waves. Even if you are paddling on rocky water of any rough sea, river, or ocean, these boards provide great stability. These can be used by beginners as well as pros. If you buy the popular eleven foot Saturn paddle board, you will find it is suitable for most all riders.
The best part about this paddle board is that, they have d-rings and you can attach a seat to your paddle board and enjoy ridding while sitting on your paddle board. The boards come with two years warranty and cost less the most other paddle boards. The Saturn brand of paddle board offers full money back guarantee as well.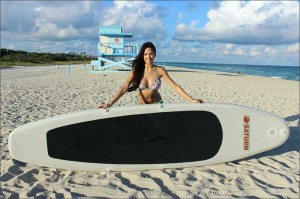 The Saturn brand for paddle boards is durable, long lasting, and sturdy. If you like water sports, then you will also like SUPs, and you can own an inflatable board that you can carry anywhere. Though an inflatable board has many advantages, one of the many disadvantages is that, they are not as fast as the glass or the fiber paddle boards.

These boards need high air pressure to work properly. Therefore, for this board to work at optimum levels you always have to inflate them to the maximum. Visit BoatsToGo.com today and see are large selection of Saturn SUPs