​​Inflatable Boat Floors benefits.

Inflatable Boat floors benefits.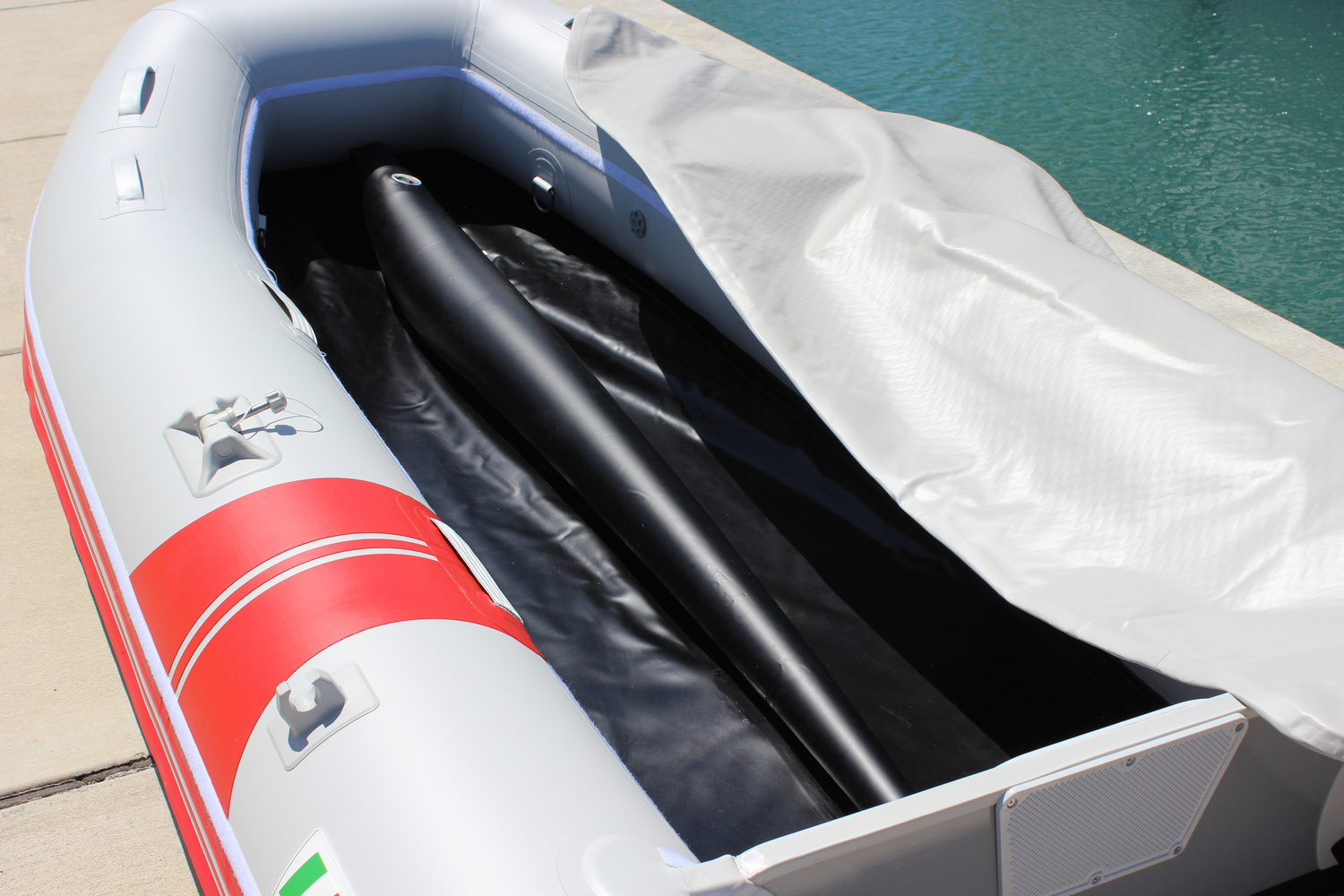 Customers often ask "What are the differences between drop stitch air and aluminum floors? and which one should I get?"
In the following document we will explain the pros and cons of each and help you choose the option that will be best for you. You will sometimes find that you have a choice between inflatable floors, and aluminum floors when it comes to inflatable boats. Although they are significantly different from one another, one has advantages over the other. Which floor is more suitable for you will depend on how you want to use your inflatable.
Drop stich floor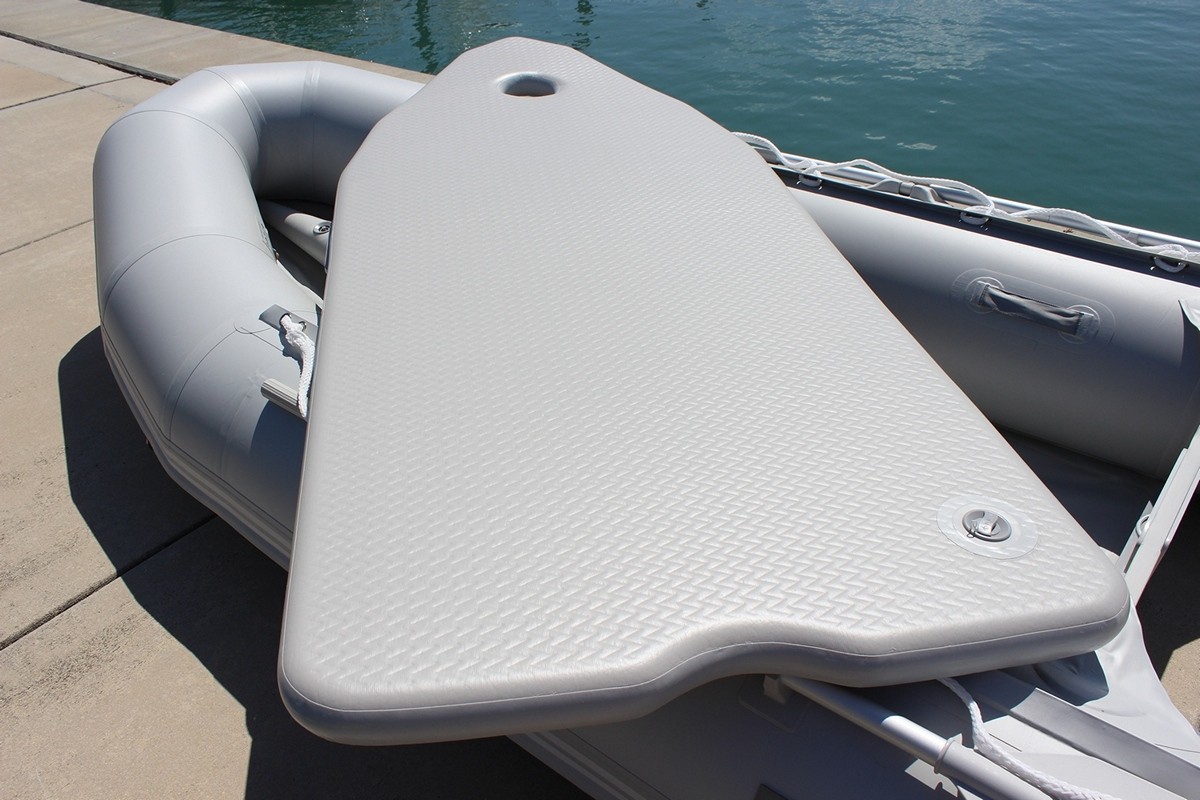 This type is your best option if you intend to frequently inflate and deflate your boat. Because the boat folds up very compactly and quickly it makes the assembly and disassembly process painless . Inflatable boats with air floors are simple to assemble, simple to spread out and inflate.
An air floor also have the benefit of being significantly lighter than an aluminum floor because of this the boat can reach a higher speed than it could with an aluminum floor because of its reduced weight. Additionally, an air floor is more comfortable for your knees and more vibration-absorbing than an aluminum floor. Most of our customers prefer boats with air floors due to these exceptional features.
Some air floors come with a plywood support above the keel in the bow section of the boat that seeks to add additional rigidity making air floors very stable and performant.
Pros
Easy to install.
Very convenient to transport due to it's light weight.
Easy to disassemble and store.
Cons
Easier to damage than aluminum.
Not as stable than it's aluminum counterpart.
Aluminum floor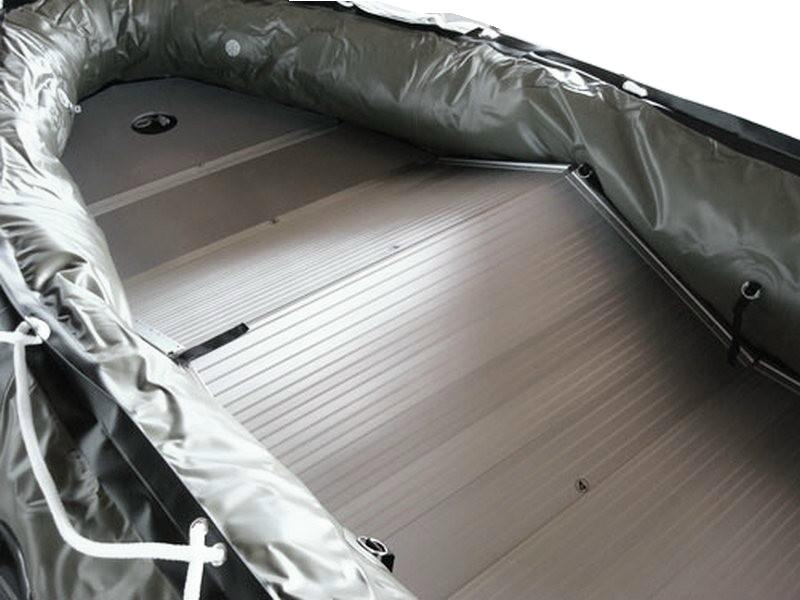 Since the slated aluminum flooring is a distinct component of the boat, you are free to arrange them however you like in storage. Aluminum floorboards are extremely resilient and lighter than marine grade plywood, so you may set any equipment you bring with you directly on the deck without worrying about it getting damaged, including sharp objects like fish hooks.
Aluminum floors also feels quite stable, similar to being inside a hardshell boat. Regardless of how much weight the floor may be supporting, the aluminum floorboards have no flex, in other words, they do not bend at all. In addition, the side rails that keep the slated floor together lock the aluminum floorboards in place, and when you inflate the keel tube that is positioned beneath the floorboards, the tube pushes up against the aluminum floor creating a very stable rig.
Pros
Excellent for handling brittle and pointy material that would othersie damage the floor.
Pets are permitted on board with no threat of puncture or slashing the floor.
Adequate for standing on as it will be more stable overall.
Cons
Quite heavier than their drop stich counterparts.
It takes more room to store the heavier flooring than air.
more difficult/time consuming to assemble and disassemble than air mat floors.
Conclusion
When deciding between an air mat floor and an aluminum floor for your inflatable boat, there isn't really a "better" form of floor you can get. Your intended use for your boat as well as your personal preferences will determine which is better for you. The air mat floor would definitely be ideal for you if you want to be able to swiftly set up your inflatable boat, bring it down into the water, and just go. But if safety and stability are your priorities then an aluminum floor might provide you with the peace of mind you need.
Here are some additional testimonials to help you make a good decision.
How to Choose Between an Aluminum Floor vs Air Floor

Inflatable Sport Boat Aluminum Floor vs Air Floor Dinghy