Saturn Inflatable Paddle Boards
2 Products For the Price Of 1 -
Inflatable Stand Up Paddle Board & Kayak!
Why Saturn Inflatable SUP are the best?
1. Saturn Inflatable SUPs sell at the Lowest Prices in the USA! We do not feed an army of middle men in our supply chain. We sell direct. Our paddle boards are same quality or better than uber expensive SUPs sold for over $1000. Why pay more?! We sell best quality inflatable SUPs at reasonable prices!
2. Saturn offers a 2 year warranty on inflatable SUP, while most other brands only stand by their product for 1 year!
3. Saturn was first in an industry to offer paddleboards for sale made of 140mm (6") thick drop-stitch fabric, while most other SUPs on the market are made of 100mm (4") thick. That is almost 30% more air volume! More air means more buoyancy and better performance under heavier weight loads.
4. Saturn was first in an industry to offer inflatable boards with side D-rings that allow attachment of kayak seats to convert paddle board into sit-on-top inflatable kayak!
5. FULL Money Back Guarantee! Try Saturn on water for 14 days. If you don't like it, send it back for a refund. So far, not a single Saturn SUP was ever returned back!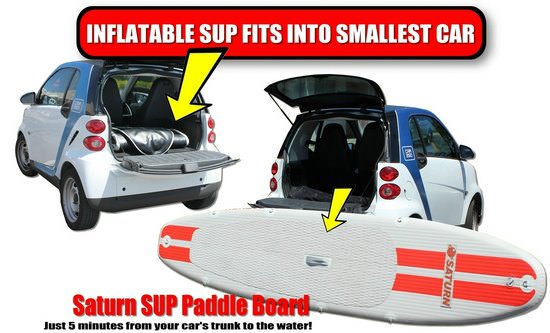 The Saturn inflatable stand-up board is easy to ride and allows paddlers of all skill levels, including beginners, to enjoy a stable, comfortable ride while getting a moderate workout. Stand-Up Paddle Boarding (SUP) can be done in the ocean, harbors, rivers and lakes.
It should be noted, however, as with any new sport, some practice is needed, and you should not expect to jump on a SUP and start doing fancy tricks. Numerous SUP video instructions are posted on YouTube. Please also read our Quick Introduction to Stand Up Paddle Boarding. Choose some calm waters to start.
11 ft Sport SUP Paddle Board SOT330
In stock and ready to ship
SALE:

$549.00

(MSRP: $1,098.00)
SHIPPING: $29.00 (by FedEx Ground)
11 ft xLight SUP Paddle Board SOT330L
In stock and ready to ship
SALE:

$499.00

(MSRP: $998.00)
SHIPPING: $29.00 (by FedEx Ground)
12 ft Heavy-Duty SUP Paddle Board SUP365
In stock and ready to ship
SALE:

$599.00

(MSRP: $1,198.00)
SHIPPING: $39.00 (by FedEx Ground)
11 ft Heavy-Duty SUP Paddle Board SUP330
In stock and ready to ship
SALE:

$569.00

(MSRP: $1,138.00)
SHIPPING: $39.00 (by FedEx Ground)
| | | | |
| --- | --- | --- | --- |
| Tech Specs | SOT330L | SOT/SUP330 | SUP365 |
| Overall Length | 11' | 11' | 12' |
| Overall Width | 30" | 30" | 30" |
| Overall Thickness | 6" | 6" | 6" |
| Weight | 17 lb | 22 lb | 27 lbs |
| Max Capacity | 220 lbs | 220 lbs | 320 lbs |
| Suggested Capacity | 190 lbs | 190 lbs | 200 lbs |
| Folded Size | 33"x13"x13" | 33"x13"x13" | 33"x13"x13" |
| Persons Capacity | 1 | 1 | 1+1 |
| Shipping Box Size | 37"x22"x10 | 37"x22"x10 | 37"x22"x10 |
| Shipping Weight | 23 lbs | 28 lbs | 39 lbs |
| | More info>> | More Info>> | More Info>> |
Saturn was one of the first to produce inflatable paddle boards. Our inflatable paddle boards dates back to 2005, when there were only few players in this industry. Pictures of our first SUP:
SATURN Inflatable SUPs Customer's Reviews:
"Just got back from my Second weekend out with my Saturn Stand up paddle Board, have to write to thank you for such a fine product! We love it. It seems very well made and performs better than I'd hoped. I had So much fun! I will be sending many folks to your site. When i am out on it Everyone wants to know where i got it! My wife loves to lay out on it as I pull her behind my Kayak! Next I will be buying the pump so I can see how many PSI its at." Nathan F.
"Hi, I just wanted to write you to tell how much I love my new SOT365 standup paddle board. I work for a kayak retailer and we carry a few paddleboards, specifically the NRS Big Earl that retails for almost $1200. I purchased the SOT365 to compare it to our high end inflatable, and I must say that it blew my expectations away. I like the SOT365 far more than the NRS board that costs almost 3 times as much. It seems to be just as high quality in construction and paddles far better than the NRS.

A week after receiving the board, my girlfriend and I took the SOT365 and the NRS Big Earl on a paddleboard camping trip on Dale Hallow Lake in TN. We put all of our gear in dry bags, strapped them to the boards and paddled 2 miles to Goat Island where we setup camp. The SOT365 handled the extra 40 pounds of gear, and myself weighing 225 lbs with no issues what so ever and provided a dry and comfortable ride through the chop of the open lake. The next day we paddled 4 miles around the island and spent the day exploring. We received a lot of attention from other boaters who were curious about the fact that we were going on a camping trips using the SUP's. It was a wonderful weekend of fun and I look forward to many years of service from your wonderful product. I have attached some pictures of our adventure." Scott L. Louisville, Ky.
Pictures submitted by customer. Saturn Inflatable SOT330
"Hello...i just wanted to tell you how happy I am with my purchase of the Saturn inflatable SUP and with my new electric pump. I can't believe how well it works and how fast it gets me into the water. I love the multi use that the SUP offers with the kayak seat and paddle conversion. My summer has been so much fun because of your products. I love that I can take the SUP anywhere because of it's portability. I live just outside of Philadelphia, and have had it everywhere from here to the Berkshires in Mass. I am recommending this SUP and your website to everyone I know and hopefully someone will order one of these fantastic, super fun products. I am a yoga teacher and have been practicing yoga on the SUP...what fun!!! thanks again... Dori C. Certified Kripalu Yoga Teacher
"I just wanted to let you know how pleased I am with my new inflatable paddle board! I've been impressed with the sturdy construction of the board -- it really seems top quality. I love being able to throw it in the trunk of my little car and just go paddle -- no hassle! Setup is really quick and painless. I am new to paddle boarding and have had an easy time using the board, so I can recommend it to beginners. Thanks for my board, and for your excellent customer service -- I'm looking forward to buying from you again in the future!" Kara
"I have two Saturn Paddle boards, I believe it was the SOT365 at the time. I bought it right when you first came out with the 12ft. I am a big guy, 6'4", 220 pounds, so I am right on the edge of its capacity, but I still love it and have taken it everywhere. I have taken your paddle board, in swift water, down the San Juan River in Southern Utah, and to almost every beach in the SF Bay area. I have taken it down some flat water rivers too: Gualala river, Lake Solano and others. I have taken it through the straights of the San Fransisco Bay and plan to paddle in to the cove next to a Giants game one of these Saturday games. So I have done a little of every thing with it. And while it does not perform like a hard-side, it is so versatile that it makes up for its lack of swift water prowess." Daniel B.
"I just wanted to let you know how surprisingly pleased I am with my purchase of the Saturn 330 stand up paddle board. I had been researching boards because I wanted to take an SUP on my vacation to Costa Rica..." Read Full Review >>
"Here's my 2 cents on the Saturn SUP365 stand up paddle board. I got this last summer for our trip up to Canada's cottage country in Northern Ontario. We stayed at our friends' cottage on a beautiful lake..." Read Full Review >>
Saturn Inflatable Paddle Boards SUP FAQ Questions:

How do I inflate my paddle board quickly?
Get an inexpensive electric pump for mattress inflation sold in local retail stores. We recommend the Coleman Rechargeable pump for about $29. Use it to inflate paddle board to about 80% quickly, and then finish pumping to high pressure with provided hand pump.

How to install removable fin on Saturn SUP?
Insert fin before inflating paddle board. Fold deflated board at slot entrance of fin base, slide fin as shown on below pictures, unfold and inflate. Keep sand away from rails before inserting fin.





How do I use the hand pump to bring inflatable paddle board to high pressure?
When using the hand pump to inflate paddle board do not use only your hands and arms when the pressure gets higher. Use your body weight to push the handle of the hand pump down. Bend at the knees and lock your arms straight while putting all of your weight over the handle.

How do I deflate the paddle board?
Open the valve cover, press slightly on the pushpin inside the valve with your finger tip to release some air pressure, then press completely and turn the pushpin in either direction, locking it in the open position. Start rolling the board from the rear. Don't forget to remove large fin. Use optional rubber bungee cord to wrap around the board to keep it from unrolling.

Why is air escaping from the valve as soon as the valve adaptor is disconnected?
Make sure that the pushpin inside the valve is locked in the upper position before you start pumping air into the board. When the valve pushpin is in the upper position, it means that the valve is locked, and no air will escape when the valve adaptor is disengaged.

How do I know when the paddle board is fully inflated?
Saturn paddle boards can take up to 10-15 psi of air pressure. We suggest that you use our high-pressure electric pump that automatically shuts off once pressure of 10psi is achieved. If you use a hand pump and the air pressure gauge is not available, you'll need to pump until you feel the board surface become as hard as a rock. If the board is fully inflated, it will not bend under your weight when you are stand up paddlingť. If you are using the Saturn board as a sit-on-top kayak, high pressure is not as important as when standing on it. Just inflate the board until it is moderately hard and does not feel soft when you press it with your fingers. Do NOT leave fully inflated paddle board under hot Sun for long periods of time, because hot air inside SUP can quickly expand and blow seams if pressure will go over 15psi.


How to prevent air from escaping around valve adaptor?
Because of very high pressure achieved when pumping SUP over 10psi, it is important to create perfect seal between valve adaptor and valve. Specialized valve adaptor provided with hand pump comes with 2 silicone rubber seals to combine them together for better fit. To do that, place thick seal with grove inside and thin seal with grove outside as shown on below pictures:


Press hard on valve adaptor when inserting it into the Naru valve to insure precise fit. Depending on seal material it may be necessary to cut out some groves with scissors to decrease thickness of seals for better fit into the valve. But, do it only if valve adaptor does not fit into the valve with both rubber seals installed and after trying different seal combinations.

My paddle board seems to be a little bit tipsy, why?
First of all make sure that paddleboard is fully inflated. Our inflatable paddleboard can take up to 10-15 psi of air pressure. While it can be achieved with a regular hand pump, our electric high pressure pump is highly recommended for quick and complete inflation.
*
You can test Saturn paddle board on a water for 30 days from a date that item was delivered to you. Make sure SUP is fully inflated to at lest 10psi before use. If you don't like it, which had never happen before, then wipe it clean, remove all signs of use, pack it back into box, and ship via FedEx Ground along with all accessories. Full refund will be issued for returned item, less shipping charges. Damaged, scratched, dirtily and items showing sigh of use are subject to restocking fees. Shipping charges are not refundable. Must email us to request RMA within 30 days of item delivery. Refund will be given in a form of company check.
Saturn Offers Best Paddle Boards for Sale. We have stand up paddle board for sale at affordable prices. We also have SUP paddles for sale.