Heavy-Duty Expedition Inflatable Kayaks.
Saturn Inflatable Kayak RK396:
BoatsToGo Commercial Grade Expedition kayaks are ready for miles of wilderness exploration anywhere on the globe. Stand and fly fish or get into any place where other boaters can't go, with this practical vessel!
Easy to carry and portable to store, this kayak is a must for any RV, campground, fishing trip or any other situation where a vessel's portability is important. If you live in a condo next to the water, but have no place to dock full size plastic kayak, then this inflatable kayak will keep you ready for adventure in a moment's notice.
This kayak is made of the same heavy-duty 1100 Dtex PVC as BoatsToGo inflatable boats and rafts. The floor is made of a high-pressure air deck that is extremely rigid when inflated, but can be rolled up when deflated.
Expedition Series kayaks come with 2 removable thwarts that can be installed almost anywhere in the kayak and can be used as a back support, or you can sit on top of a thwart. The RK series kayak also comes with pre-installed heavy-duty D-rings to accept up 1 or 2 optional kayak seats.
This kayak was surprisingly fast during our tests and was very stable. It was tested in mangrove jungles and around remote ocean islands of the Florida Keys. The RK396 inflatable kayak can be used on slow rivers, lakes, bays and calm oceans. However, this model was not designed for use on Class II or above river rapids, because it does not have self-bailing holes and comes with a slimmer 80mm air deck floor. Please visit our exclusive dealer Saturn Rafts for the whitewater version with self-bailers, re-enforced sides/bottom and 140mm air deck floor. The RK396 could be DIY converted for whitewater use, by cutting out dime-sized holes in the bottom and placing Styrofoam plates (sold at Home Depot) on or under the air floor, in order to raise it up, add more buoyancy and expel more water from the kayak's hull.
Recent Customer's review of Saturn Inflatable Kayak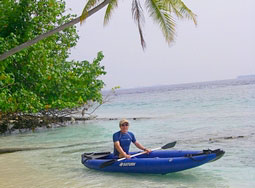 "I got an Saturn inflatable kayak last spring as a companion of my trip. Since then, Saturn traveled everywhere with me, from a wild river in Hokkaido (northernmost island of Japan) to tropical ocean islands of Maldives (island nation in the Indian ocean located at about 700 km southwest of Sri Lanka). It gave me great pleasures that had not been experienced before getting it. There were several reasons why I chose Saturn kayak as my companion boat. The first was its portability. The total weight of Saturn kayak including paddles and a pump is lighter than free baggage allowance of any airline company. Saturn kayak can be packed in a suitcase of 70x50x35cm (I cut each paddle into two peaces), which is convenient for manual transportation. The second was the toughness of PK375. It was not punctured by hidden rocks in the rapid stream and coral reefs in the tropical ocean. The third was the stability and controllability of Saturn kayak. It was stable enough for watching a wild life from the river and rapid enough for hopping island to island in the tropical ocean. In conclusion, I am very satisfied with Saturn kayak irrespective of its low price. A photo taken at Biyadhoo island, Maldives, is attached."
Best wishes, T. Ichikawa, Sapporo, Japan
| | | |
| --- | --- | --- |
| | | |
| | | |
| Comes in a box. | All accessories included. | Easy to carry. |
| | | |
Heavy duty 1,100 Dtex High Strength PVC fabric coated on both side with 1100 g/m2, 0.9mm. Fabric is thick, puncture proof and abrasion resistant.
2" thick high-pressure air deck drop stitch floor.
Hugging rope with handles in front and back.
Heavy-duty D-rings for optional kayak seats.
4 plastic fins at the bottom for directional stability.
Storage space in front and bow under splash guards.
Industry standard Halkey-Roberts flat valves design.
Two (2) FREE removable thwarts included as optional seats.
Accessories: 2 basic aluminum kayak paddles, repair kit & carry bag.
FREE, complimentary generic high-volume hand pump also included.
Kayaks seats are optional, and available in our accessories section.
Optional dolly cart and high-performance kayak paddles are available.
13 ft Red inflatable river kayak RK396
Only 2 left in stock!
SALE:

$599.00

(MSRP: $1,198.00)
SHIPPING: $39.00 (by FedEx Ground)
13 ft Blue inflatable river kayak RK396B
Only 1 left in stock!
SALE:

$599.00

(MSRP: $1,198.00)
SHIPPING: $39.00 (by FedEx Ground)
| | |
| --- | --- |
| Model | RK396 |
| Overall Length | 13' |
| Overall Width | 3' |
| Interior Width | 14" |
| Tube Diameter | 12" |
| Air Chambers | 3 + 2 |
| Kayak Weight | 40 lbs |
| Shipping Size | 45 x 24 x 13" |
| Persons Capacity | 1+1 |
| Weight Capacity | 700 lbs |
| Color | red |
SATURN Expedition Kayaks.

Quick Tip: If you need to move kayak seat slightly higher, type IV flotation cushion, that is sold for around $10 in many retail and outdoor stores, fit nicely on a bottom of this kayak and right under kayak seat. It also will act as PFD in case of emergency, or sit cushion once you get ashore. It also work nice with included thwarts.

1080 HD Video Clip of Saturn Expedition Kayak.

Click on Play button.

Recent customer's pictures and videos:
"I would like to enter the Saturn photo contest 2013. Two girls (Gabby 9 and Riley 10) from Michigan rafted the The New River, West Virginia on our family vacation. This was their first time to paddle a boat together. Thank you! Amy"