SALE: $1,599.00
In Stock, Only 5 left
MSRP: $3,198.00
Shipping: $199.00
15' SD470 Saturn Inflatable Boat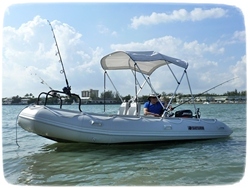 The 15 feet inflatable boat SATURN SD470 is a heavy-duty workboat excellent for any water based activity, such as fishing, day trips or scuba diving. The SD470 is a recent addition to the SATURN line of high performance inflatable boats.
15' SATURN SD470 inflatable boats are made with premium quality materials, and can handle up to a maximum of 8 persons.
SD470 inflatable boats are made of 1100 denier Korean PVC fabric with polyester support that has excellent resistance to tearing, tension and breaking. It is a much more heavy-duty PVC fabric than most of our competitors with 1000 denier PVC boats. The heavy-duty outer layer, protects the boat against UV rays, ozone and abrasion, and inner layers provides perfect strength and adhesion. Click here to find out more about our PVC fabric.
Deflated, the SD470 boat will fold to the size of one large and heavy bag with tubes and another large and heavy flat bag with a floor. Once deflated and folded, the SD470 can be stored in the back of your SUV or minivan, large closet of your apartment or in a garage.
Double layers of fabric at the bottom of the tubes and a rub-strake protector along the keel provide extra protection from sharp rocks and abrasive sand. The safety valve will prevent excessive air pressure in the boat's chambers.
15' SATURN inflatable boats come standard with a sectional heavy-duty aluminum floor. The bow section is made of a marine grade plywood floor covered with a gray resin. Aluminum floor installation steps are here.
SATURN SD470 FEATURES:
All around rope grab line.
Separate internal air chambers.
One-way drain valve with plug.
All around, durable rubber strike.
Safety valve to prevent over inflation.
Stainless steel D-rings for easy towing.
Reliable flat air valves with pushpin design.
Front bow D-ring with integral lifting handle.
Spare rope for attaching anchor is included.
Double layer of fabric at the bottom of tubes.
Holds up to 8 persons maximum or 5-6 comfortably.
Deep inflatable V-keel with a rub strake protector.
Heavy-duty marine grade aluminum floor is included.
Extra thick heavy-duty marine grade plywood transom.
Lightweight and strong removable aluminum seat benches.
Equipment: T-paddles, repair kit, seat benches and carry bag.
Free, complimentary generic high-volume hand pump is included.
For the list of optional available Accessories please click here.
Download Saturn SD470 inflatable boat data sheet in PDF format
Recent customer's testimonial about Saturn SD470 boats: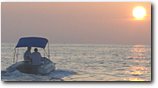 "Hey guys, I got my Saturn SD470 about a year and a half ago and have put close to 200hrs on it. I have to say I love this boat. I mostly snorkel and free dive off Palm Beach with it, but last May I took it to the Bahamas. We stopped to clear customs in the east end and then continued towards Lucaya. It took about six hours to make Atlantic crossing from Boynton inlet to Bahamas on this boat. We were planing on towing it over behind the big boat but the morning we left the ocean was dead calm so I decided that I would use it as a scout boat to see if we could find any boards floating, with fish on them. We did, caught some dolphin and made the 90 or so mile trip to Freeport without a problem. The best part was we made the trip over on about 6 gallons of gas. I have a Yamaha F25 four stroke, and we weren't setting any speed records, but you cannot beat that. The boat will do about 15kt loaded down with 6 people plus a large cooler I use for a seat and all our snorkeling gear. Alone it does about 20kt, not bad. I keep mine covered and had one hole in it from a rogue barnacle at the doc, easy repair though, even at sea with the included patch kit. Love the boat, and would recommend it to anyone on a budget looking for a very sea worthy boat." Dan, Florida
"I use my boat to go offshore fishing and take it 20 miles offshore on calm days to fish. When I bring all my fish into the boat ramp and clean them people constantly ask me about the boat.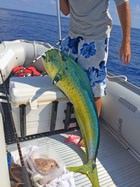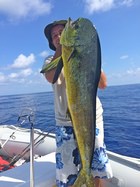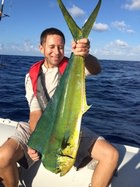 I attached some photos to show you the fishing success I have had on the boat. I also attached a link to an article in San Sentinel that was written about me and the Saturn. I just think the amount of miles I put on the boat are far more then most of your customers. Like I said before I take the boat 20 miles off shore and with trolling in between. I probably put 60 miles round trip on the boat most times I take it out. The positive part is I can travel all those miles and use only 5 gallons of gas." Adam M. Florida
New features further improve inflatable boats durability and practicality:
Air valves have been moved toward the inside of boat's tubes and away
from direct exposure to the elements. This will allow easier inflation from
inside the boat and will minimize damage caused by sun and rain while the
boat is stored uncovered for prolonged periods of time. Rain water will not
accumulate inside the valves.
Triangular symmetrical splash guards were installed on the transom
corners to provide the sensitive transom of an uncovered boat with
additional protection and shade from the elements throughout extended
periods in Tropical environments.
15 ft Gray inflatable boat SD470
Only 5 left in stock!
SALE:

$1,599.00

(MSRP: $3,198.00)
SHIPPING: $199.00 (by FedEx Ground)
| | |
| --- | --- |
| Tech Specs* | SD470 |
| Overall Length | 15' |
| Inside Length | 10.6' |
| Overall Width | 6.6' |
| Inside Width | 3.3' |
| Tube Diameter | 20" |
| Chambers | 3+1 |
| Person Capacity | 8 |
| Loading Capacity | 2000 lbs |
| Max Motor Power | 40 HP (15" shaft / 175 lbs) |
| Tube Weight | 145 lbs |
| Tube Shipping Size | 59 x 29 x 14" |
| Tube Shipping Weight | 150 lbs |
| Floor Type | Anodized Aluminum |
| Floor Shipping Size | 48 x 28 x 6" |
| Floor Shipping Weight | 100 lbs |
| Material | 1100 Denier Reinforced PVC |
| Seams | Quadruple Overlap |
| Air Valves | Recessed One-Way |
| Speed (approx.) | 30 mph (40HP w/2 adults) |
| Inflation & Assembly | 45 min. |
* Specifications and accessories are subject to change without notice. Max O/B Motor means: maximum power of outboard motor that can be safely used to plane the boat loaded to the maximum capacity at normal water surface conditions. Please exercise common sense and caution when using maximum motor capacity. Do not jump from wave to wave as new 4-stroke motors are much heavier then 2-stroke and provide extra strain on the transom. Under normal circumstances, with half the maximum persons/load capacity, 50% of maximum O/B power rating may be necessary to put boat on plane.
SATURN SD470 Boat.

Quick Tip! Worried about the heavy weight of a hard floored boat? Don't break your back! Get a foldable hand cart from any retail store to carry the folded boat around. Even inexpensive dolly movers will work great for transporting a folded or fully inflated boat. Get dinghy dolly wheels to easily move the inflated boat across the shore and into the water.

Recent customer's testimonial about Saturn SD470 boats:
"I am extremely satisfied with the quality of the SD470 15' PVC inflatable boat... so much so that I had a forest green Bimini top and full enclosure custom manufactured by Enewhere custom canvas in Brooklyn, NY. You have already posted my photos displayed on the boatstogo website. I use the inflatable with a 20 H.P mercury engine in the Adirondack region for setting up camp deep in the woods off Lewey Lake for hunting deer and bear. The 2,000 pound capacity allows me to take plenty of gear so that I can camp for weeks. The enclosure ensures that both I and my gear will remain dry in the most severe storms and the boats light weight allows me to transport the boat in my minivan and unfold and inflate the boat at any destination within minutes. I originally purchased the dingy wheels from the boatstogo website and one axle bolt was missing from the shipment. Within 3 days of my email to boatstogo I received the bolt. The dingy wheels is a valuable addition to making the boat completely portable. I highly recommend the 15 foot inflatable as it is the most stable inflatable I have ever owned and it comes with a maintenance free aluminum floor. Thank you BoatsToGo.com" Pat From Brooklyn, N.Y.

360 degree view of Saturn 15' SD470 inflatable boat.

Customer's modification of Saturn SD470 boat

How to set up SD470 inflatable boat.

Diving from SD470 inflatable boat