Customer's Review of FK396 Inflatable Fishing Kayak.

The FK396 Inflatable Fishing Kayak is awesome. I owned a 19ft center console boat in the past and I can genuinely say that I enjoy this kayak much than that boat. I primarily use it for fishing and sometimes just booze cruise with my wife. I can even fish comfortably with my wife in the little kayak with me! Which I think is pretty awesome for a 13ft inflatable. From the garage to the water and back this thing fits the bill for me.
Storage is always an issue for any watercraft. I like this kayak because it is rigid enough to be rigged to a pulley system that only requires attachment points on the front and back of the kayak. This would probably be possible with any kind hard plastic kayak this size but I am impressed with it being this easy with an inflatable loaded down with my gear.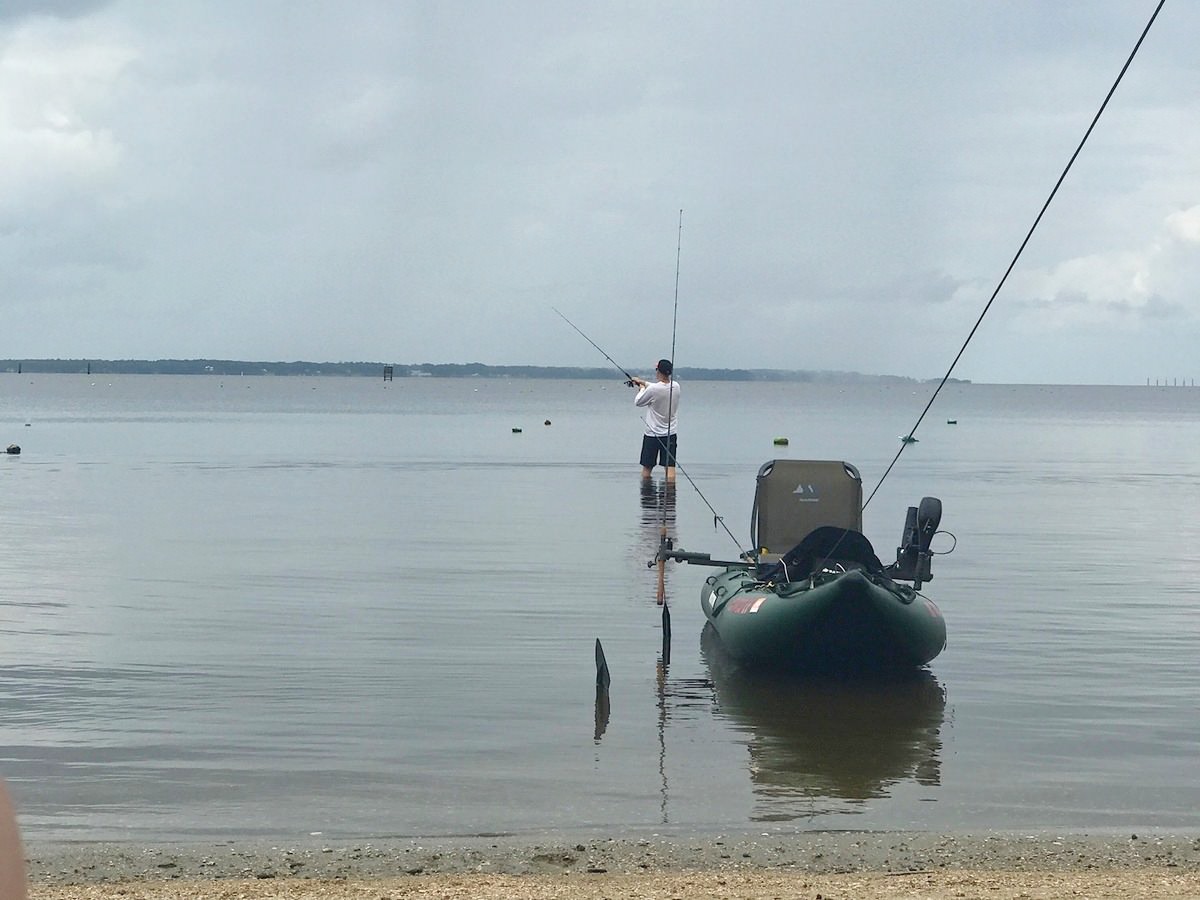 Transport and launching is another problem that must be tackled before being able to enjoy a watercraft. I find that these issues are minimized with this kayak. I own a short bed truck and do not require a trailer for this 'yak. I just slide it in diagonally and put a couple straps on either side to secure it before going to the water. Launching the kayak is great because I can put in where others can't. In a motorboat you need a ramp. With this guy I can put in basically anywhere where I can walk to the water. I use the TMS Kayak Dolly off Amazon to support one end while I walk the other end. It works quite well.
Being on the water is the best part. I have come up with a setup that I love for fishing and exploring (boozing) with or without another passenger. I am on a swivel chair sitting up high in the back of the boat while the other passenger sits at water level at the front of the boat. This allows me to work the trolling motor and fish over the top of the front passenger. I mount the swivel chair with a basic swivel from Walmart and two additional aluminum cross bars as described on BoatsToGo. I highly recommend the Millenium Marine B100. I am comfortable for 6+ hours on it. The trolling motor is a Minn Kota Endura from Walmart and is rigged on a piece of plywood that was cut to the width of, and ratchet strapped onto the aluminum cross bar that comes on the boat. This piece of plywood has a vertical piece of plywood to mount the motor to as well as four PVC joints screwed into it to use as rod holders. I spray painted to semi-match the kayak. I can hold four rods and have enough separation between the rods to troll two of them at a time. My trolling motor is a Minn Kota 30lb freshwater motor. I have a large lead acid deep cycle battery that that is contained within a Minn Kota Power Center. I place the Power Center directly behind the cross bar between the two rod holders. Weight balance isn't a huge deal in this boat as it is so buoyant already. It doesn't cause any issue that most of my gear is at the back of the boat. I just place the loose things up front. The battery runs all day no problem; I have yet to run it down past half way while motoring around at full throttle for hours a time. I anchor with an 8lb mushroom anchor which is just about right to hold the boat without drifting. I attached it with p-cord to the bow then run it through two carabineers that are spaced a few feet apart to allow me to easily control the length of line while the anchor is out and store the line without tangles while anchor is in.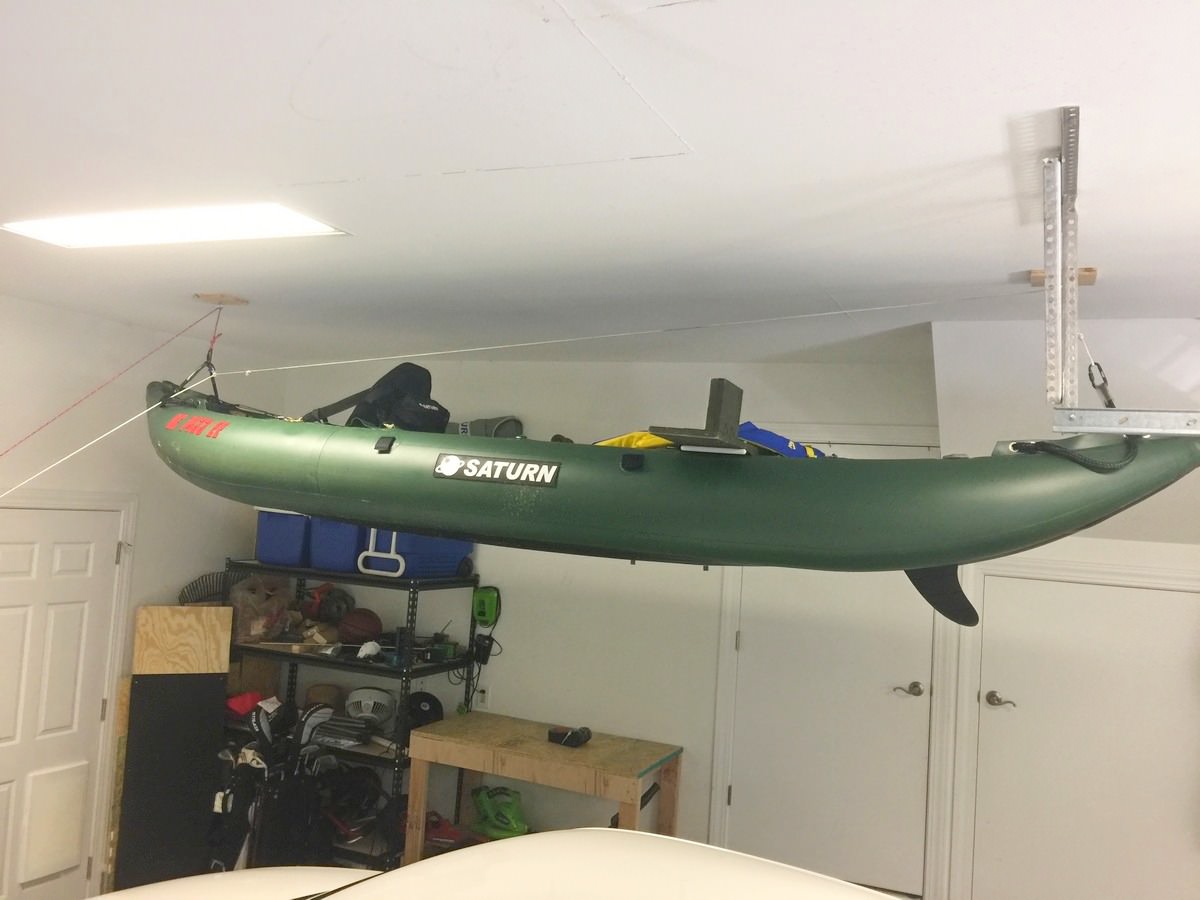 I would still like to get a bimini top to keep the hot North Carolina sun off but other than that I am super happy with out setup. The trolling motor mounted to the side causes a not insignificant crab when tracking through the water but I have not thought of a good way to mount it on centerline while still being able to easily reach the steering arm. I guess I could pony up and buy the remote control one and mount it on the bow. This will probably be what I do if the Endura every craps out on me. It would make steering and trolling extremely easy I think. However, I don't thing it's a real big deal; we still make probably 5kts through the water and the ventral fin helps the kayak track straight. Without the fin installed the crab is really bad. I actually keep a half of the paddle that comes with the boat easily accessible in order to push off banks and help with steerage when accelerating from a stop.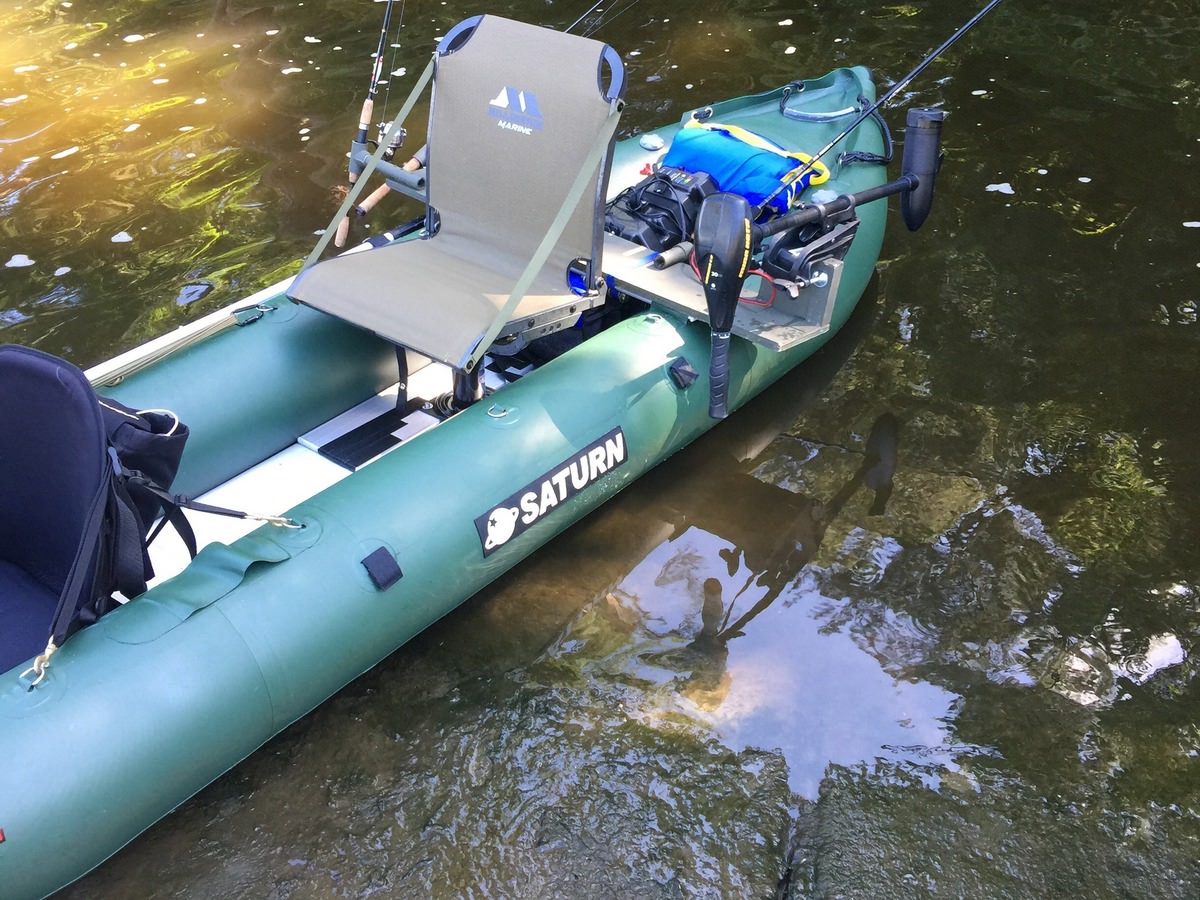 The construction seems to be top notch. I owned a Sevylor Colorado 2 person fishing kayak before this and the difference is significant. The material on the Saturn is somewhere between the Sevylor and what you would find on a serious white water raft. I am not worried even a little bit about hooking it while fishing. This is a pretty big deal, for one it keeps me confidant that I'm not going to sink but also it means that it is quite rigid for an inflatable and allows the mounting of the trolling motor, my chair, and resting the super heavy lead acid battery on the bottom of the boat. I don't know what the carrying capacity is supposed to be (I'm sure it says somewhere) but I put a lot of crap in there and I am pretty impressed with it. It remains very laterally stable even while I sit up in my chair and lean way over. This is pretty cool because the bottom of my chair is at the top of the gunnels. I don't really worry about capsizing. It could definitely happen but I think I would have to be pretty well lubed up. The D-rings provided are useful and prove to be solid attach points. As mentioned earlier the ventral fin is a nice and necessary addition. You have to be careful not to rest the kayak on the fin though as it will definitely damage it and the bottom of the boat. I put my dolly on that end when transporting it to avoid that.

I enjoy this boat over larger motorboats because of its easy to store and transport, I don't need a boat ramp, it puts me down close to the water, and I can access shallow waters. I enjoy it over other kayaks because I can use a trolling motor or paddle, I am sitting comfortable in an upright position, I have great lateral stability, I can go with or without my wife without feeling encumbered either way, and I can still carry as much stuff as I could possibly need. If I could figure a way to make my trolling motor center thrust it would be perfect for me.

Kayak Dolly- https://www.amazon.com/TMS-CART-CANOE-KAYAK-KY001-Carrier-Trolley/dp/B0082365AQ/ref=sr_1_1?ie=UTF8&qid=1499553958&sr=8-1-spons&keywords=kayak+dolly&psc=1

Minn Kota Endura 30Lbs- https://www.walmart.com/ip/Minn-Kota-Endura-C2-30-lb-Thrust-Trolling-Motor-with-30-Shaft/15686718


Swivel Chair that I use and highly recommend- https://www.amazon.com/Millennium-Marine-B100-Boat-Green/dp/B00JRHSM98/ref=lp_13633966011_1_1?srs=13633966011&ie=UTF8&qid=1499554400&sr=8-1

Minn Kota Power Center -https://www.amazon.com/gp/product/B001PTHKMG/ref=o...

Mushroom Anchor - https://www.amazon.com/gp/product/B004LRDF00/ref=o...