For Adventure and Fun in the Azzurro Mare 13' AMR385 Raft

An extra heavy-duty, whitewater inflatable raft, the 13' Azzurro Mare AMR385 Inflatable Raft is a commercial grade, river master. Built with durability and stamina in mind, the AMR385 inflatable raft can be all about the rapids, or that expedition in calmer water. Manufactured by Saturn, these upscale inflatable rafts were sold mainly in the European markets. Now they are here, exclusively brought to the American markets by Boatstogo.com
Ready for Class III+ whitewater rivers, this self-bailing inflatable raft conquers both river and stream. A durable and rugged inflatable raft, the AMR385 is built to handle the constant use in rough water. Rafters can feel safe with the 1.5mm bottom, made of PVC fabric which is a thicker material than other brands of inflatable rafts. The AMR385 has carefully positioned foot holds all throughout the detachable 140mm, drop-stitched, air floor. The placement of the foot braces is with commercial rafting in mind, but can be handy for the adventurous rafter, who likes to bring friends on whitewater expeditions.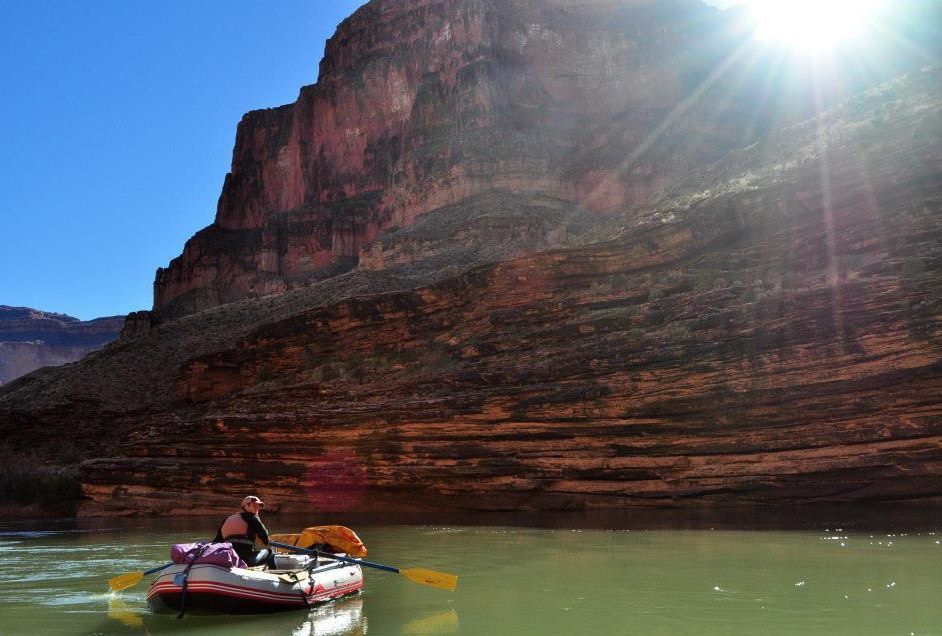 SATURN AZZURRO MARE RIVER RAFT
Commercial grade 1100 Dtex PVC is used on all the tubes, in a 0.9mm thickness, a full double layer is sealed to the bottom of the raft tubes making it nearly indestructible in rocky rivers and streams. The top of the tubes gets the same tough treatment as the bottom, with a double layer of 0.9mm PVC. If you do a lot of fishing, the benches and solid detachable floor are for you. In the calmer waters, or the rushing streams, fisherman love the stability and overall strength of the inflatable raft AMR385.
Used for paddle boating on whitewater, or just as a rowing rig, this multipurpose inflatable raft lives up to the Saturn reputation, of high quality and outstanding value. For the river turbulence this rig can hold 6-8 people, comfortably. For rowing excursions the foldable raft can hold 4-5 people and light gear. With the rocker, higher than other brands makes for exhilarating adventure on whitewater rides.
For those that just have to have more, the AMR385 inflatable river raft comes with self-bailing drains spaced along the perimeter of the bottom of the raft. A bevy of accessories, like a repair kit, 5 T-paddles, and the carry bag are included, as is the generic hand pump. There are a pair of detachable inflatable thwarts to hold firm in rough water, or just to keep the raft safe in calmer water. As a customization, there are D-Rings positioned around the raft for the optional frame attachment.
The whole package of this river raft is constructed to perform in the toughest whitewater scenario and function superbly on fishing trips. The jutting rocks or the twists of a mountain river bed are no match for the ultimately maneuverable AMR385 rafts. Both the thwarts and the floor are detachable, for ease of breakdown or setup. The price will keep money in the bank, at under $1400.00 this inflatable raft is a river workhorse. It doesn't disappoint the avid fisherman, or the whitewater rafter.