SALE: $1,399.00
This item is on backorder
Coming in stock 12/12/16
Only 4 coming
MSRP: $2,798.00
Shipping: $119.00
Inflatable White Water River Raft AMR385
Extra Heavy Duty, Commercial Grade Whitewater River Rafts.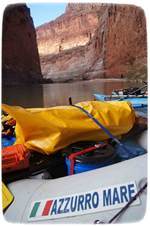 Premium private label - AZZURRO MARE Boats are manufactured by Saturn Inflatables for upscale European market. A limited number of these beautiful inflatable river rafts are available in the US exclusively at BoatsToGo.com.
The same excellent quality rafts as Saturn available in different color combinations. Standard warranty for AMR385 river rafts is 3 Years.
13' Commercial Grade Self-Bailing Whitewater River Raft AMR385 is great for both fishing and whitewater rafting and ready for Class III+ whitewater rivers! The higher rocker provides an exhilarating ride on whitewater like no other raft! It is an excellent whitewater paddleboat for 6-8 people or a nifty rowing rig for 4-5 people and lightweight gear.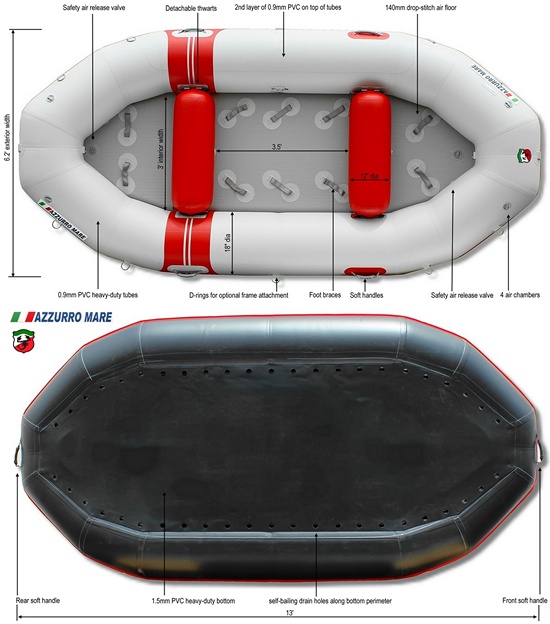 AMR385 river rafts bottom is made of extra heavy-duty 1.5mm PVC fabric, that is almost double of thickness of standard 0.9mm used in most other brands!
In addition, all surface of lower tubes of new AMR385 rafts are also covered by second layers of 1.5mm PVC. That is standard 1100 Dtex 0.9mm of tubes PVC, plus an additional layer of 1.5mm PVC, making these rafts almost indestructible! And all that at very affordable price!
Both inflatable thwarts and air floor are completely detachable and removable.
Recent customer's review of AMR385 river raft:

"Hello, I'd like to share a story I wrote up about a trip down the Colorado in my Azzuro Mare river raft. While the boat made it through the trip unscathed I managed to lose my repair kit including extra valve and valve wrench in the water. When I purchased an Azzuro Mare river raft in the summer of 2012 I thought it would be an excellent and affordable option for some local class 3 rafting; it did not disappoint. Whether it was a lazy class 1/2 float in the summer heat or an adrenaline packed class 3/4 adventure the azzuro rose to the challenge. Multiple times I inadvertently tested the durability while slamming into various sharp rocks and other river hazards, each time the Azzuro raft came away unscathed..."
Click Here to read full customer's review >>
Down the Colorado through the Grand Canyon in the Azzuro Mare river raft.
Tech Specs:
Rafts tubes are made of heavy-duty 0.9 mm (1100 denier) PVC.
Detachable 140mm drop-stitch air floor with foot holders.
Naru flat valves design with pushpins.
Soft lifting handles all around the raft.
Rubbing strake all around the raft.
D-rings around raft for optional frame attachment.

Raft bottom is made of 1.5mm, extra heavy-duty PVC fabric.

Double layers of PVC fabric on top of tubes for extra durability.

Self bailer holes all around raft bottom perimeter.
Two detachable inflatable thwarts 12" diameter each.
Accessories: repair kit, 5(five) x T-paddles and carry bag included.
Complimentary generic hand pump included.
13 ft Azzurro Mare Inflatable Raft AMR385
This item is on backorder. Coming in stock around 12/12/16. Only 4 left!
SALE:

$1,399.00

(MSRP: $2,798.00)
SHIPPING: $119.00 (by FedEx Ground)
| | |
| --- | --- |
| Tech Specs* | AMR385 |
| Outside Length | 13' |
| Outside Width | 6.2' |
| Inside Length | 9.6' |
| Inside Width | 3' |
| Tube Diameter | 18" |
| Air Chambers | 4 + 2 + 1 |
| Floor Board | 140mm Air Deck Floor |
| Weight | 145 lbs |
| Package Size | 55 x 25 x 11 |
| Passenger Capacity | 6+2 |
| Inflatable Thwart (detachable) | 2 |
| Color | gray/red |
* Specifications and accessories are subject to change without notice.

Azzurro Mare AMR385 River Raft.

3D images of AMR385 River raft

Images and video is a courtesy of

Ričardas Marozas

3D video of AMR385 raft