MARKETING TIPS:
No customers will buy from you unless you inform them about great advantages of Saturn boats, rafts and kayaks. Marketing is engine of the trade.
Direct Mail Campaign on a Budget!
USPS now offers small businesses the opportunity to send mailings to every resident in specific areas of your choosing for the low price of only $0.14 per piece! The service is called Every Door Direct Mail, or EDDM, and is great for sending direct marketing mail to announce your business's offerings. You don't have to supply addresses; USPS mails your materials to every household on a particular mail route that you can choose on their website.
Designing and printing your marketing materials can be cost-effective. For example, you can order 1000 postcards for $50 from VistaPrint.com or NextDayFlyers.com, and mail to residences along the waterways for around $140!
The process is quite simple. All you have to do is to create an account with USPS, properly prepare your mail pieces, and bring them to a USPS office with completed form (from the website).
Benefits:
Minimum to qualify for $0.14/pc is 200 mailing pieces at once.
No contracts or commitments.
Send postcards, fliers, or brochures.
You don't need specific addresses.
You can choose which postal routes you want to mail to.
How to Sign Up
Scroll down on the page until you find a blue tab with the words "Retail Entry".
Under step 1, click on Create Account.
Then New Users, click on Sign Up & follow instructions.
Printing Suggestions.
Printing of marketing materials is easy with various on-line services: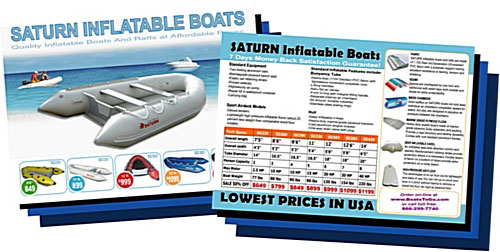 We also provide ready to use graphical designs for your flyers and/or newspaper ads. Just take them to the local print/copy shop, or send them to your local newspaper.

Tip: Postcards can be distributed in local marinas, parks or placed under car windshields. You can also attach rubber cords to each postcard with a staple, and leave them on door knobs of houses located along the shore. If people live next to the water, they might want to consider getting a boat as well. For more creative ideas pickup Guerilla Marketing books by Jay Conrad Levinson at Amazon.com.

Click on thumbnail images to open a full size image in a new window. You are allowed to use the advertisement materials below, solely for the purpose of re-selling Saturn Inflatable Boats. Download images below to your local computer, modify them with your own contact information and/or prices. Send selected images via email to the local print shop to produce high quality postcards, business cards or flyers. Send b&w images to your ocal newspaper or magazine to advertise your business.

---

MARKETING TEMPLATES:
Click on image to enlarge, then save on your computer Desktop. Open with image editing software and add your contact information, such as phone number, email, web site, address, etc. Add your own retail sale prices, and you are ready to start your own marketing campaing.
Business Card front. Write your contact info and take to local print shop.
Business Card back. Write your retail prices for inflatable boats.
Add your contact information, sale slogan, and retail prices. Print ad in local newspaper.
Color Flyer Front.
B&W Flyer Back
Large format ad for magazine
Postcard 4x6 Back
Postcard 4x6 Front v1
Postcard 4x6 Front v2
Postcard 8x6 Front v1
Postcard 8x6 Front v2
Postcard 8x6 Front v3
Postcard 8x6 Front v4
Postcard 8x6 Front v5
Postcard 8x6 Back
2 colors magazine ad
Spanish Language Card Front
Spanish Language Card Back
Business Card Front
KaBoat Post Card
Newspaper B/W ad

| | |
| --- | --- |
| | |
| Banner 29x52" | Car Magnetic Sign |
| | |
| Brochure Page 1 | Brochure Page 2 |

In addition, Saturn inflatable boats product catalog can be downloaded at our Downloads section. Also, blank templates for Bill of Sale and Manufactured Statement of Origin (MSO) along with Invoice template can also be downloaded at that page.

---

MARKETING IDEAS:
The best way to advertise SATURN inflatable boats is to take them closer to your customers. We recommend placing one sample SATURN boat on a jet ski trailer, and towing it to the local marinas or other places where potential customers might be. Once customers see the quality and workmanship, they will be sure to take informational flyers that you will leave close to the boat.