30W 12V LED Underwater Fishing & Dock Accent Lights.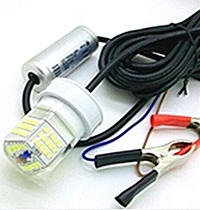 Will help you to catch more fish at night time. Can be connected to small and inexpensive 12V6AH and up battery. The higher battery ampere/hour (AH) rating, the longer light will work.
Take LED light and battery on your boat, drop it in a water and be ready to catch more fish attracted by underwater light. Small fish will come first, and then big fish will follow. Also great to create attractive accent light next to your dock or in a pond.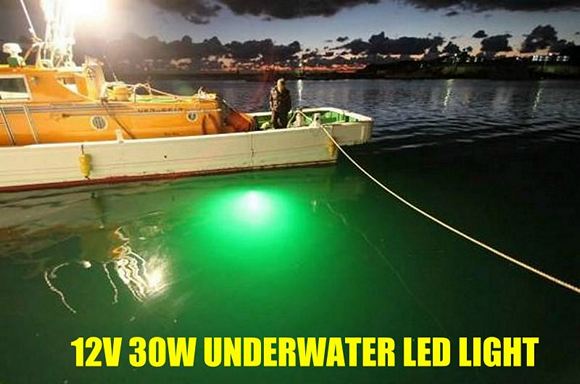 Applications:
Widely use in Fisheries: for light cover nets, sea fishing, small nets, silver nets, fishermen modified nets, ponds, lakes for fishing

Suitable Fish Species:
1. In Freshwater: carp, black carp, grass carp, snakehead, catfish, tilapia, catfish, walleye, crappie, red snapper fish, etc.
2. In salty water: squid, octopus, flounder, Pacific ocean perch, largemouth bass, northern pike, salmon, trout , etc.
Underwater LED Light LED30W
Only 5 left in stock!
SALE:

$39.00

(MSRP: $78.00)
SHIPPING: $9.00 (by FedEx Ground)
Quick Tip: Underwater 30W LED light can be connected directly to 12V marine deep cycle or smaller 12V 6AH or 7AH or 12AH or 14AH inexpensive batteries sold on Ebay and Amazon for about $20 and up. LED light cables can also be cut and re-connected directly to 12V wall power adaptor.
But, if you want to create beautiful underwater accent light that will attract fish every night, and have it fully automatic and care free, then you can easily make energy independent solar system using these 5 components available on Amazon and Ebay:

- Solar panel 50Watts (about $80 on Amazon)
- Cable for solar panel 3', cut in half ($9 on Amazon)
- Programmable charge controller ($25 on Amazon)
- Small 12V 18Ah rechargeable battery ($30 on Amazon)
- Outdoor utility box for battery ($20 on Amazon)

Simply connect cables from solar panel to controller, and then from controller to battery placed into the box. Then connect LED light cables to controller, and set it to automatically turn light on when it become dark, and turn it off 3-4 hours later to save battery. Under normal light conditions battery should fully recharge to work every day and power up underwater LED light at least 3-4 hours a day after dark.