Do-It-Yourself Sun-Shade Canopy Plans.


Seven pages do-it-yourself plans: "How to make canopy from PVC tubes and tarp". Ordered plans are sent via email. Sun canopy is great as a protection from a sun. Easy to install and remove. Looks great. Can be used while riding. Click here to see video clips.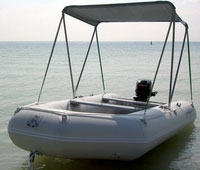 What our customer says about plans: "Hi! I built the Sun Shade Canopy for my raft from the plans I bought from you and it really looks great! I followed the directions to the letter. I don't know why the plans call for two pairs of jaw clamps when it only takes one pair. It looks like it should work ok with only pair. Anyway...it is impressive! Thanks so much! Roger."
"...Well, I am very please! I can return the one extra set of jaws.... or maybe I will just keep them as replacement parts. Anyway.... I really hit the jackpot by buying these plans. Thank you for doing this! It is a great help to us boaters! Blessings, Roger."
Plans come as an images compressed into ZIP file that has to be downloaded from our web site. You may need WinZip software to uncompress plans.
---
Sun Canopy Do-it-Yourself Plan
SALE: $5.00




---