2-Bow Sun Canopy for Canoes, Kayaks and KaBoats.
Make your inflatable KaBoat, kayak or canoe riding experience even more comfortable and protect yourself from harsh Sun's ultraviolet rays with a Saturn 2-Bow Bimini Top Canopies. Will fit on all Saturn KaBoats, regular and XL versions, Fishing Kayak FK396 and SD230 small inflatable dinghy. Also will fit on some canoes and kayaks.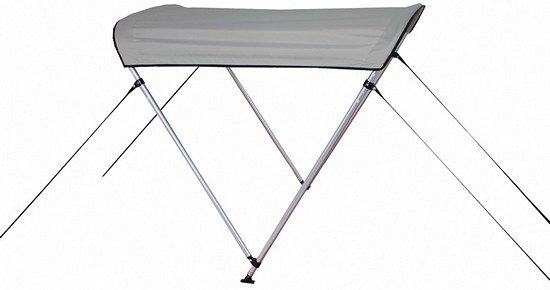 These Sun/Rain Canopies come in light gray color and very easy to install. It keeps you cool and protected from the harmful UV rays of the sun and unexpected rain. The 600 deniers PVC Coated polyester canopy and folding aluminum tubing. Fits all small size boats with pined oarlocks, s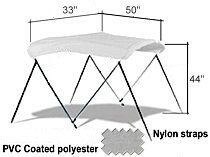 plash guards or hugging rope holders.
The standard 2-bow canopy has two support poles on each side which form a V, and anchor to the oar locks with provided clips, or splash guard grommets near the center of the boat. The 2-bow canopy is held in place by 4 bow lines, two center brackets, and two stern lines. Support poles can be pushed up to several inches inward or outward. Click on image for dimensions:
Specs for Bimini Tops:
Installs in seconds.
Protects from heat and rain.
Rugged, waterproof reinforced canopy top.
1" anodized aluminum frame with stainless steel screws.
Make your KaBoat look really cool and sporty.
Can be used while riding boat.
All necessary hardware is included.
Bonus: included oarlock mounting clips.
2-Bow Bimini Top BIMINI2

SALE:

$59.00

(MSRP: $118.00)
SHIPPING: $29.00 (by FedEx Ground)
2-Bow Canopy. Click on images to zoom in.

Recent customer's Review: "Just installed bimini on my 15.4 Gheenoe looks and fit great . Well made product. Perfect perfect perfect. Thanks, Jim"
2 bow bimini top installed on Saturn 15' KaBoat
2-bow canopy installation suggestion: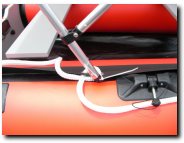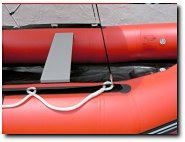 Aluminum support poles of 2-bow canopies may be attached directly to the grommets that are installed into splashguard on top of the boat tubes. Plastic cable ties can be run through the support pole holes and grommets in the splashguard or optional wing nut bolts can be used for quick disconnect.
Four straps can also be secured to grommets in a same manner. Properly adjusted tension of strap lines will hold the canopy vertically in place.
To fold canopy down, simply unlock straps in front or in rear and fold canopy down.
Canopy support poles can also be mounted on top of oars with provided oar clips.
If no attachment places are available at all, then D-rings need to be glued on top of tubes in order to provide attachment points.
Canopy can also be installed on Fishing FK396 Kayak. Pleas see example of installation here.