NEW & Longer 4-Bow Deluxe Sun Canopy Bimini Top.
Make your boat riding experience even more comfortable and protect yourself from the sun's ultraviolet rays with a New Saturn 4-Bow Deluxe Bimini Top Canopy.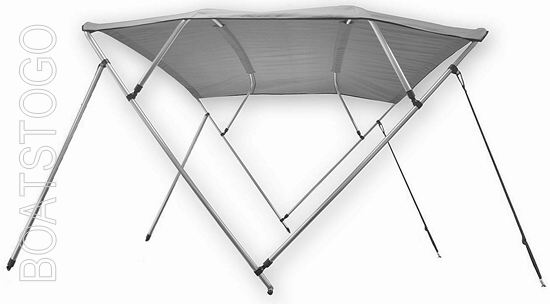 The deluxe 4-Bow canopy was originally designed to fit hard hull fiberglass and aluminium full size boats. It suits vessels 59" to 67" wide, stands 51" high from mount points and provides 85" long coverage. That is 20" longer than older 3-bow biminis, and with more smoother top line!
These Sun/Rain Canopies come in light gray color and very easy to install. It keeps you cool and protected from the harmful UV rays of the sun and unexpected rain. The 600 deniers PVC Coated polyester canopy and folding aluminium tubing. Fits all boats with pined oarlocks, splash guards or hugging rope holders. Comes standard with all necessary hardware to mount on fiberglass or aluminium boat.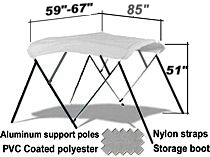 These deluxe 4-Bow boats canopies can be adapted to Saturn, Azzurro Mare or many other brands of inflatable boats because ends of support poles can be pushed together as close as 59" or pull apart as far as 67".
Rear aluminium support poles allow convenient storage of folded canopy under 45 degree angle. If flat folding is required, then rear aluminium poles can be easily replaced with optional Nylon Adjustable Bimini Top Straps that are sold in marine stores and on-line, or just 2 long dog leashes.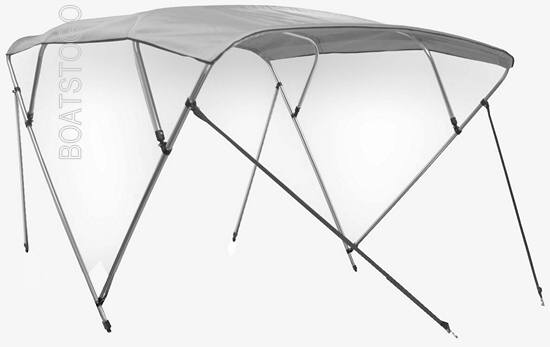 Support poles mounting hardware and straps can be attached to the splash guard grommets or rope holders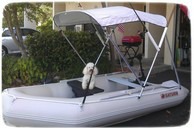 with a help of plastic cable ties sold in any hardware store. If splash guard attachment is not available, then support poles mounting hardware can be installed directly onto oarlocks, however holes in plastic end pieces need to be increased in diameter in order to fit over oarlock pin. Also included zippered boot cover for folded canopy!
Can be installed from 59" to 67" wide points.
Height is 51", length is 85", to cover larger boats.
Protects from UV-rays, heat and rain.
Waterproof reinforced canopy top made of 600 denier PVC coated polyester fabric.
RRear aluminium support poles, front nylon adjustable length straps.
1" diameter anodized aluminium frame with stainless steel screws.
Make your boat look really cool and sporty.
Can be used while riding boat. Easy to install.
Packing box for 4-bow top is 69x14x4"
Shipping weight 20 lbs.
All necessary hardware is included.
FREE storage boot is included.
Download Installation Instructions.
4-Bow Bimini Top BIMINI4
This item is NOT available for shipment arriving 12/12/16.

SALE:

$189.00

(MSRP: $378.00)
SHIPPING: $29.00 (by FedEx Ground)
4-bow bimini top can be installed on almost all our boat models, from SD260 to SD518 size boats. Support poles can be pushed together as close as 59" to fit on 8.6' SD260 size boat or pull apart as far as 67" to fit on our largest 18' SD518.

Video of Saturn SD330 boat with 4-bow bimini installed

Video of Saturn SD360 boat with 4-bow bimini installed
Easy DIY mounting suggestions for sun bimini top.
4-Bow canopy installation suggestions:
Canopy comes with standard hardware for installation on fiberglass or aluminium boat. When installing on inflatable boat, some of these hardware can be discarded. Canopy support poles can be installed directly on oarlocks. To fit over pin of oarlock, holes on plastic mounting jaws need to be enlarged or drilled directly into aluminium. /p>
Rowing oars can be placed on top of oarlocks and fastened with a rubber cord. If you need to use oars, just fold the canopy toward the bow, unscrew the pins and remove the poles from oarlocks. Move the folded canopy a couple of inches toward the bow and install oars onto the pins of oar locks.
If pinned oarlocks are not available, as in SD430 or SD470 for example, then aluminium support poles of 4-bow canopies may be attached directly to the splashguard protectors on top of the boat tubes. Plastic ties can be run through the support pole holes and rope holes in the splashguard. Properly adjusted lines will hold the canopy in place.
If no points to attach support poles to top of tubes inflatable boat are available, then D-rings or some other grab-on contraption need to be glued.