Shark Proof Rash Guard / Swim Shirt.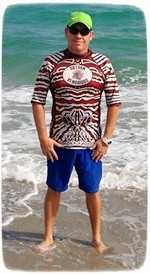 Our new and unique design of protective beach clothing not only cools you off on a hot summer day, but also provides UV protection of up to 50SPF and may even reduce your chance of being attacked by a shark!!!
Why do you need our Rash Guard?
While on the beach or enjoying water sport activities, you can get a sun burn within 15 minutes. Our Rash Guard will protect you against the sun's damaging rays and will reduce the need for applying sun block.
A wet Rash Guard will keep you cool on a hot day by actively evaporating moisture from its surface, and thus reducing your skin/body temperature.
The unique color pattern of our Rash Guard mimics the features of highly venomous Lion Fish, therefore minimizing your chances of being mistaken for a sea lion or any other type of favorite food on the menu of local sharks.
You'll surely look cool and sporty while wearing our Rash Guard on any beach in the World, all while smartly hiding your body imperfections.
You've probably noticed that most beach goers tend to stay closer to the beach line while in ocean waters. Not too many people swim very far from the shoreline. Why? Deep inside of our minds there is a primal fear of being attacked by a shark.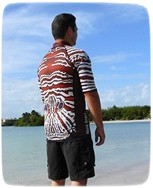 While it is well known that humans are not on a shark's regular menu, sharks do tend to "bite-to-feel". It is also well known that many shark attacks on beachgoers or surfers wearing black wetsuits or swimwear are attributed to being mistaken for a shark's favorite food - sea lions.

The design of our Rash Guard makes swimmers and surfers look unattractive to sharks. Lion Fish is not on a shark's normal menu, and despite attempts to train sharks to eat Lion Fish, these attempts were only limited to one place off the coast of Honduras.

In addition to poisonous looking fish stripes on the surface of our Rash Guard, the large eyes placed in an unnatural location should also confuse and scare off potential predators looking for a quick bite.

After our Rash Guards were already in production, there were articles published in ABC News Australia's web site confirming that using particular patterns on swim garments would make the wearer appear obnoxious, poisonous or unattractive to the sharks.

While we can't guarantee that wearing our Rash Guard will make your totally invisible to sharks, there is a good probability that your already slim chance of being bitten by this predator might become even slimmer.
Currently available size fit men L/XL sizes.
Saturn Rash Guard UV/Shark GUARD
Only 5 left in stock!
SALE:

$29.00

(MSRP: $58.00)
SHIPPING: $6.00 (by FedEx Ground)