Deluxe Aluminum Foldable Travel Kayak Paddle.
Now also comes with FREE T-handle that converts kayak paddle into SUP Stand Up Paddle Board or Canoe paddle!
Our New Deluxe Travel Kayak Paddles offers great performance and excellent grip. Our Kayak Paddles can break and fold into 2 or 4 piece, making it great for transporting and portable storage. Compare to over $80 by other suppliers!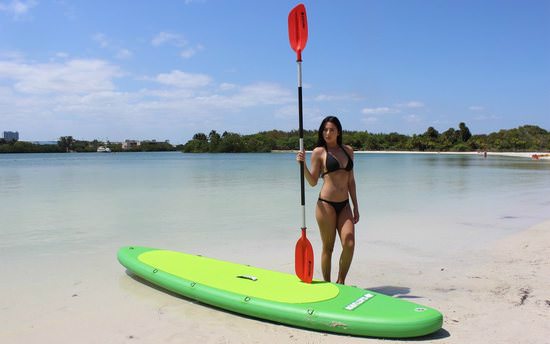 FREE separate T-handle can be installed on kayak paddle to use as SUP paddle

Kayak paddle with T-handle installed instead of one of blades can be used for SUP.

Assembled paddle is 94.5"(240cm) long and its weight is 25 oz. Advanced spoon bended blade, rubber drip-ring, and anodized aircraft grade aluminium shaft makes these paddles perfectly suited for any type of regular or inflatable kayak.

These are high-precession and excellent quality travel kayak paddles that are tightly fit, and will not wobble like some other foldable paddles available elsewhere. To disassemble paddles, press spring lock pushpins on both sides and rotate two parts in opposite directions. Grease or WD40 can be added to make assembly/disassembly easier.
Our Travel Kayak Paddles comes with convenient mesh storage pouch that allows easy drying after use in a water. Shipping box size 18x9x4". Shipping weight 2lbs.
Travel Kayak Paddles PADDLE
This item is NOT available for shipment arriving 12/12/16.

SALE:

$29.00

(MSRP: $58.00)
SHIPPING: $12.00 (by FedEx Ground)
Video shows kayak paddles used with sit on top kayak.