Oars and oarlocks for inflatable boats.
Order set of replacement aluminum folding oars for your inflatable boat or KaBoat. Also available oarlocks for inflatable boats to attach optional rowing oars and oar holders. Long oars are good for all dinghy boats SD290 and up. Short oars are good for all KaBoats, SD230 dinghy and small river rafts.
| | |
| --- | --- |
| | |
| | |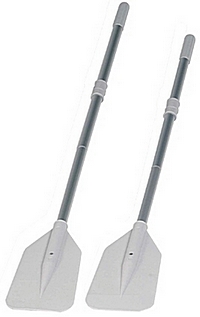 Easy to glue on, please visit our FAQ section for detailed application instructions. Short application instruction:
Deflate boat and make sure humidity is low before proceeding to glue application.

Outline place where you going to glue oarlocks first with a pen and then with a painters tape.

Wipe clean both areas to be glued with 100% acetone, wait 5 minutes before applications.

Apply 3 thin layers of boat PVC glue from a repair kit with an old toothbrush on both surfaces to be glued. Wait 5 minutes between first 2 applications, and 10 minutes after last 3rd application.

After 10 minutes since last application of glue has passed, joint pieces together and use spoon to press out any air bubbles. Wipe out excess glue with an acetone.

Leave for 24 hours for glue to cure completely.
Please specify desired color, black or gray, and quantities in a comments section during checkout. If desired color is not available, we will send what is available, unless you specify in a comments section that you don't want another color. Currently we have only black color oarlocks and oar holders.
Set of LONG aluminum oars 2pcs. OARS2
This item is NOT available for shipment arriving 10/28/16.

SALE:

$29.00

(MSRP: $58.00)
SHIPPING: $12.00 (by FedEx Ground)
Set of oarlocks 2pcs. OARS3
This item is NOT available for shipment arriving 10/28/16.

SALE:

$39.00

(MSRP: $78.00)
SHIPPING: $5.00 (by FedEx Ground)
Set of 2 oar holders OARS4
This item is NOT available for shipment arriving 10/28/16.

SALE:

$29.00

(MSRP: $58.00)
SHIPPING: $4.00 (by FedEx Ground)