An Introduction to Inflatable Kayaks


Inflatable kayaks, regarded by many to be the first generation of the sit-on-top kayak, find their routes traced to the days of when Government surplus rafts were being used for traveling on whitewater as well as general and recreational paddling. Throughout the years since manufacturers have developed packable inflatable kayaks for a variety of uses, both professional and for the beginner and many are equipped for more than one paddler.

If you are presently looking at one of our Saturn Inflatable Kayaks or simply just trying to gather some information about inflatable kayaks in general the information contained within this article is sure to help you understand the pro's and con's to owning an inflatable kayak, along with how to use and take care of your own personal inflatable device.


Different Types of Inflatable Kayaks
Completely inflatable kayaks are often referred to as "soft shell" while glass & plastic kayaks as known throughout the industry as "hard shell" options. We here at BoatsToGo carry only Saturn's premium Inflatable Kayak line, all of which are soft-shell construction comprised solely of PVC.
Most inflatable kayaks will fall under two classes. White Water/Ocean use and General Recreation. General recreation kayaks will include your fishing and expedition models. Different models will offer different reinforcements to their construction depending on the use it is set up for. In addition our white-water and ocean use inflatable kayaks are self-bailing, meaning they have small slots incorporated into the seems of the floor to allow any water you may pick up during your adventure to drain out.
Our inflatable fishing kayak offers a specially reinforced cockpit area to offer an extra layer of protection against hook punctures and the likes.
Choosing an Inflatable Kayak
Your choice of inflatable kayak will depend much on your intended plans for it. Many of our customers live in apartment buildings or condominiums where they lack the space and water access needed to conveniently enjoy a rigid kayak. Our customers are able to simply deflate and roll up their kayak when done enjoying the day. Our Saturn Inflatable Kayaks will take up no more space than a large duffel or suitcase allowing for easy storage under a bed or in the closet. There is no excessive lifting, or struggling to store/transport your kayak on a roof rack, and for those of you with limited storage aboard your camper a hard-shelled kayak is not an option.
Because of its convenience and portability Saturn inflatable Kayak by
BoatsToGo.com
users are able to take their vessels on public buses and other means of transport that are not options for those with a kayak built on rigid construction. This is of huge benefit for those of our customers who enjoy traveling to remote locations where freight and courier services are extremely costly, if reliable at all. Our Saturn Inflatable Kayaks meet the guidelines for checked luggage on all major airlines so you can be sure to make the most out of your next vacation when owning an inflatable kayak from BoatsToGo.com.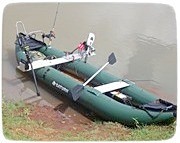 BoatsToGo
inflatable kayaks are lightweight and easy to ship , allowing for even more versatility and ease when wanting to travel and explore new waters without having to carry along the additional bulk of a standard kayak. Just mail your inflatable off to your intended location, and ship it back home for when you arrive.
Saturn's line of Inflatable Kayaks all weigh in at approximately 40lbs - allowing for easy loading and transport by a lone individual. Often times navigating to a launching area coupled with carrying a long, plastic shelled kayak can be very tiresome and deterring from the adventures and enjoyment that await you - with our inflatable kayaks simply inflate along the shoreline wherever is most convenient for you, store your carry bag and equipment aboard, and hop in!
Is an Inflatable Kayak right for me?
Many people believe that an inflatable kayak is an entry-point into paddling. Although this is true in many cases, there are a growing number of professional and touring paddlers who utilize all the features of perks associated with Inflatable Kayaks. Because Inflatable kayaks are considered "sit-on-top" vessels rather than "inside" as with most Rigid options, there is no need to be able to perform the necessary "sit-inside style rescues" needed to recover from a capsize with one of those kayaks. You will find that if you should end up in the water it is very easy to climb back aboard and regain your stability.
Durability is something to consider, but any quality inflatable made for white water, ocean, or expedition use should stand up effortlessly to the abuse. In fact almost all soft shell
inflatable kayaks across all brands
are quite durable when it come to regular use. Our Saturn Inflatable kayaks come equipped from the factory with their standard 2 year warranty to ensure that your inflatable will be defect free when it arrives to you. With proper care, you can expect many years beyond that to be enjoyed with your inflatable kayak.