Saturn Inflatable Boats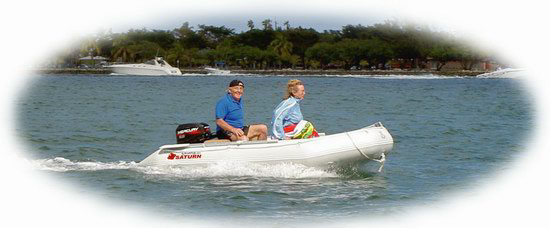 Hull
All Saturn inflatable boats are made of 1100 Deniers heavy-duty PVC fabric. Hull features: inflatable keel with a rub strake, marine-grade plywood transom, double layer of fabric at the bottom of the tubes and a one-way drain valve with plug.
Stable
Being an inflatable, SATURN boats have a low center of gravity, making it practically impossible to capsize them! Whether stationary or cruising, a SATURN inflatable boat is always stable. You can stand when fishing, children are safe, and mooring is exceptionally simple. Great as a fishing boat too!
Unsinkable
The buoyancy tubes of SATURN inflatable boats, river rafts and inflatable kayaks are made up of several independent airtight compartments. If one compartment unexpectedly deflates, the others remain inflated. This feature makes Saturn inflatable boats, rafts and kayaks almost impossible to sink, thereby allowing you to return slowly to safety.
Easy to Store
Once deflated and folded, SATURN inflatable boats or raft or inflatable kayaks takes up about as much space as a medium sized bag. You can store inflatable boats or inflatable kayaks in the trunk of your car, locker, under the stairs or in a corner of the garage and have it ready for the next weekend or holiday.
Easy to Launch
...and easy to pull up onto the beach. Like all inflatable boats, the weight of a SATURN can be up to three times lighter than a comparable rigid boat. You wouldn't hesitate to beach this boat and spend the day on a beautiful, remote creek.
Sturdy
Welded rubbing strake and transom, cold welded seams, reinforced cone ends; the high standard of quality of its materials and the perfect finish of its assembly are the major guarantee of the sturdiness of your BoatsToGo. It is coated with PVC-top of the industry for durability and strength, and found only on Saturn boats second-generation PVC materials.
Economical
Saturn inflatable boats are intended as the best introductions possible to boating on a moderate budget. Its maintenance is simple and inexpensive. It requires a small outboard, that is economical to buy and to use, and if maintained properly, a Saturn will last many years.
Saturn is the perfect inflatable boat for discovering the joys of boating. Easy to set up, it is fitted with a roll up air floor making assembly quick and easy; simply unroll and inflate with the foot-pump or the electric pump! Safe and easy to navigate, a BoatsToGo has an inflatable keel whose form creates a high performance hull shape. Easy to transport and easy to store away, a BoatsToGo travels in the trunk of you car.
How SATURN inflatable boats are different from other brands?
Saturn Inflatable boats are made of the same quality materials as famous expensive brand name inflatable boats. The workmanship is exactly the same or even better quality then most overpriced brand names that you can buy in retail marine stores. Our SATURN inflatable boats are made by a major manufacturer of inflatable boats in Korea.
Saturn inflatable boats strong points:
Very clean, hand-made seams. Glue does not stick out from seams.
Double layer fabric at the bottom of all tubes .
The Extra thick 1100 Dtex fabric with polyester support is a much thicker fabric than some other famous brands use.
Flat and rigid air floor. Not bended in front like on most other brands.
Safety valve that prevents over-inflation.
There are several reasons why Saturn prices are lower:
We import directly from the manufacturer bypassing middle men.

By conducting our business on-line we avoid expenses that retail stores are passing on to their customers.

We do not invest as heavily in marketing as other famous brands do.

We don't have to maintain a large network of dealers and retail stores.

Our 2 year warranty doesn't force you to pay for extra years that otherwise are just built-in into the retail price.

Customers have option to purchase extended 3 years warranty for only $99, for the total of up to 5 years manufacturer warranty!
Many of our customers are boaters that have experience with other brand names such as Zodiac, Avon, Sea Eagle, Mercury, West Marine, etc. However, after purchasing Saturn boats, we hear many comments stating that our boats are the same or even better quality as these other well respected major brands. The most common remark is; " Saturn boats are much better quality then expected", and as a result, 50% of our sales come from the referrals of happy owners of Saturn inflatable boats.
Saturn Inflatable Boats will beat competitors prices:
BoatsToGo offers lowest prices on inflatable boats, kayaks and paddle boards in USA. If you find lower price somewhere else on a similar type/model/size product, please email us more information, and we will match or beat that price. We will match or beat prices for products selling in active on-line and retail stores. However, we do not match Ebay or Craigslist prices.

What are benefits inflatable boats vs. regular hard hull boats?
Conventional hard-hull fiberglass boats are fast and powerful, but with them come high maintenance, responsibilities and unavoidable expenses.

If you are new to boating, you will feel overall responsibility while operating a lightweight inflatable boat versus heavy conventional boat.

Inflatable boats are much more responsive and are easier to handle than heavy conventional fiberglass hull boats.

Inflatable boats come with less worries about hitting other boats, dock objects, scratching or damaging someone else's expensive property.

Compared to conventional boats,

it is much easier to make sharp turns in narrow places, and dock inflatable boats almost anywhere.

Inflatable boats are much more buoyant, extremely stable, and almost impossible to overturn, that's why Navy Seals and Coast Guard use them.

Lightweight inflatable boats have lower operational expenses because they use much less expensive gas then conventional fiberglass-hull boats.

Minimal draft allows an inflatable boat to reach many shallow places where fiberglass-hull boats would hit bottom.

Conventional boats come with various components that are always breaking; steering system, power trim, oil injection, various gauges, etc.

Inflatable boats come with only three components, hull, gas tank and outboard engine, this lowers the probability of something breaking.

Unless you are planning to go far off shore, you can use an inflatable boat to cruise around or fish just as you would with any other full-size boat.

Inflatable boats can go as fast as conventional boats but with lower power rated engines.

This will save money on engine and on gas.

Inflatable boats are foldable, portable and do not require much less storage space than full-size fiberglass boats. No docking or marina expenses.

Much smaller inflatable boats are often rated for the same weight capacity (number of persons) as much larger conventional fiberglass-hull boats.
Why buy a Saturn inflatable boat? Are they better than the rest?
While you can find many new brands of inflatable boats sold at very attractive prices, please keep in mind that not all of them are coming from a reliable supplier as Saturn boats do.

There are hundreds of new inflatable boat companies popping up in China and other countries, assembling boats in garages without proper equipment or intimate knowledge of how to make not only a good looking boat, but to also make boats that last.

For example, minimal humidity is important for the glue to cure properly during the boat's assembly, but many suppliers don't even bother installing dehumidification systems. As a result, these cheap boats may be Ok at first glance, explaining initial positive feedback, but will fall apart in less than a year. Also, did you know that only boats assembled by women's hands are exceptional quality boats?

And guess what, we've already tried many of these new manufacturers in an attempt to offer an absolute bargain! However, every time we deal with such bargain suppliers, we regret it soon after we hear that seams have fallen apart or the transom has fallen off after only 8 months. Unfortunately, some bargain Chinese manufacturers deliver unacceptable quality, cheap PVC fabrics, seams that do not last, extremely bad packing and total lack of warranty support.

Also, keep in mind that if your inflatable boat fails and you need replacements as per the warranty, only a Company such as ours, who receives new shipments of boats every month, can provide you with a proper replacement. It will be impossible to get warranty support from someone who purchased 20 boats with the intention of making a quick buck and disappearing later. Are you sure that this guy who offers a 5 year warranty for a "too-good-to-be-true price"¯, will be there 4 years later?

BoatsToGo has been importing boats from our regular supplier in South Korea since 1999 and we receive shipments of new boats every month. Our customers are extremely happy with the exceptional quality of Saturn inflatable boats and BoatsToGo is a U.S. registered company that has been in business since 1999. We are here to help you with all of your boating needs and warranty services.

SATURN inflatable boats represent quality and durability at budget-pleasing prices. Sizes from 7' to 15-feet long are available for all your boating needs!
If you want to experience the joy of boating without hassles of trailer, maintenance or marina expenses, then inflatable boat is for you. Inflatable boat will fly with a gas outboard motor or run quietly and nice with inexpensive electric trolling motor. Great as a fishing boat.

80% of the conventional hard hull boats are used just several times a month and mostly in the summer time. Cost of conventional hard hull boats divided by the hours spent using it, converts to hundreds of dollars per hour of boat use. Our inflatable boats costs fraction of the price of conventional hard hull boat, and will be ready when you are. Inflatable boats are the only portable solution that allows you to be in the water without the hassles of large hard hull boat.

Easy to set up, SATURN inflatable boat will take you for the fun day of exploration at bay, river or lake. Once deflated, inflatable boat can be easily stored in the trunk of your car. Deflated inflatable boat takes the size of medium luggage bag and can be stored almost anywhere.

If you like fishing, then go where the fish are. Inflatable boat will take you there, away from the water edge and closer to the fish. If you like to spend weekends being closer to the nature, then inflatable boat is what you need. If you have RV or go camping, most likely you will be by the water. Take inflatable boat with you.

With optional Hydrofoil installed on outboard motor, Saturn inflatable boat will plane over the water like a jet sky. You can even make left and right turns on a smaller models without use of hands and tiller. Once boat flying over the water at maximum speed put tiller up and bends to the left or right to make boat slowly turn in desirable directions.

An inflatable boat or dinghy is a folding boat made with its side tubes and bow of flexible material as PVC or Hypalon containing pressurized air. For smaller dinghies and rafts, the floor and hull beneath can be flexible or hard. On inflatable boats dinghies and rafts longer than 11 feet, the floor may consists of several rigid plywood or aluminum plates fixed between the tubes but not joined rigidly together. Inflatable boat transom is rigid, made of heavy duty marine plywood. Transom providing a location point for mounting an outboard engine. Most inflatable rafts, dinghies and boats are designed to be deflated and packed into in a small package, so they can be easily stored for transportation or use when needed.

Those who love being out on the outdoor and waters whether it is a lake, a river or the ocean have always this yearning to own their own boat rather than constantly renting one. A big damper is the cost of a sailing vessel, which could run into thousands of dollars. For this growing niche market of small budget customers there is the wonderfully economical option of owning an inflatable boat.

An inflatable boat is basically a V-shaped boat that comprises of large tubes filled with air pressure that ensures it keeps afloat. A rigid inflatable boat, referred to as RIB, does not have soft flooring there will be aluminum, fiberglass, molded plastic or maybe even a plywood floor. Soft flooring enables you to roll up the boat and pack it away in its case easily.

What are the Factors to consider before buying an inflatable boat?
Specific use of the boat: An inflatable boat can be used as fishing or diving platform, for white river rafting, for competitive racing, for skiing along the water, for sailing, or maybe just a spot of paddling. In each of these categories, you will once again need to consider the specific location. For example, in the case of fishing, you need to decide whether you will be throwing a line offshore in shallow salt waters, an inflatable sport boat a little over 12 feet in length would be preferable to an RIB. On the other hand, if you are going angling in a small lake you could do just fine with an inflatable kayak. Similarly, white water rafting will require a different type of inflatable boat from simple rafting down a placid river.

Number of people who will be using it: Quite obviously, you will need a larger inflatable boat to take on the weight of more people. There should also be enough space for everybody. It should not be uncomfortably crowded, for example, if you are going on a fishing expedition and everyone elbows are practically banging against each other while casting the fishing lines!

To select between high pressure air deck floor and plywood deck floor you should take in consideration how often you will be inflating/deflating your boat. If you planning to inflate and deflate boat often, then go with air floor which allows assembly and disassembly of inflatable boat in a breeze. However, if you will keep boat inflated for longer then a week, then select inflatable boat with a plywood floor.