SALE: $1,450.00
In Stock, Only 4 left
MSRP: $2,900.00
Shipping: $199.00
SALE!

GET $100 OFF! ENTER CODE "100OFFSD600" IN A COMMENT SECTION DURING CHECKOUT. SALE $1350 + SHIPPING.
Extra Huge 20' SD600 Saturn Inflatable Boat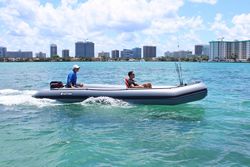 Saturn SD600 is humongous capacity 20' long inflatable boats. What makes these boats unique, is use of 140mm high pressure drop-stitch air floor. That is same thickness and durability floor that is used in commercial grade whitewater river rafts.
High pressure air floor allows quick and easy deployment compare to hard wood or aluminum floors used in similar size boats. Air floor also provides extra buoyancy to the infltable boat.
Saturn SD600 boat is a flat bottom watercraft, with no keel. However, it perform very well with small outboard motors. Even miniature 3HP motor will push it really fast and nice, see video below. SD600 boat is great for large cargo transportation, carrying large number of passengers, family trip, or fishing on a weekends.
Saturn SD600 boat model is a large size boat, and therefore it is best handled by two people, or with use of hand carts and dinghy wheels to move boat around.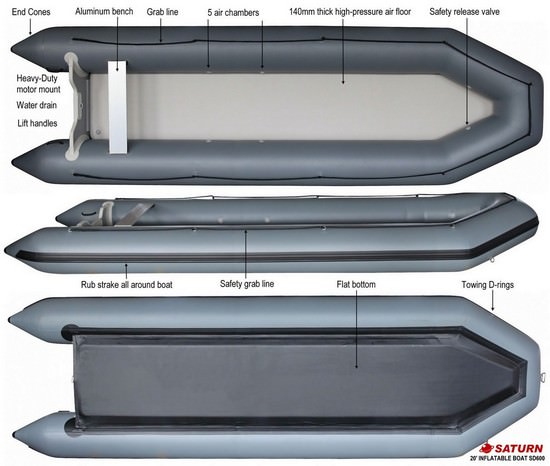 Customer's comments about Saturn SD600 Inflatable Boat:
"The boat performed very well for the shoot. We worked with a local company called Marine Set Safety that has done marine work for movies like Lincoln and shows like AMC's Turn, and they've used a lot of different boats. They were highly impressed by the quality of this boat, and thought it was an excellent value. Twenty people fit in the boat comfortably, and we felt confident in its structural integrity. I would certainly recommend the boat to others. Thank you." Hannah
These features makes SD600 boats are great for transportation:
2 Year Manufacturer Warranty for transom & seams.

Flat bottom provided great support for larger freight.

5(five!) independent air chambers provides additional safety in case of accident.

Large end tubes provide more buoyancy and support for more cargo.

Safety grab rope line all around the boat.
SALE!

GET $100 OFF! ENTER CODE "100OFFSD600" IN A COMMENT SECTION DURING CHECKOUT. SALE $1350 + SHIPPING.
20 ft Dark Gray Cargo Boat SD600
Only 4 left in stock!
SALE:

$1,450.00

(MSRP: $2,900.00)
SHIPPING: $199.00 (by FedEx Ground)
| | |
| --- | --- |
| Tech Specs* | SD600 |
| Overall Length | 20' |
| Inside Length | 15' |
| Overall Width | 5.7' |
| Inside Width | 2.4' |
| Tube Diameter | 20" |
| Chambers | 5 |
| Person Capacity | 20 |
| Loading Capacity | 3200 lbs |
| Max Motor Power | 15 HP (15" shaft / 125 lbs) |
| Boat Weight | 130lbs |
| Shipping Size | TBA |
| Shipping Weight | 150 lbs |
| Floor Type | Air Floor |
| Material | 1100 Denier Reinforced PVC |
| Seams | Quadruple Overlap |
| Air Valves | Recessed One-Way |
| Color | Dark Gray |
Saturn 20' SD600 Inflatable Boat

Saturn SD600 Inflatable boat was used by Field Studio for the production of a short movie about the refugee crisis. Here is YouTube video of Saturn SD600 boat with 30 persons on board: