Saturn 11' & 12' Inflatable Paddle Boards.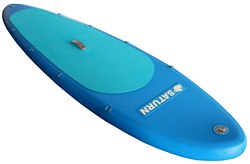 Saturn new colorful selection of inflatable paddle boards have set of D-rings on both sides of the board for the attachment of optional kayak seats, to use this board as a sit-on-top kayak or beach chair to seat and paddle in a comfort.
Remove the seat - and you have a SUP paddle board; install kayak seats and you have a sit-on-top kayak for 1-2 persons that is fast and easy to paddle, and great for riding the ocean surf! Streamlined shape helps to cut through the ocean waves to go faster.
New bright colors makes SUP paddle board well visible on a water and makes you look cool and trendy!



11' SATURN "FLORIDA ORANGE" SUP330 INFLATABLE iSUP BOARDS



12' SATURN "LIME" SUP365 INFLATABLE PADDLE BOARDS
12' SATURN "AQUA" SUP365 INFLATABLE PADDLE BOARDS


SATURN Inflatable SUP330/365 Specs:
Great all-around inflatable paddle boards for flats and ocean surf.
Saturn SUPs are great for balance and upper body workout.
Our multi-sport boards are great for family fun and fitness.
Set of D-rings along board side to kayak seat attachment.
11' SUP330 can be used as a sit-on-top kayak for 1 person and kid.
12' SUP365 can be used as a sit-on-top kayak for 1 or 2 adults.
All Saturn SUPs constructed of 140mm (6") heavy-duty PVC drop-stitch fabric.
Saturn paddle boards can be inflated between 10 and 15 psi of air pressure.
0.9mm PVC fabric on sides to prevent punctures, double-thick PVC on top/bottom.
New SUPs made of extra double-layers of PVC fabric for better rigidity and ruggedness.

Included: SUP hand pump with gauge, foldable aluminum SUP paddle, backpack carry bag, surfing safety leash, repair kit, spare air valve and tie down strap.

Download generic Inflatable Paddle Board Manual for more information.
11 ft Orange SUP Paddle Board SUP330

SALE:

$499.00

(MSRP: $998.00)
SHIPPING: $29.00 (by FedEx Ground)
12 ft Aqua Blue SUP Paddle Board SUP365B

SALE:

$529.00

(MSRP: $1,058.00)
SHIPPING: $29.00 (by FedEx Ground)
12 ft Lime Green SUP Paddle Board SUP365N

SALE:

$529.00

(MSRP: $1,058.00)
SHIPPING: $29.00 (by FedEx Ground)
12 ft MotoSUP Paddle Board Black SUP365MB
In stock and ready to ship
SALE:

$529.00

(MSRP: $1,058.00)
SHIPPING: $29.00 (by FedEx Ground)
12 ft MotoSUP Paddle Board Red SUP365MR
In stock and ready to ship
SALE:

$529.00

(MSRP: $1,058.00)
SHIPPING: $29.00 (by FedEx Ground)
12 ft Sport Inflatable Paddle Board Blue SUP365SB
In stock and ready to ship
SALE:

$529.00

(MSRP: $1,058.00)
SHIPPING: $29.00 (by FedEx Ground)
12 ft Sport Inflatable Paddle Board Red SUP365SR
In stock and ready to ship
SALE:

$529.00

(MSRP: $1,058.00)
SHIPPING: $29.00 (by FedEx Ground)
| | | |
| --- | --- | --- |
| Tech Specs | SUP330 | SUP365 |
| Overall Length | 11' | 12' |
| Overall Width | 30" | 30" |
| Overall Thickness | 6" | 6" |
| Weight | 25 lb | 28 lbs |
| Sitting Capacity | 220 lbs | 320 lbs |
| Standing Capacity | 190 lbs | 220 lbs |
| Folded Size | 32"x13"x13" | 32"x13"x13" |
| Persons Capacity | 1 | 1+1 |
| Shipping Box Size | 35"x14"x14" | 35"x14"x14" |
| Shipping Weight | 38 lbs | 42 lbs |
Saturn SUP330 Inflatable Stand Up Paddle Board

Saturn SUP365 Inflatable Stand Up Paddle Board