Automatic Hammock Rocker Swing.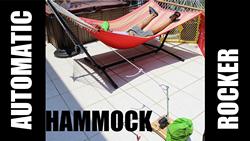 Hammocks are designed and meant to swing from side to side. To really enjoy hammock or any other type of swinging furniture, it need to be in a constant swinging motion, back and force. However, no hammock will swing itself, unless it is pushed or pulled.
Our new electric hammock rocker designed to pull and release hammock to give it swinging motion. So, now you can really enjoy and relax, or take restful sleep in your gently swinging hammock. This device is also great for rocking baby cradle or swinging patio chairs and such.
Hammock rocker can operate from 110V power outlet or 12V optional battery, which make it possible to use outdoors, on a campground, RV park or even a beach. It comes with regulator to adjust frequency of swinging and extendable length removable handle to adjust amplitude of swinging.
Our Rocker can swing large variety of outdoor and indoor furniture:

Hammock rocker can be connected to 12V battery to work outdoor.
Provided counter weight bag need to be filled with sand or rocks.
Bag then placed on opposite end of platform to prevent from overturning.
Provided string attaches to hammock and speed adjusted with regulator.

Video of Automatic Hammock Swing

Customer's video rocking chair

Customer's video rocking chair

Need to play around to find proper place to attach string to create best pulling force to properly swing hammock or furniture. Test string attachment by pulling few times to make sure that nothing prevent free movement of hammock or swinging furniture.
In a hammocks, best place to attach string is at very bottom of hammock or to the outer edge of fabric spreader.
It takes about a minute for rocker to create proper amplitude of swinging. You may need to push hammock once to help electric rocker with a pull.
You may regulate level of swinging amplitude by shortening metal rod while screwing it lower into the matching thread. The shorter rod will result in less amplitude of swinging. Longer rod will result in a larger amplitude of swinging motion.
You may need to play around with frequency of metal rod swiging by adjusting knob on a controller. Pulling movement of rod should match natural swinging motion of the hammock toward the rocker. Opposite movement of the rod should match hammock movement away from rocker. It may take few seconds to find proper controller position.
To smooth out pulling force momentum of the rocker, it is suggested to use short piece of rubber cords, such as one or two bungee cords attached between rocker and a pulling string.