Saturn Affordable Boat Covers.
Shelter your inflatable Dinghy or KaBoat from rain, sun and dirt. Our PVC heavy-duty boat covers offer excellent durability, superior stain, water, mildew and UV resistance, and won't shrink or stretch like many canvas covers.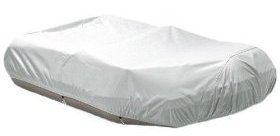 Fits Most brands and models of Inflatable boats: Zodiac, Avon, Achilles, West Marine, Saturn, Mercury, Baltic, etc. Comes with a rubber cord around the bottom of the cover for a perfect fit. Just pull on the cord to create proper tension. It can be transported on a trailer or towed behind a boat with additional fastening by bungee cord or extra rope.
If you are planning to keep the boat inflated, a cover is a must in order to protect your investment and prolong the lifespan of your boat. Please visit our Frequently Asked Questions section for more information on how to extend the life of your inflatable boat.
Here is two identical 4-years old Saturn boats owned by two different customers in Puerto Rico. One boat was never covered, another was cleaned and covered with a boat cover.

Guess one of above boats was covered and which one was left to rot under the sun?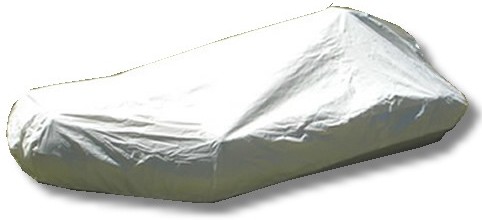 Select boat cover from SD230 to SD470 model:
Boat Cover for SD260 boat BC260
This item is NOT available for shipment arriving 12/12/16.

SALE:

$75.00

(MSRP: $150.00)
SHIPPING: $9.00 (by FedEx Ground)
Boat Cover for SD290 boat BC290
This item is NOT available for shipment arriving 12/12/16.

SALE:

$75.00

(MSRP: $150.00)
SHIPPING: $9.00 (by FedEx Ground)
Boat Cover for SD330 boat BC330
This item is NOT available for shipment arriving 12/12/16.

SALE:

$75.00

(MSRP: $150.00)
SHIPPING: $9.00 (by FedEx Ground)
Boat Cover for SD365 boat BC365
Only 3 left in stock!
SALE:

$75.00

(MSRP: $150.00)
SHIPPING: $9.00 (by FedEx Ground)
Boat Cover for SD385 boat BC385
Only 3 left in stock!
SALE:

$75.00

(MSRP: $150.00)
SHIPPING: $9.00 (by FedEx Ground)
Boat Cover for SD430 boat BC430
Only 1 left in stock!
SALE:

$75.00

(MSRP: $150.00)
SHIPPING: $9.00 (by FedEx Ground)
Boat Cover for SD230 boat BC230
Only 5 left in stock!
SALE:

$75.00

(MSRP: $150.00)
SHIPPING: $9.00 (by FedEx Ground)
Boat Cover for SD470 boat BC470
This item is NOT available for shipment arriving 12/12/16.

SALE:

$75.00

(MSRP: $150.00)
SHIPPING: $9.00 (by FedEx Ground)
Boat Cover for SD330W boat BC330W
Only 2 left in stock!
SALE:

$75.00

(MSRP: $150.00)
SHIPPING: $9.00 (by FedEx Ground)
Boat Cover for SD518 boat BC518
This item is NOT available for shipment arriving 12/12/16.

SALE:

$89.00

(MSRP: $178.00)
SHIPPING: $9.00 (by FedEx Ground)