Removable Storage Bag with Over the seat Cushion.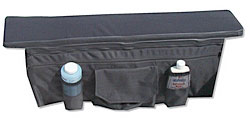 Easy to install, under-seat storage bags with over the seat deluxe cushions not only provide a convenient storage place, but also protect your most valuable assets from being bumped on choppy water by a hard-surface boat bench!
A soft cushion is not a luxury, but a necessity if you really want to enjoy your dingy. Makes excellent use of the space underneath the bench seat and provides a softer ride.
The under-seat storage bag is attached to the cushion with two zippers, and can be easily removed if you don't want to leave your valuables behind. When the storage bag is removed, the cushion stays attached to the seat with Velcro straps.
New Design storage bag now comes with over the shoulder strap for convenient transportation while ashore. It also has 3 large storage pouches with Velcro locks and 2 bottle holders. New cushions with bags are manufacturer in non-marking black color, and made of heavy-duty, splash-resistant 600 denier polyester.
The deluxe seat cushion is 35" long by 8" width and designed to fit most of SATURN inflatable boats from SD230 to SD470, and many other brands of inflatable boats with seat benches.
Under-seat storage bag with a deluxe over the bench cushion is great to store:
First aid kit
Flashlight
Wallet
Flares
Cell phone
Digital camera
Boating certificate
Car or boat keys
Air horn or whistle
Hand held VHF radio
Hand held GPS unit
Registration papers
Anchor rope and small anchor
Emergency life saving PFD, and so much more.
Under-seat storage bag w/Cushion BagSeat
This item is NOT available for shipment arriving 12/12/16.

SALE:

$39.00

(MSRP: $78.00)
SHIPPING: $12.00 (by FedEx Ground)
Bench Cushion with Storage Compartments over SD330 boat. Click to zoom in.

Easy to install. Removable storage bag.
Convenient bottle holders and storage pouch.
2 storage pouches with Velcro on another side.
Plenty of space inside storage bag.
Keep you air pump and other gear.
Great place to store life jackets.
Keep you anchor handy in one of pouch.
Use another pouch to store anchor rope.