Motor mount kit for SUP Paddle Boards.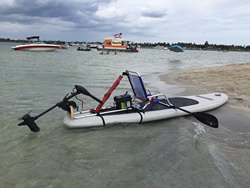 Have you ever felt like being too lazy to paddle your paddle board? Or, hate paddling against the wind while doing little progress? Now you can motorize your paddle board with electric trolling motor, and let technology do all the hard work for you. It is a cheating, but feels really good.
Introducing New Patent Pending design of easy to install foldable motor mount kit that fit most SUP paddle boards. Might also work on some kayaks or canoes with flat rear.

Aluminum lightweight and foldable motor mount kit for SUP paddle boards.

Trolling Motor installed on Saturn SOT330L Inflatable Paddle Board.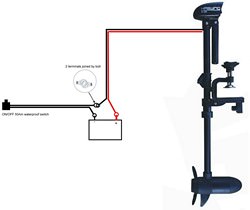 How it works?
Kit comes with aluminum motor mount frame and wired ON/OFF switch. Quick frame assembly and switch wire connection to motor wire is required.
Battery, charger, paddle and beach chair are NOT included.
Motor mount kit attaches to SUP hull with 2 adjustable tension straps. Rear strap goes in front of SUP fin to prevent kit from sliding backward.
Lightweight 35-40Ah battery strapped to the frame with a short strap. Batteries are available on Ebay and Amazon at $60 and up, and provide about 1 hour of running time for 55lbs electric trolling motor at full speed. Also might need charger and optional battery box.
Shaft tension knob is tightened to prevent electric motor from rotating left or right. Tiller set to desired forward speed. Motor drive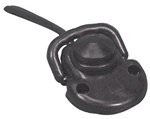 SUP in a forward direction only. Motor does not rotate. Left or right navigational turns are done with a kayak paddle used as a rudder. To make sharp turn, stop motor and make turn with paddle, then turn motor on again. Quick and easy.
Wired ON/OFF switch run from a negative motor cable to optional beach chair attached on top of the board and then back to the negative battery terminal, secured behind beach chair. Switch secured to beach chair armrest for easy access.
Motor Mount Kit for SUP MKIT
In stock and ready to ship
SALE:

$49.00

(MSRP: $98.00)
SHIPPING: $19.00 (by FedEx Ground)
Aluminum folding motor mount kit. Click on images to zoom in.

55lbs Electric Trolling motor installed on motor mount kit

Customer's picture of SUP motor mount installed on inflatable paddle board
20 lbs x 2 Electric trolling motors installed.
Motor mount can also be installed on kayaks. See example below.
Single 20lbs electric motor is good for lake with no wind or current. Speed about 4-5mph on flat surface. Will run hours on 40Ah battery.
2x20lbs electric motors gives total of 40lbs power with speed about 7-8mph. Benefit of using smaller 20lbs motors is that they weight almost nothing and very portable. Easier to carry and handle. 2 motor connected to battery in parallel and run for about 1-1.5 hour on 35Ah battery. If you are not looking for speed, get smaller motor.
Videos of Inflatable SUP with 55lbs, 20lbs & 2x20lbs electric motors.
Saturn Kayak BK365 with motor mount installed
2 long straps wrap around aluminum tubes of motor mount, then goes under the hull, and then secure to buckles of same straps.
Position frame in a center of SUP, and then pull on strap ends to insure that frame does not move from its position.
Make sure that rear strap goes in front of paddle board fin in order to prevent whole contraption sliding backward.
Front strap goes all way in a front of frame.
Outer edge of wooden board should be around 1" from end of paddle board.
Battery or battery box is placed between frame tube and secured with short strap after wires connected to terminals.
Attach remote power switch to beach chair or kayak seat to have it easily accessible. Avoid submerging remote switch into the water.
Motor throttle or speed switch set to forward and desired speed. Set it to max to go at max speed.
Position motor so that board can drive only forward, and then tighten knob that regulates shaft rotation tension.
For 55lbs motor you can extend throttle handle all the way just in case if you need to reach it to change speed.
Steering done with kayak paddle. Extend paddle all way to the rear on a right if you wish to turn right, or on a left, in order to turn left.
To make sharp turn or complete U-turn, simply turn off remote power switch, use kayak paddle to turn around and then activate power switch again.
Raise motor out of the water if paddling only with kayak paddles.
With several installation and runs, it will become much more easier and quicker to assemble complete set up.
Always carry Personal Flotation Device (PFD) and whistle in case of emergency.


Manual for Assembly and Installation of Motor Mount for SUP paddle board: