Which floor to choose: inflatable air floor or hard floor?
When searching for an inflatable boat you are likely to notice the variety of flooring options most manufacturers offer, in an effort to accommodate boat users of any need, and ensure they can achieve the must functionality and enjoyment of their purchase. While some owners do a great deal of fishing and remain unnerved about the integrity of their inflatable boats' air floor, others opt for a plywood or aluminum option, and make the sacrifice carrying the few extra pounds.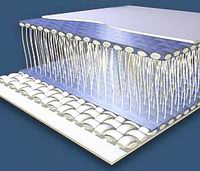 The flooring you choose for your inflatable boat will go to affect more than just its weight. With all options being comparable enough to one another, you can come to expect nearly the same rigid feel as your plywood or aluminum flooring as you will with you inflatable air floor. Convenience and impact absorption are two very important factors to take into consideration, along with your intentions for use and personal needs. Someone who only deflates their inflatable boat several times will not come to appreciate how valuable it is to be able to easy store and travel a vessel equipped with an air floor.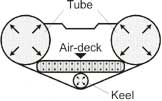 Inflatable air floors consist of typically two layers of a synthetic fabric that are held together by a series of small stitches. As you inflate the floor, air fills the space between the fabric layers and once desired pressure is reached the floor will be as rigid as a comparable plywood floor without the concerns of rot and additional weight. In addition, the flexible fabric used in the construction of inflatable air floors absorb overall impact from the water by stretching or compressing to accommodate pressure. Because of this feature it has been claimed by a number of brands that inflatable air floors resist impact better than their wood or aluminum flooring competitors. Manufacturers also make mention that inflatable air flooring will absorb vibrations and offer more cushioning for the riders aboard then that of an aluminum or plywood while still retaining the same rigid stability as both of your other options.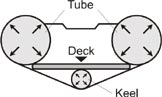 Despite the fear associated with standing upon a floor of air, I suggest anyone in the market for an inflatable boat consider the numerous advantages of an air floor, and for those of you who simply cant shake the worries of an unintended fishing accident, many of our riders opt for a piece of laminate flooring or carpet - both can be picked up at their local hardware store to offer a secondary layer of protection for nearly no additional cost. The simplicity this offers when comes to cleaning, and peace of mind when out upon the water with your dog, or box of hooks is priceless.

If you are one who is fortunate to have ample space to safely store your inflatable boat without the need to deflate it very often than it is likely you will notice no benefit in an air-
floor – In the end, the choice is ultimately up to you, and what makes you the most comfortable, especially when here at Saturn all of our inflatables and flooring are covered by BoatsToGo.com Warranty for up to 5 years!


| | | | | |
| --- | --- | --- | --- | --- |
| Air Floors | | as rigid as | | Plywood floors |